3 ways to create your own Internet bundle for less
If you're fed up with cable companies, here's how to get TV and phone service elsewhere
Published: March 21, 2014 08:00 AM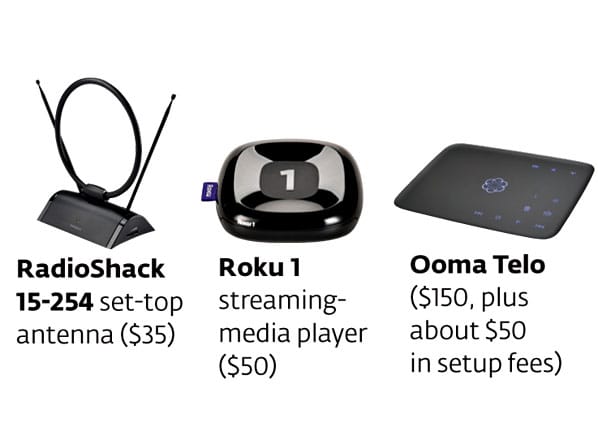 What is it about home telecommunications that leaves such a sour taste in customers' mouths? When we asked Consumer Reports' Facebook followers to tell us their telecom stories, the few happy anecdotes of attentive service technicians and reliable service were overwhelmed by a tidal wave of consumer woe involving high prices, complicated equipment, and terrible service.
"Customer service was so bad it made me really angry," one poster said. "Slowest high-speed Internet on earth," another said. "Cable television is a big waste of time and money," another commented. "One of the best things my wife and I have done to enrich our marriage was to cancel cable."
When people say they're cutting the cord on their telecom provider, they usually mean they're keeping Internet but dropping TV and phone service. But can you really duplicate the triple-play experience with just an Internet connection—and will it save you money?
Savings vary
The answer largely depends on what type of TV you like to watch. A $35 indoor antenna will get you free broadcast TV if reception is good in your area. If not, Aereo's $8-per-month service offers local channels and an online DVR over the Internet in some areas (assuming that an upcoming Supreme Court case doesn't put it out of business).
Services such as Netflix and Hulu Plus have thousands of movies and shows (although not always the latest) for about $8 a month, but you might not be able to get series from HBO and other premium channels. Sports fans might be disappointed, too: ESPN's streaming services require a pay-TV subscription. And major leagues such as the NBA and MLB have online offerings, but each can cost upward of $100 per year and pivotal games are often blacked out.
All of those online services can be watched using a smart TV or a streaming-media device that costs $100 or less. The home-phone part of a triple play is easily replicated with providers such as Ooma, which costs about $4 in taxes and fees a month.
Build your own bundle
We got prices for triple-play service for three types of users, based on a cable company near our Yonkers, N.Y., headquarters. Then we did our best to match those packages with our own broadband-only triple plays. Take a look at the chart below to see if any work for you.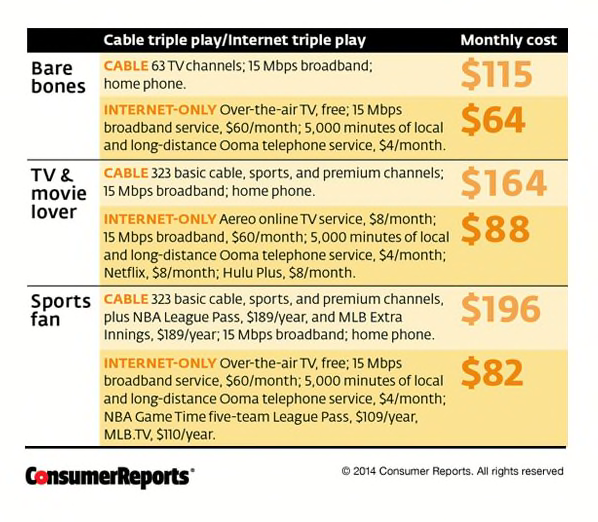 Editor's Note:
This article also appeared in the May 2014 issue of Consumer Reports magazine.