KFC's Family Feast can be a nutritional disaster in a single meal
A single meal can ruin your whole day's diet
Published: March 15, 2014 09:00 AM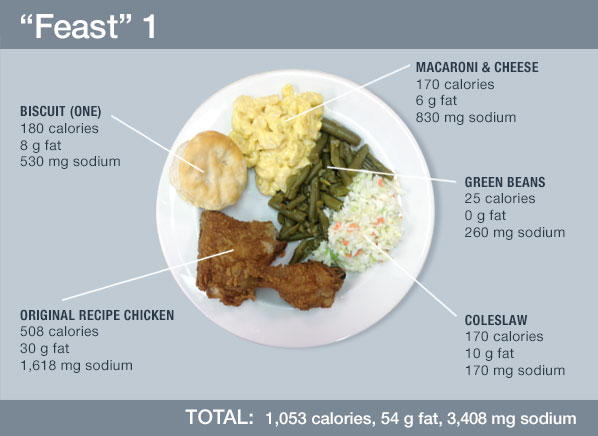 Don't give up on dinner. That's the advice the busy mom in one of KFC's latest commercials gives other women who have so much to do that they're "toast" by dinnertime. It's true that getting the evening meal on the table isn't always easy, but if you opt for her solution—picking up KFC's Family Feast—you could be giving up on your family's health.
The family of four in the commercial is happily munching away on a nine-piece bucket of chicken, three large sides, and six biscuits, which can be had for $19.99. To find out just how much this meal could cost you nutritionally, we headed to KFC and mixed-and-matched the Family Feast options to create two very different meals.
For feast number one, we picked Original Recipe chicken, mac-n-cheese, coleslaw, green beans, and biscuits. Then we crunched the nutritional numbers using the values listed on KFC's website, assuming that, as in the commercial, the entire meal would serve four people. Our verdict: nutritional disaster. Just look at the nutritional values in the picture above.
Feast number one supplies half the calories, 85 percent of the fat and about one and a half times the sodium you should have in a day—in just one meal! Ordering the Extra Crispy chicken makes it even worse: 1,253 calories, 71 g fat, and 3,370 mg sodium per serving.
We made what we believed to be healthier choices for feast number two: grilled chicken, corn, green beans, and mashed potatoes, but skipped gravy and the biscuits:
It's always better to make dinner yourself—and it doesn't have to be difficult or time consuming (see "It's Easy to Create Healthy Meals in a Hurry"), but sometimes takeout is what you want. If you head to KFC, the grilled chicken meal is a no-brainer from a nutritional standpoint. With the exception of sodium—the maximum daily limit is 2,300 milligrams—the numbers are a whole lot better. If you must have your chicken with KFC's signature breading, though, make the Colonel's restaurant an occasional pit-stop, not a frequent dinner destination.
—Amy Keating, R.D.