New Taco Bell breakfast menu is a nutritional mixed bag
A.M. Crunchwrap is a diet disaster; Waffle Taco is a better pick
Published: March 27, 2014 06:30 AM
Frankly, we were puzzled by all the hoopla surrounding the Taco Bell Waffle Taco, one of the items on the chain's new breakfast menu. After all, it's just egg, cheese, and, if you like, sausage or bacon wrapped in a waffle. And the fast food industry has replaced the bun with weirder foods many times before, like glazed doughnuts and breaded chicken patties (remember the KFC Double Down?) But when we took a closer look, we did find something surprising: The Waffle Taco isn't the biggest diet disaster on Taco Bell's new breakfast menu.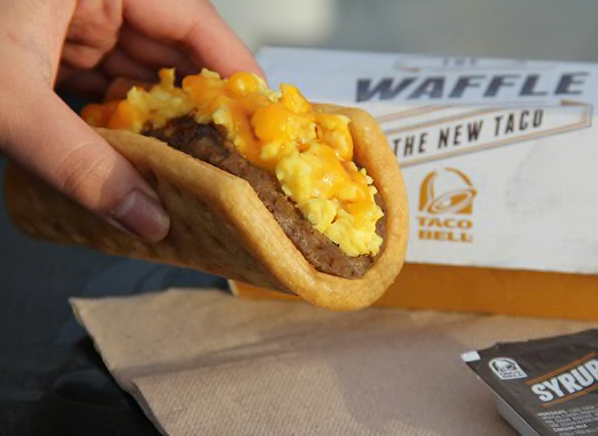 No, that honor goes to the A.M. Crunchwrap—eggs, cheese, meat (sausage, steak, or bacon), and a hash brown wrapped in flour tortilla. If you order one with sausage, you'll get 710 calories, 46 grams of fat, and 1,150 milligrams of sodium. That's 70 percent of the fat and 50 percent of the sodium you should have in an entire day. The wraps with bacon or steak will save you 50 or so calories and about 5 grams of fat, but they contain even more sodium.
By comparison, the Waffle Taco looks like health food. And while it's no nutritional star, it is one of the better picks in the fast food arena—provided you stick with only one. (The Crunchwrap is twice the size.) The egg and cheese version has 260 calories, 13 grams of fat, and 420 milligrams of sodium. With sausage, it has 370 calories, 23 grams of fat, and 550 milligrams of sodium.
But how do these new items stack up taste-wise? To find out, our trained tasters on the East and West coasts headed to their local Taco Bells. Unfortunately, the less health-friendly A.M. Crunchwrap came out ahead. The grilled tortilla was nicely browned and the hash browns were crunchy (although you'd think it would be the tortilla that put the crunch in Crunchwrap!). The egg and cheese was a little blah tasting, but the sausage, while nothing special, was good. If you want to try it, we suggest splitting one with a friend.
The waffle in the Waffle Taco was a little limp and had a sweet aroma similar to a boxed cake mix. The egg and cheese version was a bit bland; adding sausage perked up the flavor. The Waffle Taco comes with a side of syrup (the "fake" kind, not pure maple), which gave it an interesting sweet and savory twist, but it made eating the "taco" quite messy.
Our tasters also tried Taco Bell's Cinnabon Delights, doughnut hole-style bites filled with a gooey, sugary filling reminiscent of cheap custard. We admit, they were tasty, if a bit too sweet and a little greasy. But at 80 calories each they certainly don't make for a healthful breakfast, and we decided they weren't "delightful" enough for us to use up our sweet-treat calories.
—Linda Greene