The toilet papers that top Consumer Reports' tests
White Cloud and Charmin roll into the winner's circle
Published: March 13, 2014 02:00 PM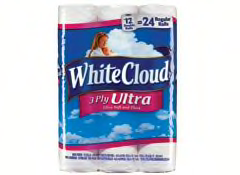 Downsizing has hit the toilet paper aisle as rolls become narrower, cardboard tubes grow in diameter, the number of sheets per roll falls, and the sheets get smaller. With Americans using an average of 46 sheets of toilet paper a day, according to Kimberly-Clark, you want to make sure the kind you buy gets the job done. Consumer Reports tests toilet paper for strength, softness, disintegration, and tearing ease. Two winners top our latest toilet paper tests.

At 25 cents per 100 sheets, White Cloud 3-Ply Ultra sold at Walmart was named a CR Best Buy. It got excellent marks for strength and softness, and disintegration and tearing ease was very good. While tearing ease for Charmin Ultra Strong was excellent, it did not score as high on the other three attributes and costs 41 cents for 100 sheets. But it too made our list of top toilet paper picks.

The also-rans include Scott 1000, 8 cents, which is neither soft nor strong; Marcal Small Steps, 25 cents, which is almost as harsh as Scott 1000 and doesn't tear easily, and Cottonelle CleanCare with Touch of Soft Cotton. Despite its name, it's less soft than many and at 44 cents per 100 sheets costs more than all but one other tissue in our tests. And don't buy by brand alone. Various Scott, Cottonelle, and Charmin products scored quite differently.