7 great things about my new home phone
These features could convince you to upgrade your cordless phone, too
Published: April 02, 2014 01:30 PM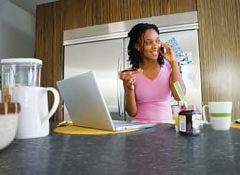 Nobody gives much attention to their home phone these days. Even consumers who still have a landline (and there are reasons to keep one) don't give the phone much thought. That was me, until a month ago, when my trusty old cordless phone became so erratic that I finally sprang for a new one. Boy, am I glad I did.The new phone didn't cost a fortune—$80 for a model with three handsets and a built-in answering machine—but it blows away the one I'd used for eight or 10 years. Here are a few of the features that sold me.
A corded base. I would never give up the convenience of a cordless phone that lets you roam around while chatting, but a cordless handset won't work in a power failure. My new phone has a corded base that will work without juice, as long as it's connected to a conventional phone line (a fast-dying breed, as The Wall Street Journal reported this week) or VoIP service that has battery backup. Also, I like having one phone that's always in the same place (in my house, mounted on the kitchen wall), so I'm not searching madly for a cordless handset when the phone rings.
Bigger buttons and display. My old phone had tiny, hard buttons on the keypad, and it was easy to press the wrong one. The new ones are bigger, soft-touch buttons that make misdialing less likely, and backlighting that's great in a dim room. The display is also easy to read, which is handy for caller ID.
Talking caller ID. Speaking of caller ID—my new phone announces the caller's name or number, so I don't have to find a phone to see who's calling.
A speakerphone. Being able to put down the phone while on hold makes the wait less painful. A speakerphone is also handy for stepping through voice mail menus.
A headphone jack. I bought an inexpensive headset that plugs into the cordless handset, which I stick in my pocket. It's great for chatting while looking something up on the computer or folding laundry.
A voice mail indicator. The phone lights up when there's a message on the voice mail service included with my phone service. With my old phone, I had to pick up and listen for a stutter tone to see if there was a message waiting. The phone also has a built-in answering machine, which I can use instead of voice mail to screen calls.
Better sound. I'd been getting static on my old phone, even though it was a digital model using DECT (digital enhanced cordless telecommunication) technology. The new phone provides loud, crystal clear sound with nary a crackle.
Get more advice in our buying guide and check our Ratings and reviews for the best cordless phones.

Some cordless phones, though not the one I bought, can work with a cell phone. By placing your cell phone near the cordless phone's base, you can access your wireless service using Bluetooth technology and use your cordless handset to make or take cell calls. Besides the convenience of using a cordless handset for all your calls, you might get better cell-phone reception within your home. For example, even if you don't get cell service in your basement, you might be able to make or take calls from there using the cordless handset.
Finally, if you have a really old cordless phone using analog technology, you should see a big improvement with a DECT phone, including better battery life, longer range, less interference, and less vulnerability to eavesdroppers. Given all these advances, isn't it time for you to buy a new phone?
— Eileen McCooey