Advertising tactics that bug Americans the most
'Adgravation' takes on many forms
Published: April 21, 2014 10:50 AM
Everybody has an ad come-on they love to hate. The top five, according to a recent nationally representative survey by the Consumer Reports National Research Center, are robocalls; false claims that you've won a prize or sweepstakes (Woody Grant, Bruce Dern's character in the 2013 film "Nebraska," would agree); bills that look real but aren't; pop-up online ads, and hyperbolic ads for medical remedies. Least annoying of all the gripes we asked about: ads on billboards. (Check the infographic below for all the details. Download the image and share it with your friends and colleagues.)
Women tend to get more annoyed than men, our survey of 1,000 Americans found, especially with fast-talking disclaimers; ads that target people based on past purchases, demographics, or behavior, and asterisks tied to tiny disclaimers in print or online ads.
Adgravation also increases gradually with age. By the time Americans have passed 60, they're much more annoyed than are those 18 to 29. Have they just grown tired of waiting for advertisers to tell it straight?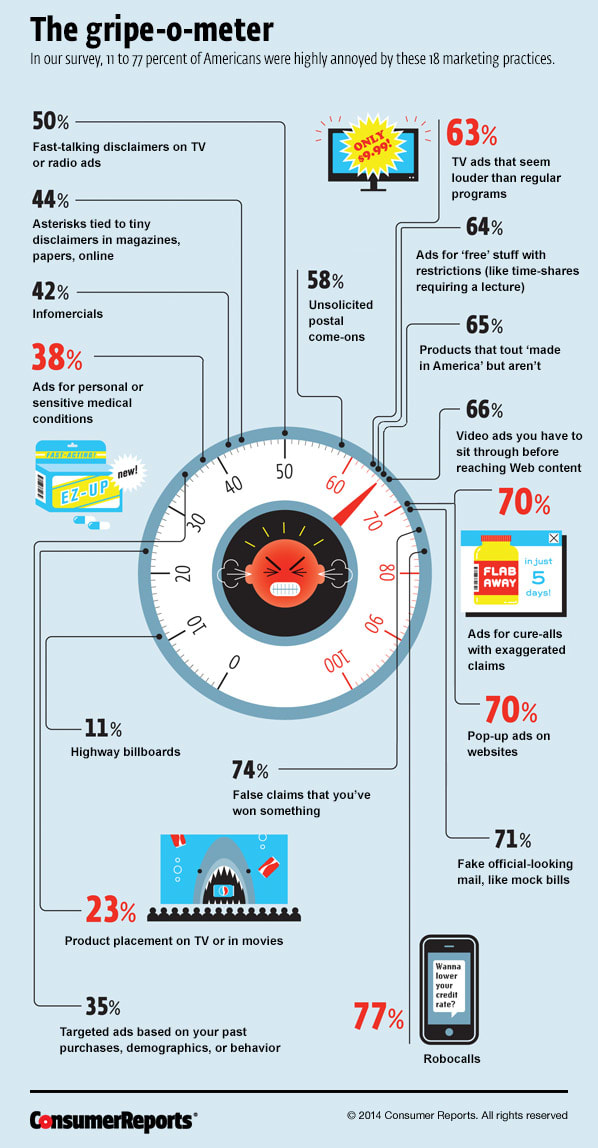 Editor's Note:
This article also appeared in the June 2014 issue of Consumer Reports magazine.