Get the look of a designer kitchen for less
Copy high-end kitchen trends without spending a fortune
Published: April 15, 2014 05:30 PM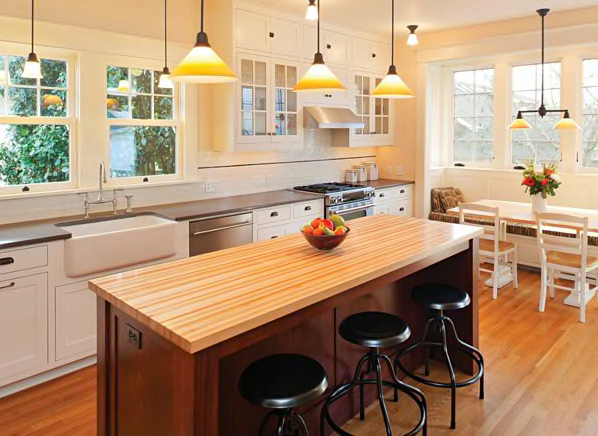 Many of the hottest kitchen-design trends—bright colors, sleek shelving, focal point lighting and chic finishes—are easy to replicate even on a small budget. A spot of new paint here, new hardware there and suddenly you have a refreshed kitchen. Here's some of the latest kitchen trends and how to get the look for less using clever designer tips, tricks, and other advice from our experts.

Trend: Sleek Euro-style
You've seen those kitchens with the minimalist cabinets, laboratory-style faucets, and acres of countertops that look like no one's ever dropped a crumb anywhere. Yes, they're gorgeous. But no, they're not budget- or family-friendly. And yet the calm simplicity of that clean look is much more accessible than you might expect.

The look for less. Start by decluttering countertops and shelves. It costs nothing to put away as much stuff as you can, and it's one of the secrets to the sleek Euro look, says Kelly Morisseau, a San Francisco designer. Then rethink storage areas. You might not be able to replace cabinets with glossy, frameless models, but you can change the way the old ones look with easy tricks.
Use a wall to clear clutter. European kitchens often feature rail-style storage systems mounted on a backsplash, says Susan Serra, a certified kitchen designer in New York, and they're available for a song at stores such as Ikea. Two other sleek design staples are floating shelves and wall-mounted knife racks.
Paint cabinet doors. You can change the whole look of your kitchen with a high-gloss finish in a neutral color.
Make things match. "If you already have simple white or pale wood cabinets," Morisseau says, "paint the surrounding wall or the backsplash in a similar shade for a modern, mono-chromatic look."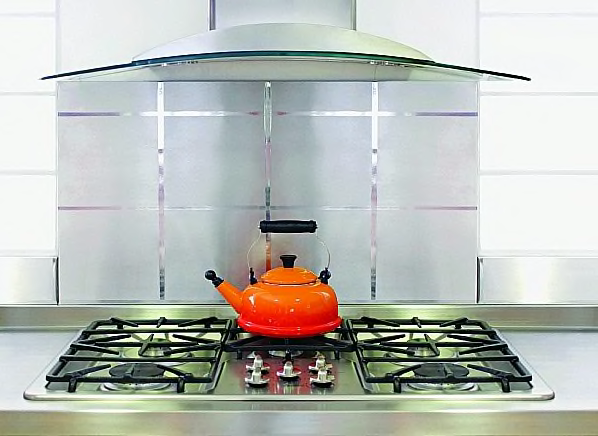 Trend: Bold color schemes
Move over, neutrals! Designers are loving intense, sunny yellows; bright emerald green; moody gray-blues; and the richness of charcoal for kitchens. But repainting your entire kitchen requires an investment of time and money—not to mention the confidence to commit to a strong shade you could tire of next year.

The look for less. Add small updates to your existing scheme with a trendy new color, says Serra.
Buy some colorful accessories. For example, put out a teakettle or an enameled Dutch oven, Serra says.

Add a pop of color. If you have cabinets with glass doors, paint just the back wall of the cabinets.
Add a chalkboard wall. "It's great for making lists," says Sabrina Soto, designer and host of "The High Low Project" on HGTV.
Hang a bright valence. Frame windows with some color, says Morisseau.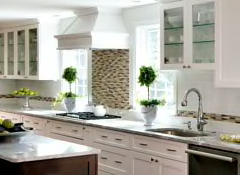 Trend: Tricked-out cabinets
The latest kitchen cabinets come with rich finishes and gorgeous hardware. They're packed with conveniences such as lifts for easy access to heavy appliances and built-in organizing systems that can make a workspace more efficient. But those extras come at a premium. Kitchen remodelers can expect to spend as much as 40 percent of their total budget on new cabinets, according to the National Kitchen & Bath Association.

The look for less. You can't expect to replace your units for $50, but you can make small, high-impact changes.
Change the hardware. Pick a trendy finish such as oil-rubbed bronze, copper, or satin nickel, and a contemporary shape. But don't pay less than about $3 per knob or pull, Serra advises. "You can find cheaper hardware out there, but it won't last—the finish will come off."
Make the most of the interiors. Inexpensive drawer dividers that you can make yourself will help you create order in a snap, Soto says. Roll-out wire or mesh drawers, spinning spice racks, and even fresh shelf paper can give new life to existing cabinets.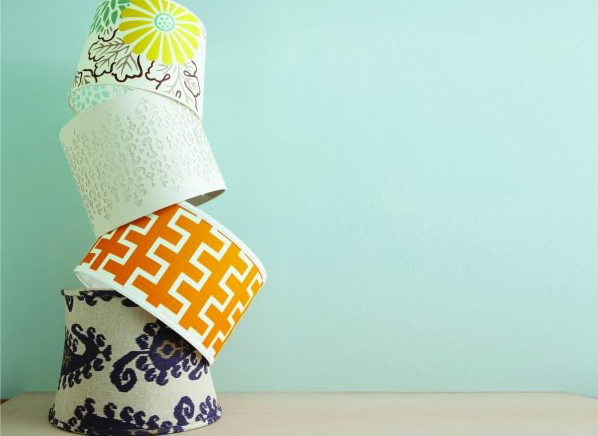 Trend: Statement light fixtures
"One great light fixture can transform the look of the entire kitchen," Morisseau says. You can use it to create dramatic emphasis in a particular spot—over an island, for example. Plus it will add illumination, an essential and often overlooked element of any well-planned workspace.

The look for less. Keep an eye out for sales and look for fun vintage fixtures at flea markets and garage sales, Serra says. You might have to pay to have the fixture rewired, but chances are the total cost will still be less than $50.
Change the finish. if you like the shape, size, and price of a fixture but not the finish, you can often change it with metallic spray paint. "Copper is so hot right now," says designer Casey Noble, host of HGTV's "Design on a Dime." "You can use spray paint to give almost anything, including light fixtures, the warm look of copper." Krylon and Rustoleum have a variety of finishes for about $5 a can.
Hang a trendy drum shade. For a fresh, mod look, pick up a pendant cord kit (about $5) and hang an oversized drum shade above a kitchen table or island.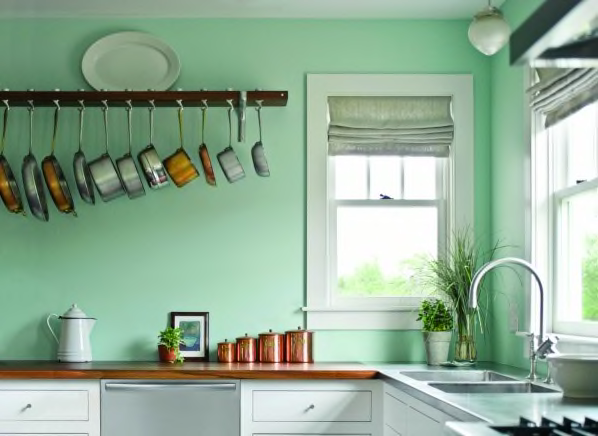 Trend: Industrial chic
A bold restaurant-style range will run you a hefty $3,500 or more; a commercial-style faucet can cost several hundred. But according to our testers, most pro-style appliances aren't worth the price premium.

The look for less. You can capture the feeling of industrial chic with the strategic placement of a few gleaming metal accessories.
Make the small stuff count. Create a commercial look with a stainless-steel toaster on a countertop or a metal canister full of utensils set beside the range, Morisseau says. To find high-end accents at a big discount, Serra suggests trolling such stores as HomeGoods and Marshalls.
Try a hanging pot rack. Placing it above the range or island not only adds storage in a small space but also puts cookware on display, as it often is in commercial kitchens.
Hang a stainless steel shelf. It's another way to display cookware, restaurant-style.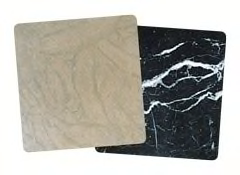 Trend: Marble or granite
Year after year, stone counters remain at the top of many kitchen wish lists. Stone has its pros—good looks and durability for varieties such as granite and quartz—but also has its cons. Price, of course, is the biggie. replacing your laminate counters with stone will cost $40 to $150 per square foot. And marble tends to stain easily, and its edges are vulnerable to chipping, according to our testers.

The look for less. Add just a hint of the rich elegance of marble or granite to spice up your space.
Create a stunning focal point. Mixing countertop materials is a trendy look that can cut costs. Use stone on one small area, say, an island or a prep zone near the stove. To make it work, go for contrast—use chocolate granite on an island to complement cream-colored counters, for example. Look for remnant slabs at a local stone yard.
Add just a touch of stone. "Live with your current counters and keep a big marble pastry board out all the time," Serra says. It's affordable and practical, especially if you bake; marble's cool surface is ideal for rolling out dough.

—Adapted from Consumer Reports Kitchen Planning & Buying Guide