Help! My dog's been sprayed by a skunk.
Debunking the tomato juice cure for de-skunking
Published: April 07, 2014 05:30 PM
Here's one messy myth you'll be glad has been debunked. Giving a dog a tomato juice bath after she's been sprayed by a skunk won't get rid of the odor. Pet stores sell commercial products that can neutralize the smell but you're not likely to have one on hand if your nosy beagle gets sprayed at night when skunks are most active. Fortunately, there's a simple home remedy that works like a charm.

Skunks become more active in the spring when they mate and then have their young so encounters of the pet kind become more common. Skunks aren't aggressive by nature and usually give fair warning before spraying but try teaching that to a dog. Once the deed has been done, you'll want to spring into action as soon as possible. Here's what to do, according to the U.S. Humane Society.

Restrain your dog. Keep the dog outside, weather permitting, so she doesn't carry the smell into the house. Check her eyes to see if they're red or irritated. If so, flush them with water.

Use this recipe. In an open container mix together the following ingredients:
1 pint of 3-percent hydrogen peroxide
2 tablespoons baking soda
1/2 teaspoon liquid dish soap
(Double recipe for large dogs. Do not put a top on the container as it could explode.)

Apply to dog. Wearing gloves and keeping clear of your dog's eyes and inner ears, rub the solution into her fur. Don't leave it on for longer than five minutes as peroxide can bleach the fur. Rinse your dog thoroughly.

Then use shampoo. Next shampoo your dog with pet shampoo and rinse again. By now, the smell should be gone. Dry her off with a towel and give her another dry towel to lie down on. Good dog.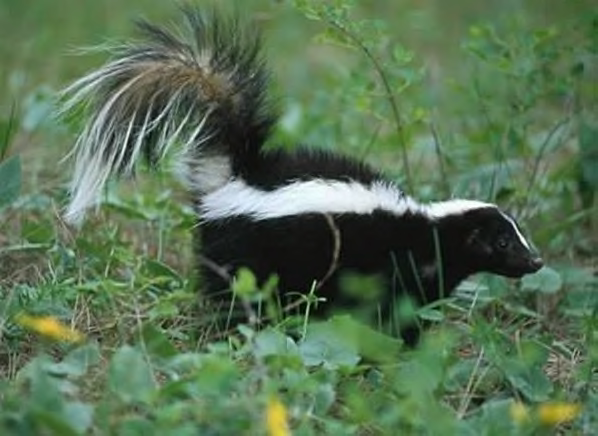 What to do if a skunk lives in your yard
If you've been seeing small, shallow holes in your lawn you may have a skunk that's been out foraging for grubs. If you see this tell-tale sign, look around for the skunk's den. It may be in the ground, under a porch, or in a crawl space. (Just search online for "skunk den" and you'll find plenty of images.)

If you find a den and have a dog, you'll want to gently persuade the skunk to change lodgings. Because they do us a favor by eating bugs and other pests, the Humane Society encourages homeowners not to kill skunks but to chase them away through "mild harassment." This may include:
Repeatedly repacking the den hole with dry leaves or straw.
Putting used kitty litter, which acts as a repellant, near or inside the den.
Lighting your yard beginning at dusk and adding some noise, perhaps a portable radio.

Don't try to trap a skunk yourself. Skunks that become a nuisance need to be carefully live-trapped and removed. This should be left to a professional. To find one, start by calling your local cooperative extension office.
—Mary H.J. Farrell (@mhjfarrell)