Nespresso pod coffeemaker makes espresso
Enjoy an espresso without the fuss of a dedicated machine
Published: April 04, 2014 04:00 PM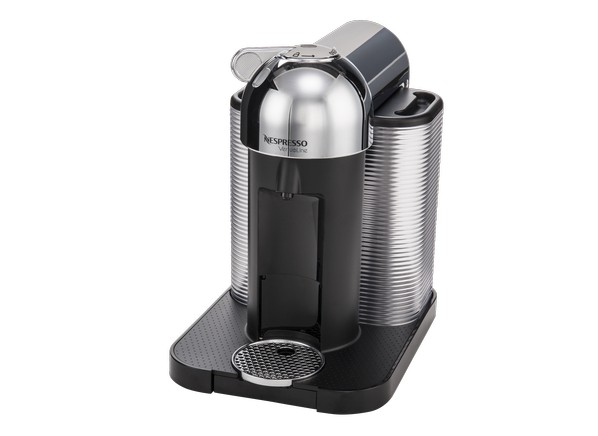 For coffee purists, the single-serve pod machine is the Rodney Dangerfield of coffeemakers—it gets no respect. And the notion of an espresso pod might seem a contradiction in terms. But Nestlé's Nespresso brand has sold espresso pod models for years, and Consumer Reports has just tested its latest, the $300 Nespresso VertuoLine, which makes coffee and espresso from pods. Will it win some converts?

Key to the Nespresso VertuoLine's operation is "centrifusion," the brand's method of infusing the pod's grounds with water and circulating them during the brewing process. The result, in our coffeemaker tests, was a brew with a thick foam crema. We'll soon do formal taste tests of the coffee made by this and other pod machines, but anecdotal results from a handful of members of the staff have so far been complimentary. And the machine was fairly quick at delivering servings—though not without some motorlike sound effects to add drama.
As with Bosch Tassimo machines, the Nespresso uses pods imprinted with bar codes. The machine reads the code for cup size, temperature, rotational speed, and flow rate. It also determines how long the water is in contact with the pod's grounds. Default portion sizes are 8 ounces for coffee and 1.4 for espresso, but you can override the defaults from anywhere between less than an ounce to 17 ounces.
Included with the coffeemaker is a sampler of eight varieties of coffee and four of espresso, currently the brand's full collection. Pay another $50 for a bundled version, and you also get a milk aerator for latte and cappuccino.

Among the Nestlé brand's other ventures into espresso and pod machines is the Nespresso Essenza, which has been around for more than a decade. It uses a different pod format from that of the VertuoLine. So does the Latissima, sold in Plus and Pro versions; both include a milk frother. And to add to the mix, the best-performing single-serve machines in our tests, the Nescafé Dolce Gusto line, come from another Nestlé brand.

Besides the Nespresso VertuoLine, we've also tested the $80 Hamilton Beach Java Blend Brewer/Blender 40918, a to-go drip coffeemaker combined with a personal blender. As soon as we've tested its blender functions, we'll publish results of both of the machine's functions. In the meantime, check out our buying guide for coffeemakers. Then see our Ratings of 121 models.

—Ed Perratore