Volvo shows infotainment system with CarPlay
Apple iPhone integration looks promising, but raises concerns
Published: April 19, 2014 09:00 AM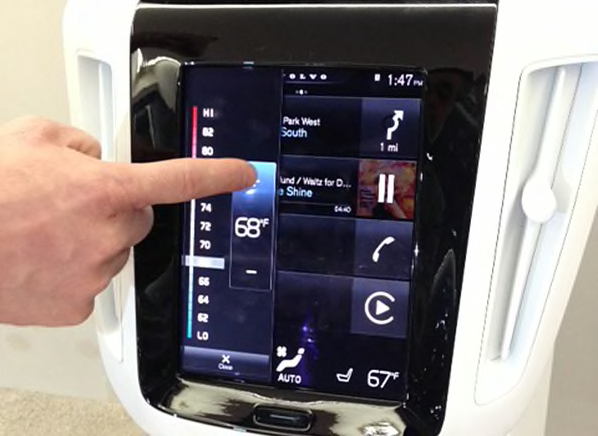 It remains to be seen which automaker will be the first to bring Apple's CarPlay to the market, but with at least 18 automakers signed on and five promising availability by the end of 2014, there's no doubt that the iPhone-integrating system will be coming soon to a car near you.
We had a chance to see CarPlay in action at the New York auto show, where Volvo had a mockup of how it might look in the redesigned XC90 SUV, due out later this year. And while we were impressed, the demo left us with some concerns.
The mockup combines CarPlay with Volvo's own first touch-screen interface, which offers a clean design with four big tiles to access navigation, entertainment, climate, and CarPlay. Pressing any of the tiles takes you into easy to navigate sub menus, with the option to scroll left or right to dive even deeper into vehicle and app set-up screens. In addition, the screen uses uses infrared technology and can be operated even while wearing gloves. Fonts and icons are large—at least on the main screens.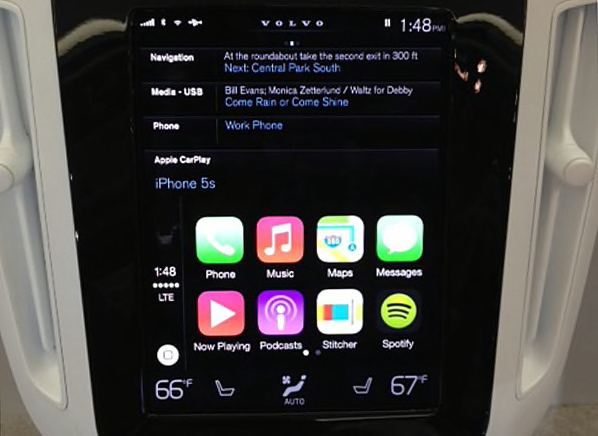 That's all well and good, but where things get more complicated is when CarPlay is rolled into the mix. Adding the Apple system brings navigation options and other apps stored on your phone, which may add convenience. But based on this demo, it may bring redundancy and confusion when layered atop of the Volvo's built-in systems. From what we saw, users may find themselves with two sets of navigation favorites or frequently used point-of interest destinations, address books, and more. And the rigid app structure offered by Apple doesn't permit adding, deleting, or moving any of the on screen icons included with CarPlay.
Some of the confusion is eased by the excellent Siri voice interface, which responds well to natural speech and is easy to use. But in the end, CarPlay's appeal may be limited to IOSophiles, which are admittedly a large bunch. Others, or families who use both Android and Apple devices, will be happier with whatever factory system comes with their car. Which in the Volvo, may not be such a bad thing. In either case, we'll reserve judgment until we've had a chance to try both the Volvo system and CarPlay.
—Jim Travers