Go get yourself some cheap sunglasses
They'll protect your eyes from damaging UV rays almost as well as pricier pairs
Published: May 23, 2014 06:00 AM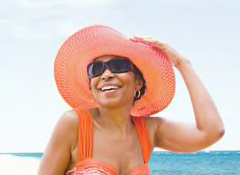 Q. Summer is kicking off and I need a new pair of shades. How can I tell if the ones sold at the drugstore will really protect my eyes?
A. There are a few key things to look for. Make sure they're labeled as providing protection from at least 99 percent of ultraviolet A and B rays to prevent damage that could contri­b­ute to cataracts, macular degeneration, or cancerous growths in or near your eyes. Such products may also be labeled as providing absorption of "up to 400 nanometers of UV radiation."
And look for a frame wide enough to fully cover your eyes and the surrounding skin (wraparound shades offer even more protection). Decent sunglasses don't have to cost a lot, our past tests have found. But if you're buying them for a specific activity—fishing or driving, for example—it may be worth springing for polarized lenses, which cut glare off of flat surfaces. Read more about how to find the best protection for your eyes.