3 sunscreen fixes we need now
When it comes to sunscreen, there's room for improvement
Published: May 23, 2014 11:00 AM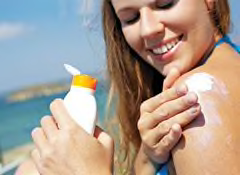 The Food and Drug Administration helped clear up a lot of sunscreen confusion a few years ago, when it set some new rules for manufacturers and for sunscreen label claims. But a few important decisions are still pending. These three fixes are on our wish list.

1. Better ingredients. There are ingredients used in European countries and elsewhere that aren't available in the U.S. The FDA has received applications for many of them. In 2006 it approved one, ecamsule (used only by L'Oréal). Recently, the agency requested more information about the safety and effectiveness of two sunscreens, and it is reviewing other applications.
2. Information on spray safety. In 2011 the FDA requested additional information regarding the safety and effectiveness of sprays. It has received new information about them and is currently evaluating it.
3. Answers about high-SPF products. In 2011 the FDA proposed limiting the maximum SPF to 50+. The agency has received many comments on the proposal, but it hasn't yet made a determination. Consumers continue to perceive high-SPF sunscreens as far more effective than lower ones, but that's not the case. An SPF 50 blocks 98 percent of the sun's ultraviolet B rays—the ones that cause sunburn. An SPF 100 blocks 99 percent.
Find out what you need to know about sunscreen before you buy it.
—Deborah Pike Olsen
Editor's Note:
This article also appeared in the July 2014 issue of Consumer Reports.