5 reasons to buy a Blu-ray player instead of a Roku or Apple TV
The best Blu-ray players are great for streaming video
Published: July 30, 2014 08:00 AM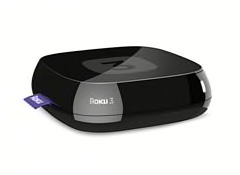 With all the attention on streaming media players such as Apple TV, Roku, and Chromecast, you might not realize that Blu-ray players are a great option for streaming. We recently tested 19 new Blu-ray players and found a number of models that would be a smart way to get your fix from Netflix, Hulu Plus, Amazon Instant Video, and more. So here are five reasons to buy a Blu-ray player instead of a streaming media device:
They offer streaming options galore. Many of the latest Blu-ray players offer the same video services as dedicated streaming devices. Netflix, Hulu Plus, Vudu, Amazon Instant Video, CinemaNow, YouTube, and a slew of others are pretty common. You'll also find many models with apps for Facebook, Twitter, and Flickr as well as music services such as Pandora and Rhapsody. A growing number of players have built-in Web browsers, too, along with access to the manufacturer's app store.
They're versatile and easy to use. Early Blu-ray players were a little kludgy when it came to streaming, but they've improved a lot in the past year or two. In general, our testers found the players easy to use, with friendly, modern interfaces that might remind you of a tablet or smart phone's. The boxes themselves are slim and attractive—a bit bigger than a media player, but they can replace your DVD or CD player, so you'll save space that way. Some models can support a wireless keyboard or mouse, making it easier to search for titles and enter URLs. You can also get an app that enables you to use your mobile device as a remote to control the player.
They offer great connectivity options. Most new Blu-ray players have built-in Wi-Fi, so you don't have to run a wire to your router or modem to access the Internet. (However, we recommend a wired Ethernet connection, if possible, for the best, most stable streaming experience.) DLNA-equipped players can stream music, video, and photos from a compatible computer, smart phone, or tablet on the same network to your TV. And those with screen mirroring let you watch the content from your mobile device on a big-screen TV.
Blu-ray discs have the best HD picture quality and sound you can get at home. The 1080p video on Blu-discs is superior to what you get from streaming, which can vary based on the available bandwidth of your broadband connection. It's the best high-def picture you can watch on your TV. You also have the option of higher-resolution lossless audio, such as Dolby TrueHD and DTS-HD Master. Another plus: When you watch a disc there's no buffering, as there is with Internet-based video. Any videophile worth his or her salt (and I work with several of them) opts for a Blu-ray disc over streaming for the best viewing experience. Also, many new Blu-ray players can play 3D discs, and a growing number can upconvert 1080p content to 4K for display on an Ultra HD, a plus if it does a better job than the TV.
You'll get the most bang for the buck. You can buy a very good Blu-ray player with streaming capabilities for less than $100, about the same price as many of the top streaming media players. Expect to pay a bit more—$150 or so—for a model with a Web browser and 4K upscaling.
If we've sold you on using a new Blu-ray player for streaming video as well as playing discs, here are two models to consider. The Samsung BD-H6500, $150 (shown above), is fully loaded. It supports a USB keyboard and mouse, handy for the browser and global search function. If you prefer to spend less, consider the LG BP540, a CR Best Buy at $85. It offers great performance but no Web browser or 4K upscaling. Check our Blu-Ray player Ratings for a look at all our tested models.
—Eileen McCooey