Are inverter generators worth the higher price?
Generators from Honda, Kipor, and Yamaha get mixed reviews
Published: July 02, 2014 04:00 PM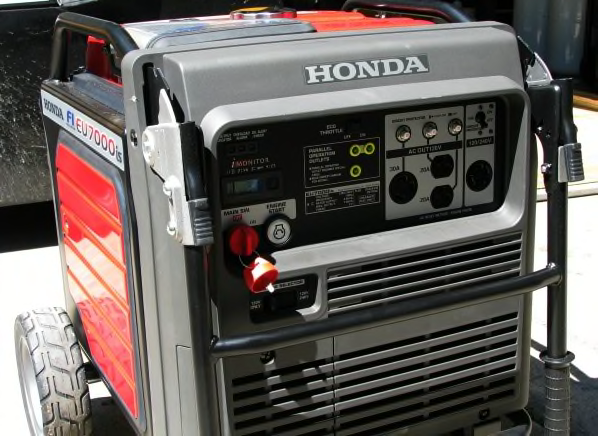 There's nothing like the approach of a possible hurricane, such as this season's first named storm, Tropical Storm Arthur, to get everyone in its expected path thinking about generators. But for some prospective buyers, the noise and the quality of power that a portable generator supplies is a turn-off. That's where an inverter model comes in. Using new technology, inverter generators deliver cleaner power and are typically quieter, lighter, and more energy efficient. But as Consumer Reports is learning in its ongoing generator tests, not every inverter generator is worth the 100-to-200-percent premium you'll pay over the usual cost of a conventional portable.

We haven't yet completed testing of the Honda EU7000is, Kipor Sinemaster IG6000h, and Yamaha EF6300iSDE. But limited testing has shown us that sometimes it's features other than wattage and connection options that make a generator worth having.

Honda EU7000is. At $4,000, this is the most expensive of the three inverter generators we're testing. But for usability, so far this one comes out on top. It's rated for 5,500 watts with 1,500 more for surge—an extra 500 beyond that of the Honda EU6500iS inverter generator we tested last year. Another plus is a fuel-injected engine, a carburetor-free design that at least in theory should avoid some of the problems a gasoline-powered generator can hit if the unit is left idle for long periods with fuel in the tank.

Of the three inverters, this one alone has a pull cord as a backup to the electric start, which could fail to work if its battery has run down. Another nice touch: The side of the unit where you'll find the pull cord, oil fill, and oil drain is clearly marked. One caveat for anyone plugging appliances directly into the unit is that you get no ground-fault circuit interruptor receptacles.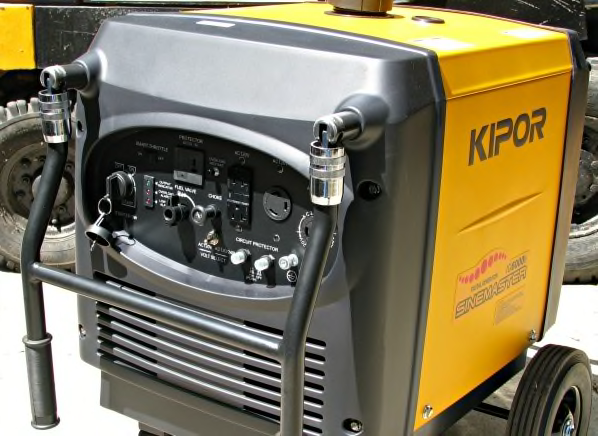 Kipor Sinemaster IG6000h. This model's price, $2,000 at dealers and RV stores, looks like a bargain. But while you get some good features we've yet to test, the product so far seems a mixed bag. It's rated for 5,500 watts (with surge up to 6,000), and a so-called smart throttle (found in all three models) varies engine speed according to load. As with the other two models, the Kipor has a 120V/120-240V switch; the 120V side has a 30A twist plug for RVs.

Maintenance, though, raised concerns. In order to get to the oil-drain plug, you need to remove the battery, which required removing a plate in the housing. The real problem starts there. While the company's online video showed the oil dripping right through a hole in the enclosure (you remove a grommet to expose it), in our experience the oil doesn't drip straight out but backs up along the bottom of the engine block and puddles up elsewhere in the cabinet enclosure.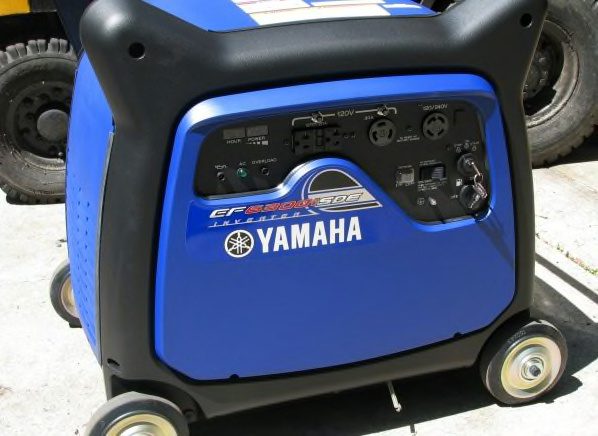 Yamaha EF6300iSDE. As its name also denotes, the $3,700 Yamaha is rated for 5,500 watts (6,300 maximum) and, as with the other two, it will adjust engine speed according to the load at any given time. But while we expect this generator to perform well overall—with the clean power we'd expect of any inverter generator—one design flaw caught our attention early.

With the last Yamaha generator we tested, the Yamaha EF6600DE, $2,450, we noted that wheels for a portable model should not be sold as an option on top of the generator's initial price. This newer model has the opposite problem. Most portables have two wheels plus a handle at the opposite (lighter) end for lifting. This model has a handle at each end and four wheels. The Yamaha's web page describes the model as "lightweight," with "easy transport." A video for the product calls it one of the lightest of its class. But it weighed in at about 245 pounds with gas. While it was easy to roll straight (there's a brake for hills), neither end was easy for one person to lift when we needed to steer the generator.

This is the right time of year to plan for a generator purchase, with a visit from an trusted electrician to help you size the generator. See our generator buying guide to learn the lingo before viewing our ratings of portable and stationary generators.

—Ed Perratore (@EdPerratore on Twitter)