Guide to the 2014 motorcycles and scooters with ABS
Where to find this proven lifesaving feature
Published: July 17, 2014 09:00 AM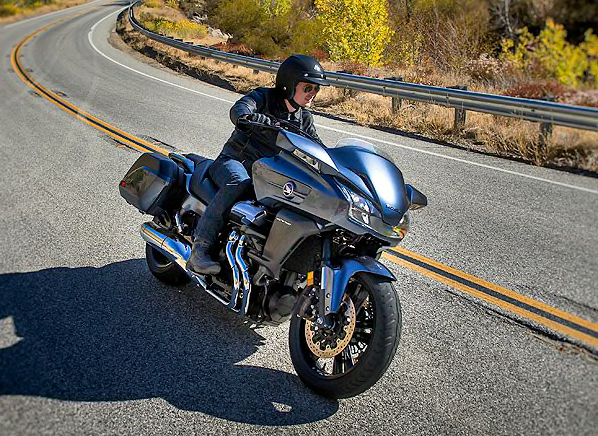 The rate of fatal crashes is 31 percent lower in a motorcycle with antilock brakes than in the same models without ABS, according to research by the Insurance Institute for Highway Safety. Riders stop more quickly and stopping distances improve on wet and dry surfaces. With ABS, riders can stop without the fear of the wheels locking up, which might result in a skid. To help riders find models equipped with this potentially lifesaving feature, we present the 2014 motorcycles and scooters with ABS.
Thirty-one percent is a big figure. Looked at another way, that means more than one in three cycle crash deaths could possibly be avoided if all motorcycles had this important and proven safety feature, long standard on cars. (See our 10 safety tips for new and returning riders.)
ABS is becoming increasingly common on larger motorcycles, but it has been harder to find on smaller bikes typically purchased by less experienced riders—the same riders who are likely to benefit most from ABS. Thankfully, that is starting to change as manufacturers have made ABS available on more entry-level and midsized models. All of BMW's models have standard ABS and as use of the technology becomes more widespread, cost is coming down.
All motorcycles in Europe will be required to have ABS by 2016, and we expect that will make ABS much more common in the United States. Until then, check out the list below of 2014 (and some 2015) models with ABS. If you're looking to save by choosing last-year's model, we have a list of the 2013 motorcycles, as well. (Watch this video demonstration of ABS.)
| Model | Series Name | ABS |
| --- | --- | --- |
| Aprilia | Dorsoduro 750 | Optional |
| Aprilia | Mana 850 GT | Standard |
| Aprilia | RSV4 Factory APRC | Standard |
| Aprilia | RSV4 R APRC | Standard |
| Aprilia | Tuono V4 R APRC | Standard |
| BMW | C 600 Sport | Standard |
| BMW | C 650 GT | Standard |
| BMW | F 800 GT | Standard |
| BMW | F700 GS | Standard |
| BMW | F800 GS | Standard |
| BMW | F800 GS Adventure | Standard |
| BMW | G650 | Standard |
| BMW | G650 GS Sertao | Standard |
| BMW | HP4 | Standard |
| BMW | K 1300 S | Standard |
| BMW | K 1600 GT | Standard |
| BMW | K 1600 GTL | Standard |
| BMW | K 1600 GTL Exclusive | Standard |
| BMW | R 1200 GS | Standard |
| BMW | R 1200 GS Adventure | Standard |
| BMW | R 1200 R | Standard |
| BMW | R 1200 RT | Standard |
| BMW | R 1600 RT | Standard |
| BMW | R Nine T | Standard |
| BMW | S 1000 R | Standard |
| BMW | S 1000 RR | Standard |
| Can-Am | RS | Standard |
| Can-Am | RT | Standard |
| Can-Am | ST | Standard |
| Ducati | 1199 Superleggera | Standard |
| Ducati | Diavel | Standard |
| Ducati | Hypermotard | Standard |
| Ducati | Hyperstrada | Standard |
| Ducati | Monster 1200 | Standard |
| Ducati | Monster 696 | Optional |
| Ducati | Monster 796 | Optional |
| Ducati | Monster 821 | Standard |
| Ducati | Multistrada 1200 | Standard |
| Ducati | Superbike 1199 Panigale | Standard |
| Ducati | Superbike 899 Panigale | Standard |
| Harley-Davidson | CVO Breakout | Standard |
| Harley-Davidson | CVO Limited | Standard |
| Harley-Davidson | CVO Road King | Standard |
| Harley-Davidson | CVO Softail Deluxe | Standard |
| Harley-Davidson | Dyna Fat Bob | Optional |
| Harley-Davidson | Dyna Low Rider | Optional |
| Harley-Davidson | Dyna Street Bob | Optional |
| Harley-Davidson | Dyna Switchback | Standard |
| Harley-Davidson | Dyna Wide Glide | Standard |
| Harley-Davidson | Heritage Softail Classic | Standard |
| Harley-Davidson | Night Rod Special | Standard |
| Harley-Davidson | Softail Breakout | Standard |
| Harley-Davidson | Softail Deluxe | Standard |
| Harley-Davidson | Softail Fat Boy | Standard |
| Harley-Davidson | Softail Fat Boy Lo | Standard |
| Harley-Davidson | Softail Slim | Optional |
| Harley-Davidson | Sportster 1200 Custom | Optional |
| Harley-Davidson | Sportster Fourty-Eight | Optional |
| Harley-Davidson | Sportster Iron 883 | Optional |
| Harley-Davidson | Sportster Seventy-two | Optional |
| Harley-Davidson | Sportster Superlow | Optional |
| Harley-Davidson | Superlow 1200T | Optional |
| Harley-Davidson | Touring Electra Glide Ultra Classic | Standard |
| Harley-Davidson | Touring Road King | Optional |
| Harley-Davidson | Touring Street Glide | Optional |
| Harley-Davidson | Touring Street Glide Special | Standard |
| Harley-Davidson | Touring Ultra Limited | Standard |
| Harley-Davidson | V-Rod Muscle | Standard |
| Honda | CB500F | Optional |
| Honda | CB500X | Optional |
| Honda | CBR1000RR | Optional |
| Honda | CBR250R | Optional |
| Honda | CBR300R | Optional |
| Honda | CBR500R | Optional |
| Honda | CBR600RR | Optional |
| Honda | CBR650F | Optional |
| Honda | CTX1300 | Standard |
| Honda | CTX700 | Optional |
| Honda | Fury | Optional |
| Honda | Gold Wing | Optional |
| Honda | Interceptor | Optional |
| Honda | Interstate | Optional |
| Honda | NC700X | Optional |
| Honda | NM4 | Standard |
| Honda | Sabre | Optional |
| Honda | Shadow | Optional |
| Honda | Shadow Aero | Optional |
| Honda | Shadow Spirit 750 | Optional |
| Honda | Stateline | Optional |
| Honda | Valkyrie | Optional |
| Kawasaki | Concours 14 | Standard |
| Kawasaki | Ninja 1000 | Optional |
| Kawasaki | Ninja 300 | Optional |
| Kawasaki | Ninja 650 | Optional |
| Kawasaki | Ninja ZX 10R | Optional |
| Kawasaki | Ninja ZX 14R | Optional |
| Kawasaki | Ninja ZX 6R | Optional |
| Kawasaki | Versys | Optional |
| Kawasaki | Vulcan 1700 Nomad | Optional |
| Kawasaki | Vulcan 1700 Vaquero | Optional |
| Kawasaki | Vulcan 1700 Voyager | Optional |
| Kawasaki | Z1000 ABS | Standard |
| Kymco | Xciting 500 Ri | Standard |
| Moto Guzzi | California 1400 | Standard |
| Moto Guzzi | Norge GT 8V | Standard |
| Moto Guzzi | Stelvio 1200 NTX | Standard |
| Star | VMAX | Standard |
| Suzuki | Hayabusa | Standard |
| Suzuki | V-Strom 1000 | Standard |
| Suzuki | V-Strom 1000 Adventure | Standard |
| Suzuki | V-Strom 650 | Standard |
| Suzuki | V-Strom 650 Adventure | Standard |
| Triumph | Daytona 675 | Optional |
| Triumph | Rocket III Roadster | Standard |
| Triumph | Street Triple | Optional |
| Triumph | Street Triple R | Optional |
| Triumph | Thunderbird | Standard |
| Triumph | Thunderbird Commander | Standard |
| Triumph | Thunderbird LT | Standard |
| Triumph | Thunderbird Storm | Standard |
| Triumph | Tiger 800 | Optional |
| Triumph | Trophy SE | Standard |
| Victory | Cross Country | Optional |
| Victory | Cross Country Tour | Standard |
| Victory | Cross Roads Classic | Optional |
| Victory | Ness Cross Country | Optional |
| Victory | Vision Tour | Standard |
| Yamaha | FJR1300A | Standard |
| Yamaha | FJR1300ES | Standard |
| Yamaha | Super Tenere | Standard |
| Yamaha | Super Tenere ES | Standard |