How to keep mosquitoes from ruining a summer evening
By the numbers: 12 million mosquitoes per acre
Published: July 12, 2014 08:00 AM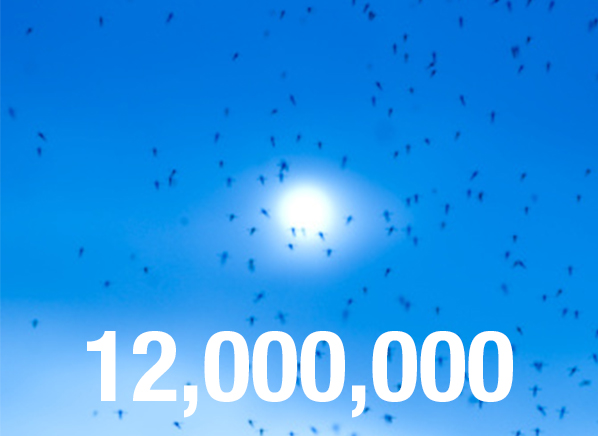 12 million. 12,000,000. That's the number of adult mosquitoes that could live in a single acre of Alaska's northern tundra. Why do I know that startling number? I came across it when looking for ways to keep mosquitoes from ruining summer evenings.
My home sits thousands of miles from Alaska—and the "tundra" where I live is a mere quarter acre of high-property-tax land in a Northern New Jersey suburb—but on some summer evenings, it sure has felt as though countless legions of pesky mosquitoes are out there, waiting to munch on my wife and me and our guests. (Our deck isn't screened in.)
Since we enjoy hosting—and given concerns about West Nile virus—for a typical Saturday soirée on the deck we now use several tactics to thwart biting, buzzing insects (following safety precautions and application instructions, of course).
No guarantee that they'll work for you, but give them a try. And share your tips for dealing with mosquitoes and other insects in our forum.
Here's what we do.
Get rid of standing water from planters and other containers.
Apply a natural, kid- and pet-friendly plant-oil-based spray to the yard and plantings when the weather has been particularly wet and it looks like the mosquitoes will be brutal. (This concentrated product comes in a plastic container that attaches to a garden hose.)
Fill tiki torches with citronella fuel and check wick height; set up tabletop citronella candles. We light all of these just before guests arrive.
Plug in a couple of portable fans, one by the table where we eat and the other at the far side of the deck. Mosquitoes are weak fliers, and the breeze from the fan helps to keep them at bay and us more comfortable.
Have insect repellent handy if it's one of those nights. Hydrocortisone and a medicated anti-inch cream are at the ready in case anyone is bitten. I'll sometimes pop a Zyrtec (cetirizine) if I get nailed—the antihistamine quells the itch right away. (Find out why mosquitoes seem to prefer some people to others.)
Fire up the fire pit on cooler evenings. The pungent smoke from the black locust we're burning now seems to deter mosquitoes.
Bring the festivities indoors if it's mosquito mayhem outdoors.
—Steven H. Saltzman