How to safely remove a tick from your dog
Plus landscaping tips to reduce the number of ticks in your yard
Published: July 28, 2014 04:00 PM
Removing a tick from your dog can be a tricky and icky affair. But if your dog has been bitten by a tick you must remove it quickly because an infection can be transmitted to your dog in 24 to 48 hours, according to the Humane Society. Of course, the best way to prevent tick bites is to disrupt the areas where they live. Watch the video to see the best way to remove a tick. And to keep ticks out of your yard, follow these simple landscaping tips from the Connecticut Agricultural Experiment Station and the Centers for Disease Control.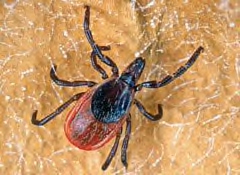 Ticks can't fly or jump so they climb aboard their hosts—animals and people—when you or your dog brush up against the tall grass or other foliage where ticks lie in wait. The areas of your property with the most ticks include the perimeter of your lawn, brushy areas, groundcover vegetation, and the woods. To keep your pets and family out of harm's way, you can create what the Connecticut Agricultural Experiment Station calls a tick-managed area around your home concentrating on places where your pets or children play and on other well-traveled spots such as around your grill and along the path to the mailbox. Here's how.
Remove leaf litter, brush, and weeds. Clear tall grasses and brush around your house and at the edge of the lawn.
Place a 3-foot wide barrier of wood chips or gravel between your lawn and any wooded area to restrict tick migration into your yard.
Mow the lawn frequently and keep it shorter than 3-inches.
To discourage rodents, stack wood neatly and in a dry area away from your house.
Keep playground equipment, decks, and patios away from trees and the edge of the yard.
Discourage unwelcome animals (such as deer, raccoons, and stray dogs) from entering your yard by erecting a fence.
Remove old furniture, mattresses, or trash from the yard that may give ticks a place to hide.
Trim trees and shrubs around the edge of the lawn to let in more sunlight. Bright sunny areas are less likely to harbor ticks.

If your dog has been infected by a tick, the symptoms may not be immediate. Lameness in dogs, one of the telltale signs of Lyme disease, can occur two to five months after tick exposure, according to the Baker Institute for Animal Health at the Cornell University College of Veterinary Medicine. In addition to lameness, your dog may show signs of severe pain and joints that are swollen, hot, and painful upon manipulation. A dog may also develop a fever, lose its appetite, and become lethargic. If your dog has any of these symptoms, call your vet.
—Mary H.J. Farrell