Yes, you really do need a bike helmet
Even mild concussions can cause lasting brain damage, new study finds
Published: July 19, 2014 06:00 AM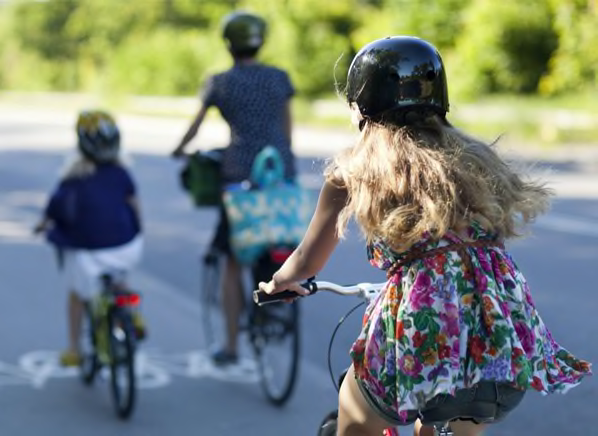 When I learned how to ride a bike in the early 1960s, the only accessories we considered were a basket and a bell. A helmet? Hardly. They weren't even made until the '70s. More than a few times I took a header over the handlebars. And a study out this week emphasizes just how lucky I was to not hit my noggin—and how important a properly fitted bike helmet can be.
British researchers looked at 53 people 16 to 68 years old who had recently been to an emergency room after suffering a mild (44 people) or moderate (9 people) concussion. All had an MRI of their brain within an average of six days of their injury. The scans showed signs of damage to nerve cells in the brain responsible for transmitting information, compared with a group of 33 people without brain injury who also had MRIs. The injured people also performed 25 percent worse, on average, in a "verbal letter influency" test, which evaluates thinking and memory skills by seeing how many words one can think of that begin with the same letter. A year later people with brain injury showed improved cognitive function, comparable to the uninjured group—but still had signs of damaged brain cells. The study was published in the journal Neurology.
A decade ago the national Centers for Disease Control and Prevention called mild traumatic brain injury a silent epidemic. Since then awareness of the problem has grown, as shown by President Obama's support earlier this summer for more research on brain injuries in teens from sports, and the increased concern about concussions in football. But 2 million to 4 million people each year still suffer concussions from recreational activities, according to the American Academy of Neurology.
"The scientific evidence continues to mount regarding the effects of concussion," says Orly Avitzur, M.D., a practicing neurologist and medical adviser to Consumer Reports and the New York Rangers. "This study should serve as yet another wake-up call to athletes, trainers, coaches, and parents of young athletes. It's also another good reason to remember to wear a helmet when riding a bike, skiing, or horseback riding."
—Chris Hendel