How To Design The Perfect Small Kitchen
Maximize your space with the right floor plan and smart storage
Published: September 12, 2014 01:45 PM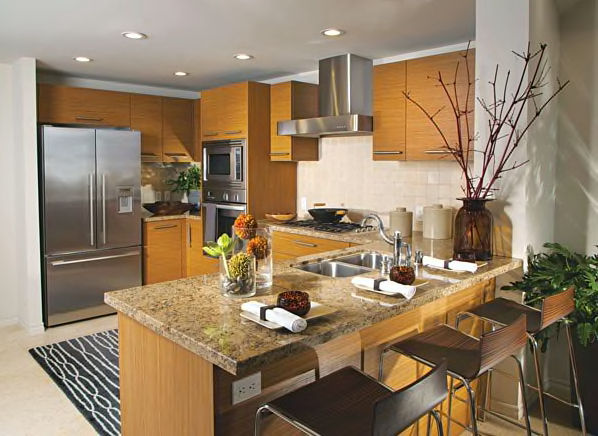 Just because your kitchen is short on square footage doesn't mean it can't be stylish and functional. Consumer Reports talked with designers, architects, and professional organizers to get their best strategies for making the most of every square inch. They shared some common sense and some surprising tricks that can make your small kitchen seem larger.

All of our pros agreed that tailoring a kitchen to the needs of its users is job one. Doing that when you're working with a limited footprint can be a bit of a challenge. But there are secrets for doing just that.

Start with the work triangle. You've probably heard of this concept: the sink, cooking surface, and refrigerator should form the three points of a triangle, with a minimum distance of 4 feet between each, for maximum efficiency. In a small space, it's natural for you to be tempted to skimp. But "if you don't use the triangle, you may not be able to open your refrigerator when your dishwasher is open," says the interior designer and radio host Lee Anne Culpepper of Culpepper Carpets and Interiors in Atlanta.

Prioritize your countertop needs. How much is enough? Here's what the National Kitchen & Bath Association (NKBA) recommends:
Sink: Plan 24 inches of counter on one side and 18 inches on the other.
Cooktop/range: Figure on 12 inches on one side and 15 inches on the other, with added counter space behind the cooktop if it's in an island or peninsula.
Refrigerator: You want 15 inches on the handle side of a traditional fridge or on either side of a side-by-side or French-door model. Or plan at least 15 inches of landing space that's no more than 48 inches away from the fridge. If you must, "trade the counter near the fridge for counter space near the cooking and cleaning areas, where it counts most," says Anne Postle of Osmosis Architecture in Niwot, Colorado.
Consider traffic flow. Mary Jo Peterson, a certified kitchen designer and author of the NKBA's "Kitchen Planner," recommends an aisle that's at least 36 inches wide between opposing work areas. Got multiple cooks? Allow 42 to 48 inches. "Make sure no doors swing into that space," she adds. Culpepper goes further. "If possible, eliminate all but one door," she says. "Each extra door steals 31 inches from your wall space—about the width of the refrigerator."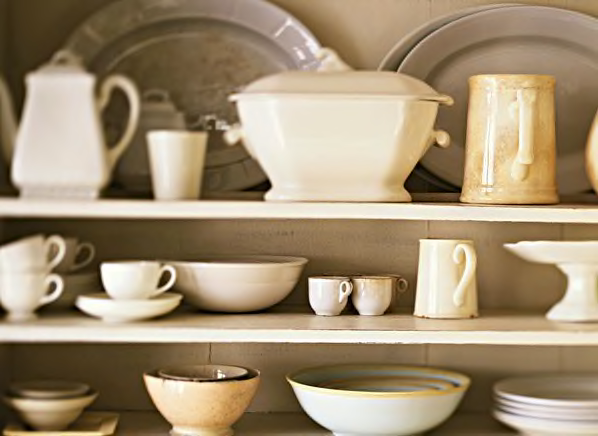 Capitalize on cabinets. Small kitchens are one place where storage has to work extra hard. Start by taking an inventory of what you need to store. Be realistic—now is the time to start a donation or yard-sale pile for anything you don't really use. Then take advantage of every inch, horizontally and vertically. Run cabinets all the way up to the ceiling, if possible. Install shelves or hooks on your backsplash for spices, utensils, and the like. Trade toe kicks for shallow drawers to hold things like trays, placemats, and pet supplies. And don't forget the ceiling: Pot racks can help free up much needed cabinet space. Frameless cabinets are another space-saver. "You'll get an extra inch all the way around," Culpepper says.

Also be sure that each unit is truly functional. "The 'universal reach range,' the area where people can grasp items easily, is 15 to 48 inches off the floor," Peterson says. Ensure accessibility by opting for drawers instead of shelves and by fitting cabinet interiors with accessories like slide-out shelves and swing-out Lazy Susans for blind-corner cabinets.

Slim down appliances. Peterson also stresses being smart about scale when choosing new appliances—and prioritizing your picks. "If you really want a 36-inch range, that will probably mean getting a smaller refrigerator or dishwasher," she notes. "There are many options available, like 18-inch dishwashers, 30-inch ranges, and 18-inch column freezers."

Also consider opting for multi-functional appliances. Can't squeeze in double ovens? Choose a microwave or toaster oven that doubles as a convection oven, or a 30-inch range with two ovens. Counter depth refrigerators won't save space horizontally, but because they don't jut into the room as much as standard refrigerators do, they can allow you extra inches in a walkway, and they can offer a sleeker, more streamlined look. If you need the larger interior capacity of a standard refrigerator, you can get the same effect by recessing it into a wall.

—Adapted from Consumer Reports Kitchen Planning & Buying Guide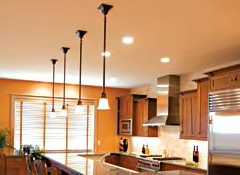 Kitchen Planning Guide
For more ideas and inspiration check out our Kitchen Planning Guide where you'll find the results of our tests of refrigerators, ranges, dishwasher, microwaves and other appliances.