Driving the future with the BMW i8 plug-in hybrid
Supercar looks with an almost Prius-like mission
Published: September 19, 2014 03:15 PM
Shimmying beneath the stunning BMW i8's gullwing doors, and with a vivid blue light show waiting inside, you could be forgiven for a "Back to the Future" flashback. While this more than $136,000 four-seat sports car looks like a movie-set mock-up, it's actually real: a technically complex plug-in hybrid that, at the flick of a button, can switch between vegan-friendly electric athlete and snarling, kick-ass meat-eater.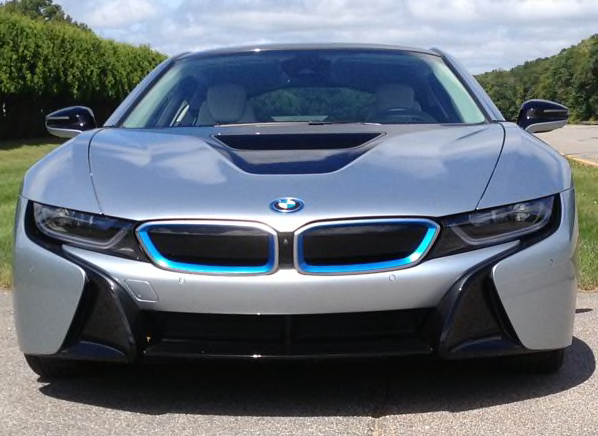 BMW's new "i" sub-brand, devoted to all-electric or plug-in hybrids, is currently represented by the small i3 EV and this soon-to-arrive i8 plug-in hybrid. BMW bills the i8 as a sports car for the future, combining high performance and super-low emissions. It's also constructed with the maximum use of sustainable materials, such as carbon fiber-reinforced plastics for the cabin structure and lightweight aluminum foundations beneath. It hits the scales at about 3,300 pounds. The i8 dropped in for a visit last week, keeping company with our purchased i3 that's already in the Consumer Reports test fleet.
If the clean-supercar concept is simple, the mechanicals here are not. The rear wheels are propelled by a 1.5-liter three-cylinder turbocharged engine that cranks out an eye-opening 228 hp, and the front wheels are driven by a 129-hp electric motor. With separate front (two speed) and rear (six speed) transmissions, this car is actually a pseudo all-wheel-drive car, but without a driveshaft between the axles. A 7.1-kWh battery supplies the juice for the electric drive and can charge in about three hours using a 120-volt outlet. Electric-only range is said to be 15 miles, but when the drive battery is drained, the car can sail merrily along as a traditional hybrid for a further 300 miles at least. The EPA rates the i8 with 76 mpg equivalent on electric power and 28 mpg on gas power.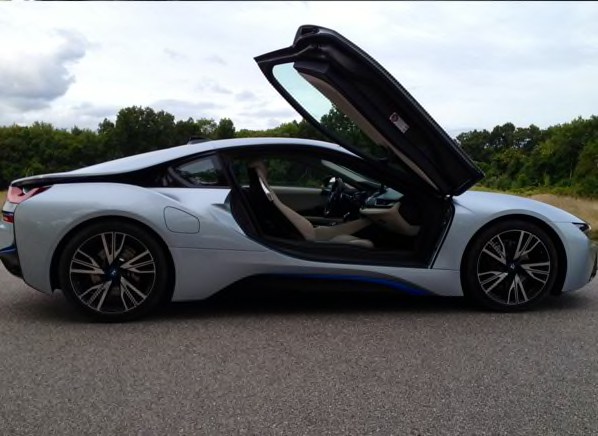 The i8 has three drive modes, each with its own use of the unique drivetrain. At start-up the default mode is "Comfort," and if you go easy on the pedal you can traverse stealthily up to about 50 mph on electric power alone. Tromp on the pedal and the rear engine roars to life, with a satisfying snarl no one would take for a three-cylinder. If there's enough charge in the battery, you can choose "eDrive" mode, which maximizes driving on electricity. Flick the shifter to "Sport" mode and the engine fires up, gauges switch from blue to red, and you now have access to both powertrains. Paddles by the steering wheel invite you to manually shift (sort of), including rev-matching when downshifting. This is certainly a treat, even if the sound is synthesized and piped through speakers. Here, the i8 does a trick other plug-in hybrids can't: While driving in Sport mode, the gas engine recharges the lithium-ion drive battery and you gain electric miles for later use.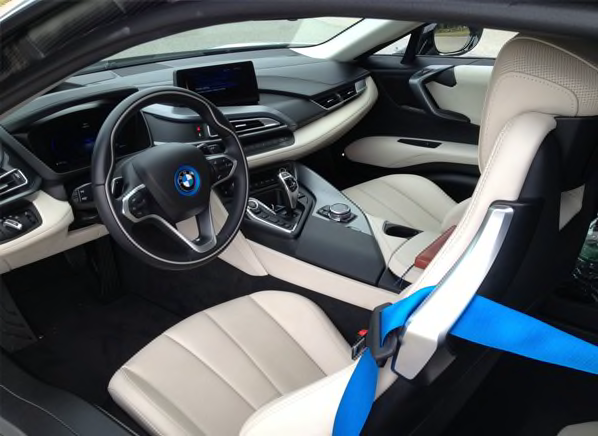 Handling is super agile in a way that only midengine cars tend to be, delivering turn-in response that feels immediate. It was a gas (if that's the word) to carve through the twists and turns of our track. The ride is not plush but it's supple enough and certainly more pliant than, say, a Porsche 911 or Chevrolet Corvette.
The i8's curvy fins and straked body panels give it exotic super-car looks and attract attention right and left. But it's the up-swinging doors that will raise an eyebrow of even the most blasé Connecticut Yankee passerby.
You'd better be limber if you want to haul yourself in or out of the i8 with dignity intact. You duck under that wing door, hurdle a high sill, and deftly hop sideways into the seat. Reversing the process practically takes powers of levitation. But, once inside, you are treated to familiar BMW switchgear. Think of the i8 as more of a 2+2 than a four-seater. A couple of kids can fit in the rear, but just barely. The glass rear hatch covers a small cargo hold. Fortunately, an array of cameras lets you know the car's position when backing up. Otherwise you'd be guessing due to the poor rear visibility.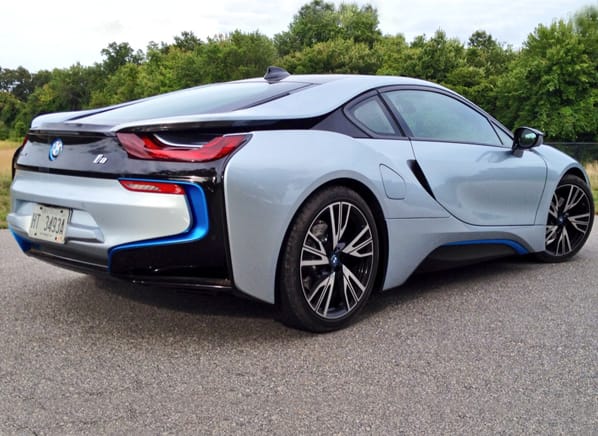 The i8 comes in three trim lines, Mega, Giga, and Terra (as in "megabyte"). A special introductory edition called Pure Impulse tops out at $147,450. Initially, each BMW dealer will get a supply of three cars, which translates into sales of about a thousand cars the first year.
Much like the Tesla Model S, the i8 proves that an electric car can be really cool. Though its high price and complex mechanicals may confine the i8 to a very small market niche, that's almost beside the point. Fantasy looks, high performance, low environmental impact, low guilt level, and a long cruising range make an argument that the i8 really is the car of the future. And unlike the sad tale of DeLorean, BMW is out to prove that the i8 can be many things to many people.
­­—Gabe Shenhar