Go to college free—abroad
Many countries charge no tuition, even for Americans
Published: September 14, 2014 06:00 AM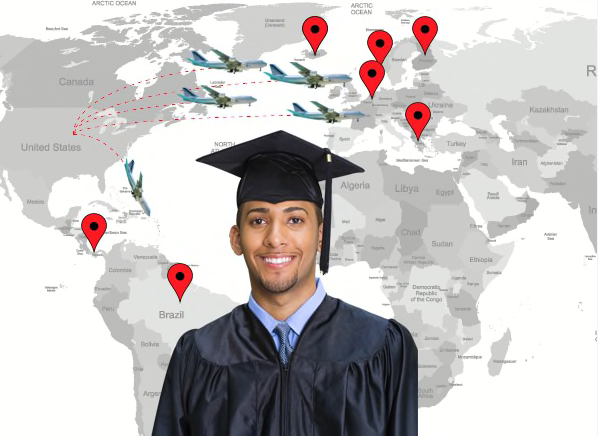 If your son or daughter is a senior in high school and plans to go to college, the next few months will be filled with moments that run the gamut of emotions. You'll also get a heavy dose of reality—rising college costs are among the only certainties in this world, just like death and taxes.
Wouldn't it be great if college were free? Actually, some colleges in the United States are free to all students. And if you and your child are willing to expand your horizons beyond the U.S. borders, you have many additional free options.
Several countries generously allow American students who apply and are accepted to earn a college degree at the same price that the locals pay—zero. Not a bad deal when you consider that the average cost of tuition and fees for the 2013–2014 school year was more than $30,000 at private colleges, nearly $8,900 for state residents at public colleges, and more than $22,000 for out-of-state students attending public universities, according to the College Board.
Some universities have miscellaneous fees for registration, books, and other incidentals. And there are travel and living expenses to consider. But all of that might be a small price to pay for tuition-free degree and what could be the adventure of a lifetime.
These countries have free-tuition universities for American and other international undergraduates:
| | |
| --- | --- |
| Country | What's free? |
| Brazil | Public universities are tuition-free to international students, but Portuguese is the language of instruction. |
| Czech Republic | Tuition is free for programs in which the language of instruction is Czech. |
| Finland | The land of the midnight sun has 14 universities and 25 institutes of technology, all supported by the federal government. Many programs are offered in English. More than 6,000 degree-seeking international students study in Finland each year. |
| Germany | Home to world-class higher education with many programs taught in English, Germany offers free tuition to international students in many of its universities. |
| Greece | Why not study in the birthplace of academia, democracy, and the Olympics? Studying in Greece is generally tuition-free, with some exceptions. The downside is that undergraduate courses are taught in Greek, so you'd have to brush up on your alpha-beta. |
| Iceland | No tuition is charged at Iceland's four public universities. About 5 percent of students are from outside Iceland, and a growing number of courses are taught in English. |
| Luxembourg | A true multicultural environment, the University of Luxembourg, which is the only university in the country, provides instruction in French, German, and English. It charges no tuition for foreign students. |
| Norway | With few exceptions, there is no tuition charged for state universities and university colleges, many of which offer courses and programs in English. About 15,000 foreign students study at Norwegian institutions. |
| Panama | Tuition is free for everyone at public universities in this Central American country, where two universities are internationally ranked—Universidad de Panamá and Universidad Tecnológica de Panamá. The language of instruction is Spanish. |
If none of these countries are of interest to you and you are willing to pay just a little more than nothing, check into the public universities in these countries, where tuition fees are negligible, depending on course of study: Argentina, Austria, France, Malaysia, Mexico, Spain, and Turkey.
—Susan Feinstein