10 cars that the Tesla Model S outmuscles
Horsepower heavyweights that fall short of the Model S P85D
Published: October 11, 2014 09:00 AM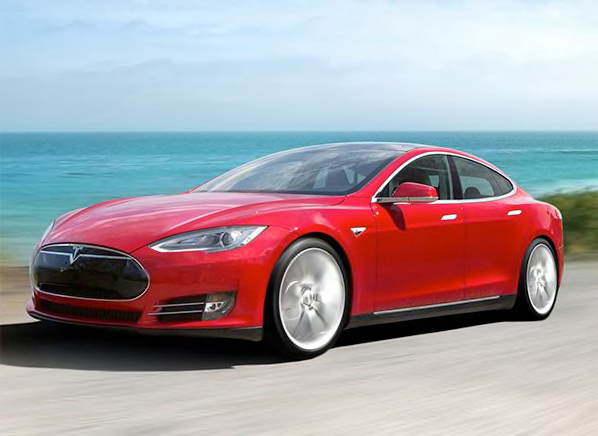 Tesla Motors has advanced the Model S for 2015 with Autopilot active safety features and all-wheel drive. But perhaps the most jaw-dropping fact is the top-tier P85D now has 691 horsepower.
Just take that in for a second. 691 hp. Tesla claims that the P85D can race from 0-60 mph in a scant 3.2 seconds, putting this green, family-sized machine squarely in supercar performance territory.
Even legendary, daresay exotic sedans like the BMW M5, Cadillac CTS-V, and Mercedes-Benz E63 AMG all fail to even break the 600 hp threshold. And even some truly world-class sports cars don't have the same level of power.
Here are 10 more vehicles that you might be surprised to find have less power than the new Tesla variant:
| | | |
| --- | --- | --- |
| Model | HP | Notes |
| Porsche 911 | 350-560 | The quintessential sports car, the 911, is outgunned from base 350 hp to the range-topping Turbo S with 560 hp. |
| Aston Martin V12 Vantage S | 565 | With 126 horsepower less than the Tesla in this prestigious Aston, perhaps James Bond should consider going electric for his next film. |
| Ferrari 458 Italia | 597 | Its sonorous 4.5-liter V8 is enough to make the 458 an absolutely breathtaking car to drive. But it has almost 100 hp less– at 597. It also has a slower 0-60 mph time, at 3.3 seconds. |
| Dodge Viper | 640 | Dodge's V10 halo car costs $85K and has a displacement of 8.4 liters, but only makes 640 horses. |
| Chevrolet Corvette Z06 | 650 | Chevy calls it a "triumph of engineering." We could say the same thing about a car that makes 41 more horsepower than the Z06, but with zero emissions. |
| Lamborghini Aventador | 691 | If you wanted a Lambo with more power, you'd have to jump up to the 710-hp 50th Anniversario Edition. But that costs more than a half a million dollars. |
| Ford Super Duty F-450 | 440 | Ford currently touts its F-450 as having the best towing in the class. It has a diesel engine that may not have equal horsepower, but much higher torque. |
| Western Star 5700 | 600 | It was the basis for Optimus Prime in "Transformers: Age of Extinction," but only has 600 hp. Still, it has well over 1,000 lb.-ft. of torque. |
| Cub Cadet RZT L42 (x 31) | 682 | Its one of our highest rated lawn tractors. 31 of them can mow a lot of lawns, but still falls short of the output of the P85D. |
| Harley-Davidson Street Glide (x 8.9) | 685 | The mighty Street Glide features a High Output Twin-Cam 103 that makes 77 hp. It would take almost nine of them to match the upgraded Model S. |