Get a flu shot—even if you have a cold
Putting it off may leave you more vulnerable to the flu virus
Published: October 31, 2014 01:30 PM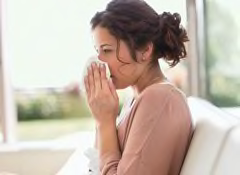 Q. I want to get the flu shot as soon as possible, but I have a cold. Should I hold off?
A. It's usually best to get the shot. Colds and other minor illnesses won't interfere with the vaccine's effectiveness, and putting it off while your immune system is compromised from a cold may leave you more vulnerable to the flu virus until you do get vaccinated. (It takes about two weeks for the immune system to develop protective antibodies.)
But if you have a fever of 101° F or higher, wait until your temperature drops. Otherwise, you and your doctor won't know whether a continuing or rising fever is caused by your illness or is a reaction to the vaccine.
Another caveat: Don't get the nasal-spray flu vaccine FluMist (approved for ages 2 through 49) until your nose is no longer congested.