It's a snow blower, it's a lawn mower, it's both!
And more. Troy-Bilt Flex is four machines with one engine.
Published: October 08, 2014 01:00 PM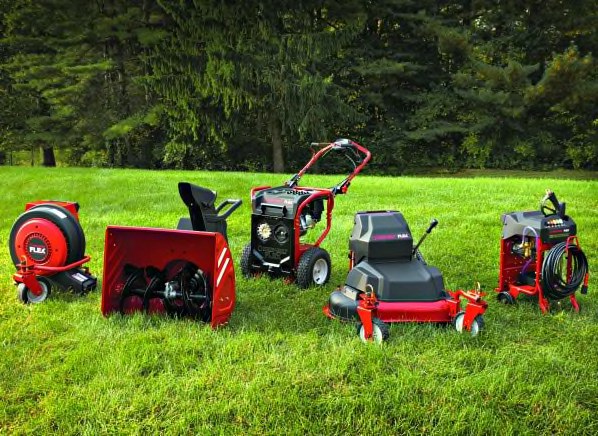 No room in the shed for a blower, mower, and power washer? Troy-Bilt is coming to the rescue with a flexible system in which four pieces of outdoor power equipment run off the same engine. That means only one engine to maintain for your snow blower, lawn mower, leaf blower, and pressure washer. Called the Troy-Bilt FLEX, the system will be available in Lowe's in March. The experts at Consumer Reports got a sneak peek and look forward to testing the FLEX. In the meantime, we can take a guess at how the individual pieces might perform based on our previous tests of Troy-Bilt gear.

The heart of the Troy-Bilt FLEX line, made by MTD, is a base unit with a 208-cubic-centimeter, overhead-valve engine designed to work in all seasons, a gear-drive transmission, a handle you can adjust for height or fold back for storage, and a one-step latching system for hooking up the attachments. For safety's sake, the base unit won't start without an attachment in place. It will sell for about $400 and carries a 4-year warranty. The attachments cost from $280 to $500. Here are the details.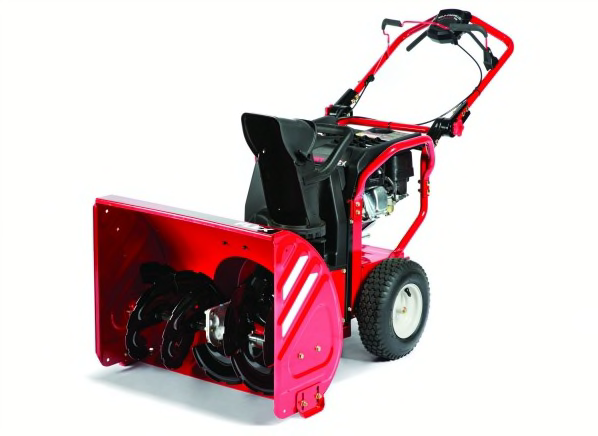 Snow blower. The $400 snow-blower attachment uses the same auger, impeller, and housing as other snow blowers made by MTD including the Craftsman 88970. You'll need to learn how to feather the drive-control levers lightly enough to keep the snow blower from running too quickly. The warranty is 2 years.

Walk-behind mower. This wide-cut (28-inch), twin-bladed mower competes with the $1,000 Toro TimeMaster 20199 in our lawn mower tests, and we expect to test it with other mowers this winter in Florida. The mower can handle all three modes (the mulch kit is included), and you get six cutting-height options from 1 to 4 inches. The front caster wheels can lock for straight-line mowing. The attachment will cost $500 and comes with a 2-year warranty.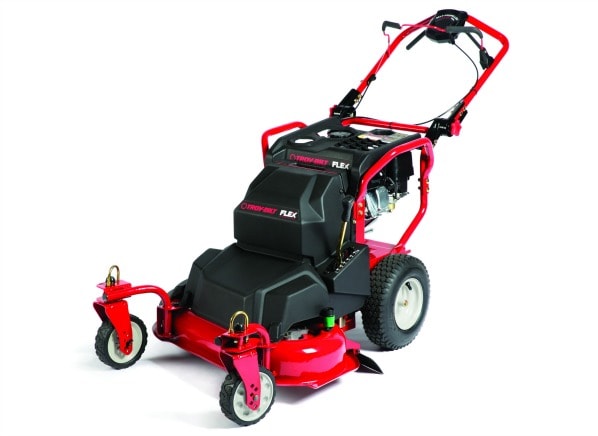 Leaf blower. This attachment is nearly the same as the $400 Troy-Bilt TB672 wheeled leaf blower we've tested, which was top-notch for sweeping leaves and the quietest wheeled model in our leaf blower Ratings. The cost: $280.

Pressure washer. For the same $280, you get maximum 2,800-psi output, five quick-disconnect spray nozzles (including one soap nozzle) for everything from wood decks to stone walls, an on-board tray for deck cleaner, and a 40-foot hose you can store up front with the wand.

Keep in mind that there may be some trade-offs with a system like this. With the snow blower, you lose some of the nicer chute-control features of the better models—including those from MTD brands. And if you only need one or two of these products, you might find comparable models for less. Still, the allure of maintaining only one engine that you'll run pretty regularly might make the investment worth your consideration. And more attachments, starting with a power sweeper are on the way.

Need outdoor gear now? See our Ratings for snow blowers, leaf blowers, lawn mowers, and more.

—Ed Perratore (@EdPerratore on Twitter)