Best cars of 2014
Consumer Reports' test results reveal the best cars of the year
Published: December 23, 2014 09:00 AM
Calling all car fanatics: Here's a list of the models that topped our ratings in 2014. These cars are winners; they out-scored and out-gunned all competitors. To get to be the cream of the crop, they stopped shorter, ran faster, fit people comfortably, and squeezed in a few more miles between fill ups.
Consumer Reports buys cars anonymously (no freebies from manufacturers!) and puts each through more than 50 tests at our 327-acre test facility in Connecticut. Bottom line: No one tests cars like Consumer Reports.

The list is dominated by German makes—top scorers for comfort, handling, ride and driving satisfaction. Surprises? General Motors makes a strong showing with two models on our list. And there's one that simply "electrified" us.
Ladies and gentlemen, here are the best cars of 2014, counting from 10th place to 1st. Drumroll, please.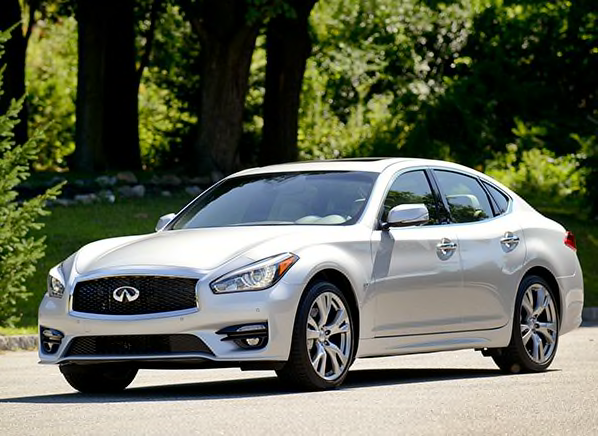 Base MSRP price range: $49,850 - $67,050
The Q70 is the lone Japanese car to make our top 10. It earns its spot through a combination of agile handling, firm-yet-compliant ride, and strong powertrain. Our tested Q70 was very quick, with its 330-hp, 3.7-liter V6 and smooth seven-speed automatic dashing off 0-60 mph sprints in 5.8 seconds and returning a decent 21 mpg overall. We also tested the hybrid version, which was slightly quicker and delivered 25 mpg overall, but its transition between electric and gas mode was too abrupt and discredited some of the car's overall refinement. Interior quality is top-notch, and the rear seat is roomy. You can even get an extended-length L version should you want to stretch your legs further.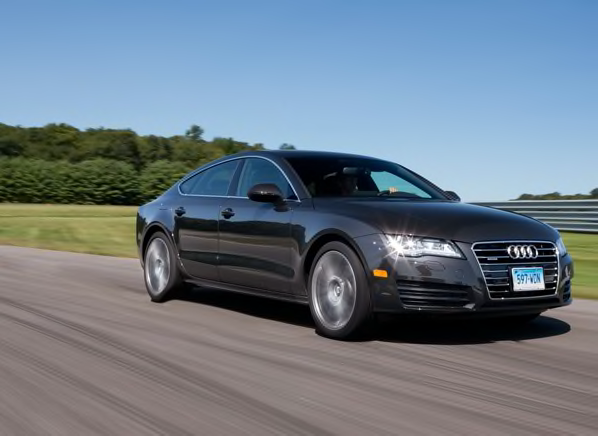 Base MSRP price range: $44,800 - $75,500 / $65,900 - $106,500
The A6 and A7 share the same platform—and get the same score—hence sharing a spot on this top 10 list. Both are outstanding vehicles, giving shoppers a tempting choice between sedan (A6) and hatchback body styles (A7), as well as a variety of four-cylinder, V6, V8, and turbodiesel powertrains. We tested both a V6-powered A6 and a turbodiesel A7; both provided smooth and acceleration. As you'd expect, the A7 won the fuel economy contest with 28 mpg overall. (The A6 got 22.) Both also supply a hushed, nicely finished cabin with all-day-comfort seats. The A6 is engaging to drive with nimble handling and quick, communicative steering. The A7 has hatchback versatility and sleeker styling. Another feather in both of their caps: They tied in our owner satisfaction survey, with 84 percent of our A6/A7 drivers saying they'd buy it again.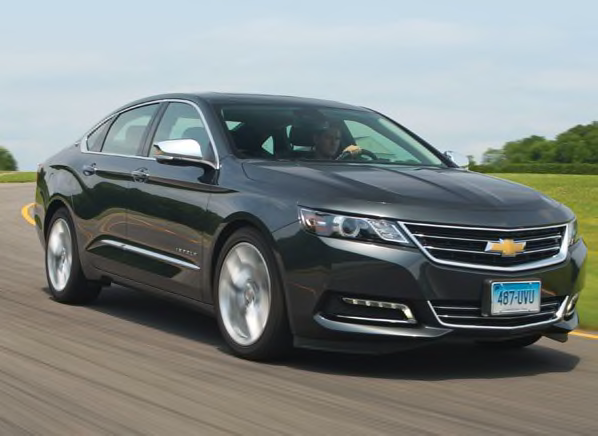 Base MSRP price range: $27,060 - $40,660
The Impala has the distinction of being the least expensive car on our list. Base price is just around $27,000, and, with a bunch of options, the car tops out near $40,000. The interior is roomy, comfortable, and quiet. The most surprising thing about the Impala is how enjoyable it is to drive. The available 3.6-liter V6 is punchy. Handling is very responsive, and the steering feel is more like a German car than an old-school Detroit cruiser. It even rides like a luxury sedan, feeling cushy yet controlled. The full-featured cabin stays very quiet, with a sumptuous backseat and a huge trunk. First-year reliability for the redesigned Impala has been average for the V6 (not so much for the four-cylinder model). The V6 is the one we like most, anyway. And we really like this car.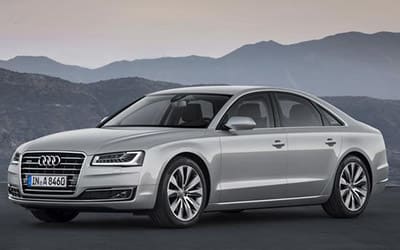 Base MSRP price range: $77,400 - $137,900
Expensive and exclusive, the A8 is Audi's flagship sedan. It's also one of the sportiest luxury sedans we've tested. The A8 carries a price premium (our tested model rang up at more than $91,000), but it provides smooth and effortless acceleration, with commendable 21 mpg overall—even with all-wheel drive. The big car holds the road tenaciously, with crisp handling. Inside you'll find a wonderful interior ambience made of high-quality materials and fine craftsmanship. The exceptionally comfortable and supportive front seats have a variety of massage settings. All-in-all, we'd love this car on a cross-country road trip. Or really any excuse to get behind the wheel.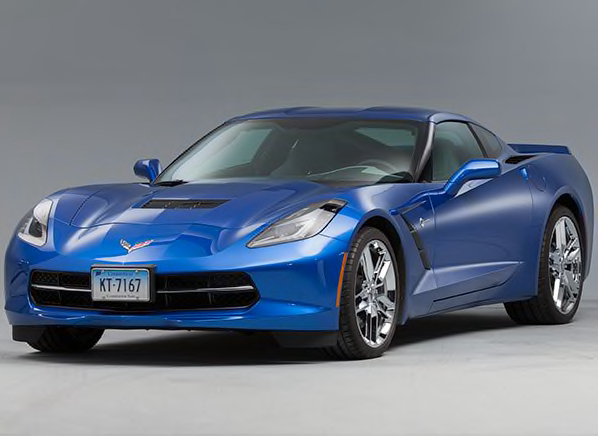 Base MSRP price range: $54,000 - $64,000
This is the seventh generation of the fantastic plastic all-American sports car, and it's safe to say that the Corvette keeps getting better. The styling is head-turning sharp and GM finally upgraded the interior. The heart of this beast, of course, is the magnificent 6.2-liter V8 producing 455 hp. Acceleration is blistering: 0-60-mph in just 4.3 seconds, with a throaty exhaust soundtrack. Handling is pinpoint, making this the most agile Corvette we've ever tested. With the adjustable driving modes, the car can be a civilized cruiser or track-ready race car. We're not sure anyone needs even more power, but a 650-hp Z06 version is also available. Keeping traditions alive, you can choose from coupe or convertible body styles, and automatic and manual transmissions.
Base MSRP price range: $51,800 - $103,200
Looking for a luxury car that's super comfortable and cruises the highway for more than 800 miles without a fuel stop? What if it were the highest-rated luxury car in Consumer Reports' owner satisfaction survey and aced just about all of our tests? That car is the outstanding E-Class diesel. The well-finished interior is plush and feels substantial. Handling is secure and agile. Noise levels are at a bare minimum. Seat comfort and driver visibility are among the best. Is there anything this car can't do? Yeah, stay still. Judging by the number of miles our staff put on this car, it's an undeniable favorite.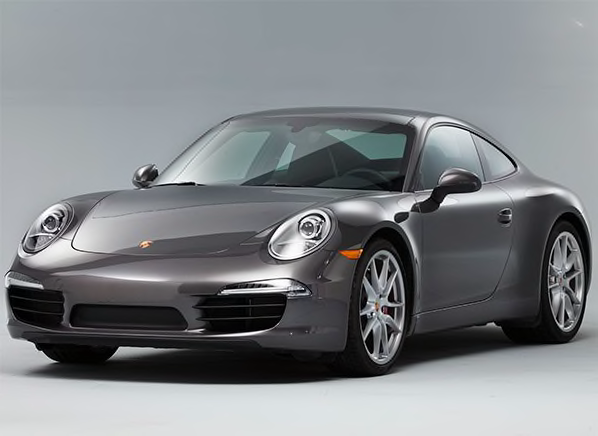 Base MSRP price range: $84,300 - $194,600
Like the Corvette, the 911 just keeps getting better. While the look hasn't drastically changed over the years, the current model still hides a thoroughly modern sports car, promising stunning performance and unexpected civility. The Carrera S version that we tested had a 400-hp, 3.8-liter six-cylinder engine which sang a glorious song as we ran it through the gears. Yes, it's mighty quick: 0-60 mph takes just a brisk and grin-inducing 4.1 seconds. The 911 also corners enthusiastically; it's uncanny how the car dives into corners, with super-quick turn-in response and not a trace of dartiness. You might not think the 911 would be much of a road-tripper, but it isn't particularly taxing on long trips, thanks to its relatively supple ride and decent sound deadening. This 911 truly lives up to all of its highly praised status.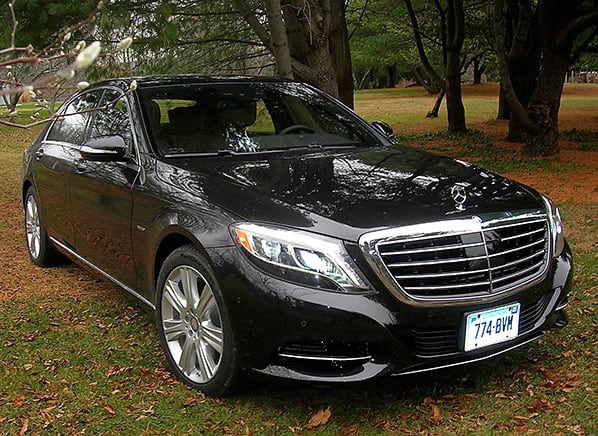 Base MSRP price range: $94,400 - $230,900
Judging by the posh and commodious rear seat, we'll bet that many S-Class owners aren't always driving the car. But we'd argue that there's more satisfaction from behind the wheel than sitting in back scrolling through the Wall Street Journal. The powerful 4.7-liter turbo V8 provides effortless acceleration and managed 18 mpg overall in our tests. The ride is arguably the best in the land, and the cabin is very hushed. Even though it's large and posh, handling agility is commendable. Say you'd like a more green-friendly luxury car? A plug-in hybrid arrives in Spring 2015. This top-shelf Benz lives up to its billing as one of the finest sedans on the planet.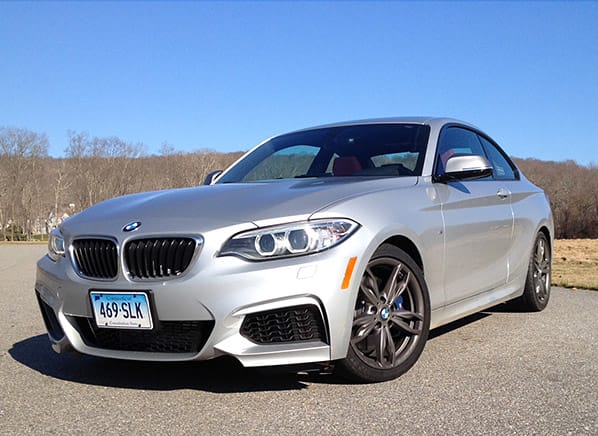 Base MSRP price range: $32,100 - $44,900
For all the doubters out there that thought BMW had lost its way, you must drive the M235i. The small coupe has razor-sharp handling and a sense of immediacy that is unlike other recent BMWs. The car responds to steering inputs with instant turn-in response and barely any body lean. The M235i that we tested has a terrific 320-hp, 3.0-liter turbo six-cylinder engine—simply a gem of a power plant. Accompanied by a satisfyingly sonorous exhaust, the M235i responds instantly to every prod to the throttle, with smooth, abundant torque and a high-end punch. The manual shifter is also a delight to use. And the car's 25 mpg overall is commendable. The beautifully finished cabin is tastefully accented by "M" badges here and there, and the sculpted seats provide comfortable support. Simply put, the M235i is a joy to drive and a clear indication that BMW still knows how to engineer fun.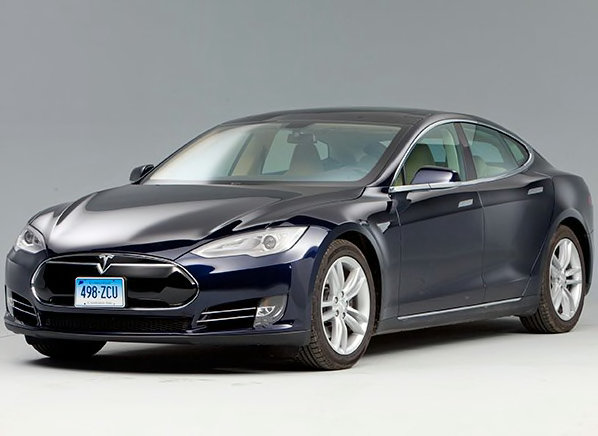 Base MSRP price range: $69,900 - $104,500
Look past its slick styling, futuristic controls, rapid-fire acceleration, and superb handling, and you've still got a car that gets the equivalent of 84 mpg. With its optional 85-kWh battery, the largest available, it can travel between 180 and 225 miles per charge and can fully charge in as little as five hours on a dedicated Tesla connector. How fast is fast? Our 362-hp Model S shot from 0-60 mph in 5.6 seconds. That's very quick and on par with a V8-powered Porsche Panamera S, Jaguar XJ, or a BMW 7 Series. The Tesla isn't cheap—starting at around $70,000—but few cars have dazzled more.
Now that you've seen the best, check out the worst cars of year.
—Mike Quincy