How to pick the best pumpkin products
Consumer Reports examined 23 foods. Not all contained the real thing.
Published: November 01, 2014 06:30 AM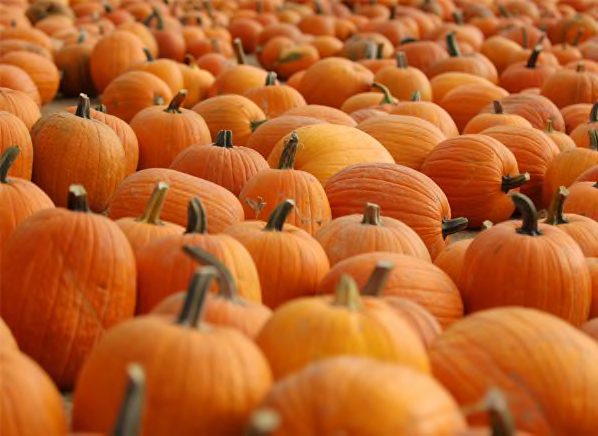 Halloween may be over, but pumpkins still reign. Everywhere you look, grocery-store shelves and menus are crammed with pumpkin-flavored foods ranging from the familiar (pies and muffins) to the far-out (pumpkin-flavored doggie treats, anyone?).
Trader Joe's in particular seems to have caught the bug: The company's website lists dozens of pumpkin-flavored products, including pumpkin bagels, pumpkin cream cheese, pumpkin croissants, pumpkin macarons, pumpkin ravioli, pumpkin toaster pastries (TJ's version of Kellogg's Pop Tarts, which—fear not—are also available in a limited edition "pumpkin pie" flavor), pumpkin soup, and even Pumpkin Body Butter Moisturizer.
And then there are the coffee drinks (almost a category unto themselves), as Starbucks, Dunkin' Donuts, and McDonald's all trot out that seasonal favorite, the pumpkin latte.
Pumpkin pie in a bowl
On its own, freshly cooked pumpkin is a nutritional powerhouse. It's rich in carotenoids like the antioxidant beta carotene, which the body converts to vitamin A. One cup has just 50 calories and 3 grams of fiber. (Plus you get to roast and eat the pumpkin seeds). But when other ingredients are mixed with pumpkin, the result can be considerably less healthy (though pumpkin's nutrients remain).
The food and nutrition experts in Consumer Reports' test kitchens evaluated the nutrition content and the ingredients lists of 23 pumpkin products. You may be surprised at what passes for pumpkin.
Take pumpkin breads or muffins, for example. A pumpkin scone at Starbucks contains 430 calories, 18 grams of fat, 350 milligrams of sodium, and 36 grams of sugars. The pumpkin muffin at Dunkin' Donuts has 550 calories, 24 grams of fat, 480 milligrams of sodium, and 41 grams of sugars. Pair either of those seemingly wholesome treats with a hot pumpkin drink—say, Starbucks' Grande Pumpkin Spice Latte, made with 2 percent milk and topped with whipped cream (13 grams of fat, 49 grams of sugars, and 380 calories)—and you've blown roughly 900 calories.
Even a seemingly healthy product can look not so hot on close inspection. Trader Joe's Pumpkin O's have less fiber and more sugar than their Joe's O's. Their boxed Pumpkin Soup has 10 grams of sugars per serving (approximately one cup). Granted, some of that is naturally present in the pumpkin, but it also contains two types of added sugars, some "evaporated cane juice" and apple juice concentrate. It does, however, give you 140 percent of your daily value for vitamin A.
Flavor that's faked
But at least the breads and the soups usually contain actual pumpkin. The lattes? No pumpkin in sight. Look closely and you'll see "spice" in the name. That aroma and taste come courtesy of syrup that's squirted into the espresso and steamed milk. In fact, we found that the "pumpkin" in a host of popular products is nothing more than pumpkin-pie spices that have been added to the food. Jell-O's Pumpkin Spice Cheesecake Snack, Nabisco's Pumpkin Spice Crème Oreos, or Pepperidge Farms' Pumpkin Spice Milano cookies? Pumpkin-free.
Bottom Line: We've said it before and we'll say it again: Read the label! Enjoy foods that are made with pumpkin or pumpkin puree and have it toward the top of the ingredients list. Check the sugars and fat content, and avoid processed foods whose only claim to "pumpkin flavor" is that a few spices (or, worse, synthetic flavorings) have been added to a product that's likely of dubious nutritional value in the first place.
—Lorraine Glennon