4 ways to avoid this season's flu
Plus what to do if you get sick
Published: January 06, 2015 06:30 PM
Nearly 7 percent of deaths in the U.S. now stem from the flu or pneumonia, according to the national Centers for Disease Control and Prevention, approaching epidemic levels.
The flu is also widespread in 43 states. Here's how you can avoid the illness, and what you should do if you come down with it.


1. Get your shot.
The CDC says that the vaccine this year is not a great match for the flu strain that is responsible for most of the illnesses being reported. But it still helps prevent some cases and may reduce the severity of your symptoms, says Marvin M. Lipman, M.D., Consumer Reports' chief medical adviser. And there are other strains that may show up in the coming months that the shot will protect you against.
2. Scrub your hands frequently.
The flu virus can linger on surfaces, such as doorknobs, that then spread to you when you touch your mouth or nose. But to combat this, don't scrub with antibacterial soap—it just contributes to antibiotic resistance and other health threats. Instead, use clean running water—the temperature doesn't matter—and regular soap, and take your time. Lather up for 15 to 30 seconds, or the time it takes to hum "Happy Birthday" to yourself twice. Then rinse and use a clean towel to dry your hands. Damp hands are more likely to pick up and spread germs.
3. Use alcohol-based hand sanitizer as a backup.
Just make sure the product is at least 60 percent alcohol (ethanol or isopropanol). And make sure you put on enough so it takes at least 10 to 15 seconds to dry, says Elaine Larson, R.N., Ph.D., professor of epidemiology at the Mailman School of Public Health at Columbia University.
4. Keep your distance during flu season.
Droplets containing flu germs spread when people cough, sneeze, or talk, and they can land on your nose or mouth up to about 6 feet away. And since symptoms start one to four days after the flu virus enters the body, you really don't know who is a carrier and who is not. So try to avoid crowds, especially if you have underlying illnesses, says William Schaffner, M.D., an authority on infectious diseases and chairman of the preventive medicine department at Vanderbilt University School of Medicine in Nashville, Tenn.
"In the Southeast where flu started this year, we're still seeing lots of hospital admissions and emergency department visits, so the season has not yet peaked, unfortunately," he adds.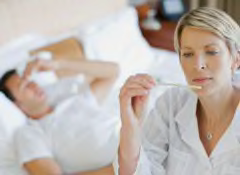 What to do if you still get sick
Finally, flu symptoms come on swiftly. If you suddenly have body aches, fever, sore throat, and coughing, chances are good that you have the virus. If you are in one of the high-risk groups, including people 65 and up and and children 5 and younger, get to a doctor right away for prescription antiviral medication, such as oseltamivir (Tamiflu) and zanamivir (Relenza). The drugs are effective in reducing the severity of symptoms if taken within 48 hours of getting sick and have been shown to reduce the risk of complications such as pneumonia and respiratory failure.
And if you're not in a high-risk group? The CDC says antiviral treatment also can be considered if your doctor thinks it's necessary. But be aware that the cure can be as bad as the disease: Antivirals can cause nausea, vomiting, and increase the risk of headaches.
—Sue Byrne