LG G Flex 2 smart phone gives a little but takes a lot (of punishment)
LG's latest flexible smart phone is smaller, faster, with a sharper display
Published: January 05, 2015 12:25 PM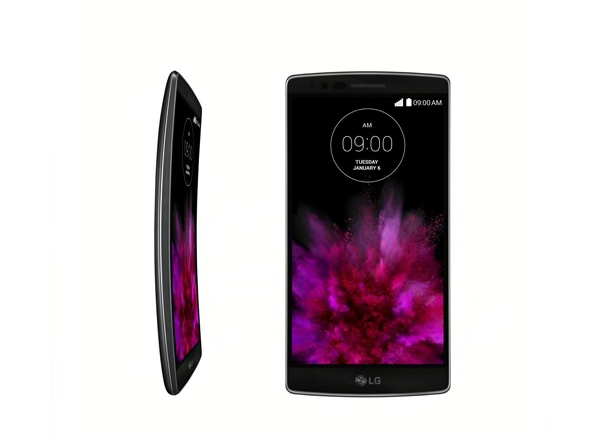 Take a good look at the LG G Flex 2 because in many respects it's a lot like the phone you'll be holding soon, or in a few years. For one thing, this sleek phone promises to be tough, perhaps tough enough to survive an elephant dancing the tarantella on it. I say this because its bendy predecessor, the G Flex, continued to function even after we applied 1,000 pounds of pressure to it using our Instron compression test machine. Like its predecessor's, the new phone's case and screen have a slight concave curve, and are very slightly bendy. The idea is that when you place it face down on a flat surface and apply pressure, it should bounce back up like a car's leaf spring.
The phone is also beefy in other ways. It has a large-capacity 3,000 mAh battery, which will help the phone give you a full day of work, and can be recharged to 50 percent capacity in about 40 minutes with a conventional USB 2.0 charger.
But this model is smaller (5.9 × 3.0 × 0.35 inches vs. 6.3 x 3.2 x 0.4 inches), making it easier to grip, while its 5.5-inch OLED display is notably sharper (403 pixels per inch vs. 245). There are higher-resolution displays out there, including the 540 ppi display on the LG G 3, but our tests have found it's hard to notice improvements in resolution above 400 ppi. According to LG, delivering this high level of resolution on a flexible display is quite a challenge given how the several layers its made of move when the screen is bent.
The phone's 13 MP camera (same as before) adds an optical image stabilizer, which our tests have confirmed improves your chances of taking better pictures under low-light conditions or when it's difficult to keep your hand steady. It also has a fast 64-bit Qualcomm Snapdragon 800 processor and will run Android 5.0 when it debuts on major carriers later this year.
We'll have more on the LG G Flex 2 when it arrives in our labs for testing
—Mike Gikas


Click on the image above to find all of Consumer Reports' coverage from CES 2015.