Microsoft HoloLens brings interactive 3D holograms into the world around you
Along with Windows 10, the company announced its new take on augmented reality
Published: January 21, 2015 04:00 PM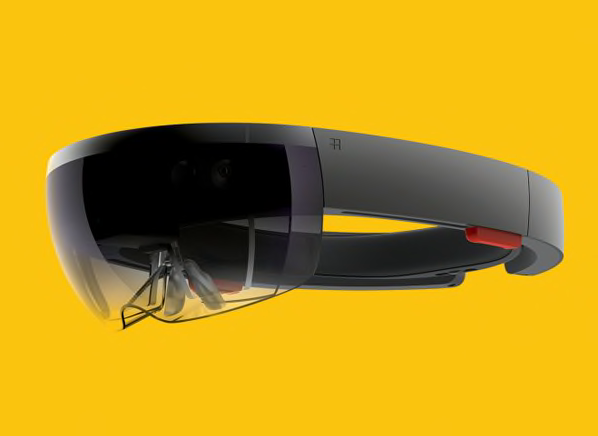 Today during its Windows 10 event, Microsoft introduced HoloLens, which it calls "the world's most powerful holographic computer." Alex Kipman of the company's Operating Systems group said that Windows 10 will support 3D holographic user interfaces that HoloLens wearers will be able to interact with. HoloLens will be available within the Windows 10 timeframe; no pricing information is available yet.

Looking something like a hybrid of skiing goggles and Google Glass, HoloLens fits two see-though holographic lenses in front of your eyes and lets you see—and hear—3D holographic objects in the context of what is actually around you. This makes it quite different from virtual-reality headsets such as Oculus Rift and the Samsung Gear VR, which create a visual virtual world without incorporating your real-world surroundings.
The device will come with an onboard CPU and GPU, as well as an "HPU": a holographic processor that understands where you're looking, your voice, and so on, without any wires—no connected phone or computer is required. HoloLens will also be equipped with a speaker, so that wearers will be able to hear within the augmented-reality 3D world. For example, you'll be able to hear holograms that are behind you.
How will people use HoloLens? Gaming is obvious, but Microsoft also spoke about HoloStudio, a tool that lets you build holographic objects in space around you, then make them real via a 3D printer. Training and educational applications seem like naturals, too. And the company is working with NASA's Jet Propulsion Laboratory to allow its scientists to explore Mars using holograms of Mars Rover images, letting them walk—virtually—on the surface of Mars.
—Carol Mangis