Roku adds 4K streaming to reference Roku TV smart TV design at CES 2015
TCL will be the first brand to use the Roku TV platform for 4K streaming services, including Netflix
Published: January 05, 2015 12:30 AM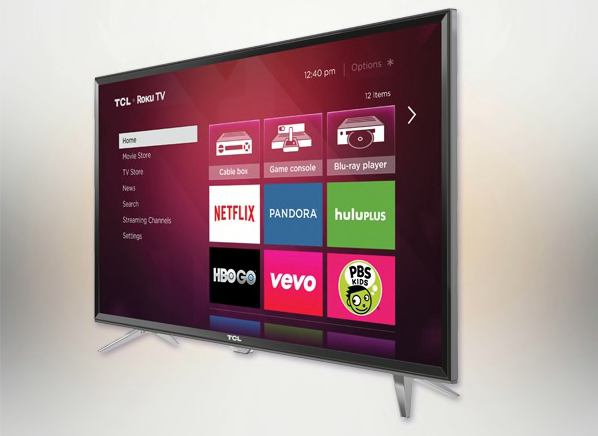 Last year, some UHD TVs didn't support 4K Netflix streaming, even though they had built-in 4K HEVC decoders. Here at CES 2015, Roku says it's adding 4K streaming support to a new Roku TV reference design that will make its appearance first in a TCL UHD later this year. The new Roku UHD TVs will be able to stream 4K Netflix videos, and perhaps 4K content from other services supported by Roku as well.
Roku also says that Haier and Insignia—the latter Best Buy's house brand—will be offering Roku TV models this year, though it's unclear if any will be UHD TV models.
So far Roku has positioned its reference smart TV design, which essentially makes the Roku interface the TV's main home screen, as a way to help value-focused TV brands provide a quality smart TV experience for their customers. Adding 4K capability for these lower-priced sets will add even more value in 2015, the company believes.
TCL is holding a press conference at CES on Monday, Jan. 5, so we should get more details about their UHD TVs soon. Little info was available about the Insignia Roku TVs, but 4 Series Haier Roku TV 4 smart TVs will be available in screen sizes ranging from 32 to 65 inches. The 40-inch to 65-inch models will have 1080p resolution, and include what the company calls a Sound Chamber speaker system.
We were able to test a few Roku TVs this year, including models from TCL and Hisense, and we felt the Roku interface worked well for smart TVs. The down side, however, was that accessing the picture controls and changing picture settings was a bit more laborious than with many other sets that had their own, more typical TV interfaces.
We're looking forward to checking out some of these new Roku UHD TV models when they're ready and see how they perform with 4K streaming content. Keep checking back for all our CES updates.
—James K. Willcox

Click on the image above to find all of Consumer Reports' coverage from CES 2015.