When going solar, should you lease or buy?
The pros, cons, and costs of installing a solar photovoltaic system
Published: February 27, 2015 03:15 PM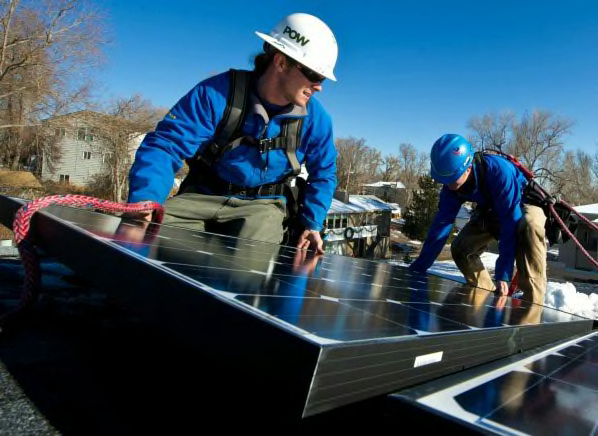 As the cost of solar technology drops, more and more homeowners are considering buying or leasing rooftop solar panels. In fact, the U.S. Department of Energy projects that 900,000 homes will feature solar installations by the year 2020. Properly sized, a solar photovoltaic system can reduce your energy costs by 50 percent or more, and a recent study conducted for the DOE found that some home buyers are willing to pay a premium for a house with a solar system.

Before embarking on an installation, a homeowner should assess whether their house gets enough direct sunlight. Then there are the pros and cons of buying versus leasing. Buying the equipment can cost between $10,000 and $50,000 depending on your needs and the complexity of the installation. But once you recoup your expenses, everything else is profit. Taking advantage of rebates and tax breaks, such as the federal tax credit that expires at the end of 2016, can lower your costs. By leasing you avoid the upfront costs but typically sign a 20-year contract. Here are some other considerations.
Assess your needs
Any analysis of your home's energy needs should account for anticipated changes in your household such as a grown child moving out. You may have to upgrade your electrical service panel whether you buy or lease but experts advise waiting until you make a decision because often the cost is included in the installation price. It's also important to consider the age and condition of your roof—you won't want to put new panels on an old roof.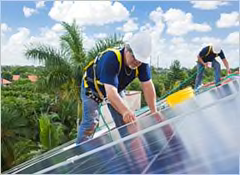 Do your research
Your local utility can offer some guidance by explaining your current energy costs and recommending efficiency improvements. Ask how much rates have risen over the past few years and whether they're expected to continue rising at that pace. That's important to know if you lease the equipment. And remember to ask whether energy from solar power can drop you to a lower rate per kilowatt-hour. Before contacting your utility, check the website of the Database for State Incentives for Renewables & Efficiency so you can also ask about any available rebates and tax credits.
Get several quotes
Before making your decision, talk to a few contractors to get a better idea of what size system you'll need—and what kind of savings you can expect. If you plan to lease, you'll be paying by the month or the kilowatt-hour. Leasing contracts typically include an "escalation schedule" that specifies how much your payments will go up over the typical 20-year contract. Compare that to the rates cited by your utility company. Looking for a contractor? Try the Solar Energy Industries Association's state-by-state directory.

For more information, check a helpful guide from the Louisiana State University Agricultural Center. You can also learn more from the websites of The National Renewable Energy Laboratory, the Energy Information Administration, and the Solar Energy Technologies Program.

Another option
If you're not ready for an entire solar photovoltaic system, you may want to consider a solar water heater. In Consumer Reports tests, the best models saved us about 80 percent over an electric storage-tank heater during the summer months at our Yonkers, N.Y. headquarters. But those savings plummeted to about 30 percent during cold weather. For more information, check our water heater buying guide.

—Ed Perratore (@EdPerratore on Twitter)