Convertible Worx Aerocart does the heavy lifting
Save room in your tool shed with this 8-in-1 garden cart
Published: March 16, 2015 06:00 PM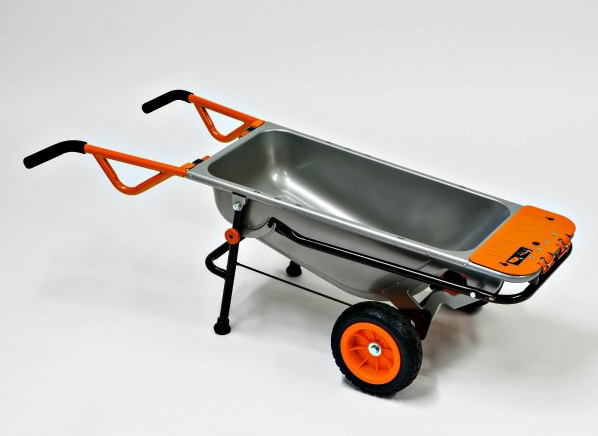 Worx, a maker of electric outdoor power equipment and related products, calls the Worx Aerocart an "8-in-1 all-purpose lifter, carrier, and mover that lightens every load." The $160 product converts from a garden cart and wheelbarrow to a hand truck, with several options that, for instance, let a 98-pound editor lift and move an 86-pound potted plant. In our tests, the Aerocart mostly met its claims.

Because the product has two wheels, it has an advantage over the standard wheelbarrow right off the bat: no tipping with heavy loads. The wheels are large and wide enough to remain stable even over soft soil or grass. They're also non-inflatable, unlike many standard wheelbarrow wheels that go flat between uses.

A blade in the cart's front locks in place at a 90-degree angle to the cart for when you need a hand truck. And when the blade is down, you lock in two extension arms to hook on a plant sling, which can also hold a five-gallon bucket. It's in this position that the Aerocart's engineering shines. In fact, the more you push down on the handles to raise the load, the easier it is to hold the object aloft to move it.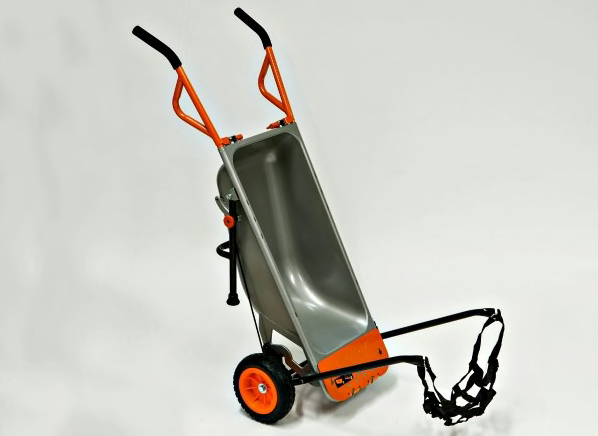 We could not test all of the Aerocart's optional attachments, which include a seat, a water-hauler bag, a snow-plow attachment, and a wagon you can attach to a trailer ball of a tractor or vehicle. But what we did try out impressed us overall, with these exceptions:
The plant sling was a little hard for a single person to use. Clipping the cradle's rings onto the extension arms' hooks and then lifting the plant while keeping the rings on the hooks required multiple attempts and lots of stretching;
With the lifting arms extended, maneuvering the cart and load in tight spaces can be difficult; and
The lip of the wheelbarrow tray doesn't reach the ground when you lower the front of the cart because it's offset by the depth of the hand-truck/dolly blade. That can make loading and unloading the cart a little harder.

And while the Aerocart appears to be well built, it might be less durable than a cart or wheelbarrow in a single configuration. Still, the product's moving parts—particularly how the wheels fold out of the way into a shallower footprint—also let you stow it more conveniently than a standard garden cart or wheelbarrow. And never needing to buy a separate hand truck further reduces the number of items stored in your garage or shed.

Mowers and tractors. With the springtime thaw finally on track, we'll soon be posting Ratings of the latest mowers, tractors, and zero-turn-radius riders we've tested. See also our Ratings of string trimmers, leaf blowers, and chain saws.

—Ed Perratore (@EdPerratore on Twitter)