Cut the salt, save your kid
Lower-sodium options when eating out or cooking at home
Published: March 18, 2015 01:45 PM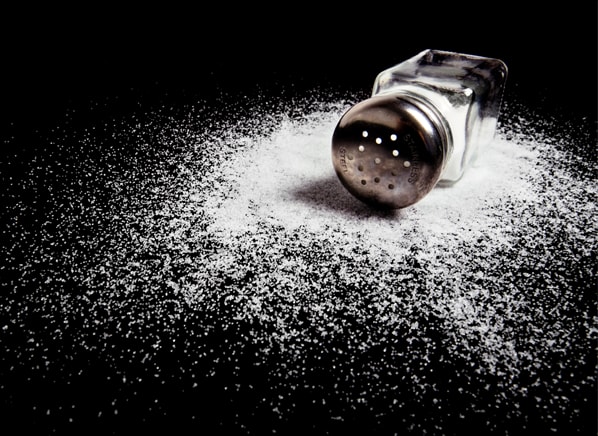 Kids develop a taste for salt at a very young age, even as infants. And once established, the habit is hard to shake—with lifelong consequences. One in six children in the U.S. now has high blood pressure, thanks in part to all the sodium they consume. The average sodium intake for children ages 6 to 18 is between 2,900 and 3,672 mg a day, well above the 2,300 mg recommended maximum.
"But cutting back is a challenge, since most of the sodium your child eats doesn't come from the salt shaker, but is added to foods by the manufacturer or the cooks at a restaurant," says Maxine Siegel, R.D., manager of the food test lab at Consumer Reports. To help you in your efforts to cut back on sodium in your kid's diet—and in support of World Salt Awareness Week—our nutrition experts came up with some lower-sodium options when you're eating out in a fast-food restaurant, packing lunches, ordering pizza, or cooking up a cup of soup.
Getting fast food
Sodium can be sky high in kid's meals at fast food restaurants. Sodium shockers we found included the Panera Bread Kids Mac and Cheese (1,020 mg per cup), Applebee's Kids Chicken Quesadilla (1,740 mg) and KFC Kids Popcorn Nugget and Mac n' Cheese Kids Meal (1,745 mg). Of course, fast food shouldn't be an everyday part of your child's diet, but chances are that you'll find yourself driving up to take-out window for a fast food treat at least occasionally. A smart choice could save you sodium.
Higher-sodium meal

Lower-sodium meal

Sodium savings

McDonald's Cheeseburger Happy Meal*

Sodium: 870 mg

McDonald's 4-piece Chicken McNugget Happy Meal*

Sodium: 550 mg

320 mg

* Both meals come with Kid's Fries, Apple Slice, and 1% Lowfat Milk
Packing lunch
Sandwiches can pile on the sodium, because the bread, meat, cheese, and condiments each add on a little (or lot) more. Cold cuts are usually the main culprit—and sodium amounts can vary widely, even for the same kind of meat. For example, sodium levels for packaged turkey deli meats we looked at varied from 360 mg to 620 mg per 2-ounce serving. Sodium can vary for the bread and cheese, too. So read nutrition fact labels closely, and ask the guy or gal at the deli counter to provide manufacturer nutrition info. You could cut even more sodium if you swapped the cheese or meat with lettuce, tomatoes, shredded carrots, or a drizzle of vinegar and olive oil.
Higher-sodium choice

Lower-sodium choice

Sodium savings

Boar's Head turkey (2 oz)
Cheddar cheese (1 oz slice)
Lay's Potato Chips (1 oz)

Sodium: 1,020 mg

Boar's Head no-salt added turkey (2 oz)
Cheddar cheese (1 oz slice)
Kettle Brand unsalted chips (1)

Sodium: 550 mg

470 mg
Ordering pizza
Pizza is the top source of sodium in kids' diets, according to the CDC. We found a wide range of sodium in frozen pizza. And in take-out restaurants, a simple switch of the crust type lowers the sodium at some pizza chains (Dominos and Papa John's), so check out the nutrition info for your favorite spot online or at the restaurant. Like fast food, pizza isn't something you want to serve your kids every day. But making the swtich to thin crust can help make pizza night a little healthier.
Higher-sodium choice

Lower-sodium choice

Sodium savings

Large slice of Dominos Regular Hand Tossed Pizza

Sodium: 530 mg

Large slice of Dominos Thin Crust Cheese Pizza

Sodium: 350 mg

180 mg per slice
Making soup
Packaged soup can come packed with sodium: Campbell's Homestyle Chicken Noodle soup, for example, has 940 mg per serving; Nissin Cup Noodles, 1,060 mg of sodium; and Panera Bread's Low Fat Chicken Noodle, 960 mg. Our homemade chicken noodle soup recipe, by contrast, cuts the sodium nearly in half compared with Campbell's chicken noodle. Pair it with a salad and a bottled Italian Dressing (130-260 mg per tablespoon) and sodium can easily reach 1,000 mg.
Higher-sodium choice

Lower-sodium choice

Sodium savings

One cup of Campbell's Chicken Noodle Soup

Sodium: 890 mg

One cup CR's Lower-sodium chicken noodle soup (see recipe below)

Sodium: 460 mg

430 mg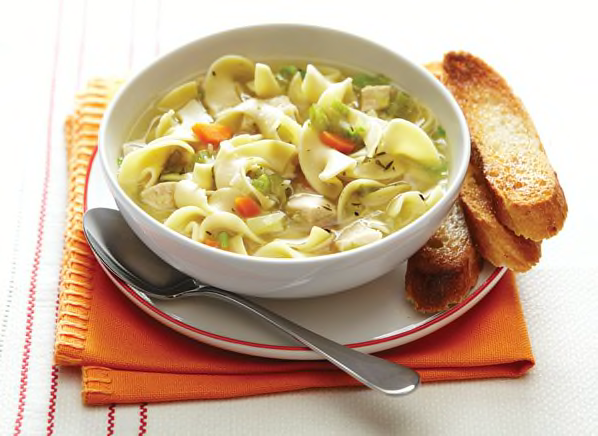 Lower-sodium chicken noodle soup
Prep time: approximately 15 minutes. Total time: approximately 1 hour

• 1 chicken breast half, with skin (approximately 3/4 lb.)
• 1/4 cup finely chopped shallots
• 1/2 cup finely diced celery
• 1 cup sliced carrots
• 4 cups lower sodium chicken broth
• 2 ½ cups water
• 1/2 tsp. salt
• 1/8 tsp. marjoram
•1/8 tsp. thyme
• pinch of black pepper
•3 oz. (about 2 cups) wide egg noodles, cooked according to package directions
Place chicken, skin side down, in preheated 4 quart sauce pan. Brown over medium heat for about five minutes to render out some chicken fat. Remove chicken. Reduce heat to low. Add shallots and stir briefly (1-2 minutes). Do not brown. Return chicken to pan and add remaining ingredients except for noodles. Bring to boil. Reduce heat to low simmer, uncovered, and cook 30 minutes or until chicken is tender. Remove chicken and let cool. Discard bones and skin. Dice chicken and return to pan. Add cooked noodles. (Soup can be refrigerated for future use at this point. Just before serving, return soup to boil). Yields about 8 cups.
Recipe can be easily modified to suit personal tastes. For example, chopped onions can be used in place of shallots, or rice or favorite pasta can be used in place of egg noodles.