Protect yourself from robocalls
Robocalls are more than an annoyance—they can turn you into a victim of a scam and possibly, identity theft. Here's how to fight back
Published: March 03, 2015 03:00 PM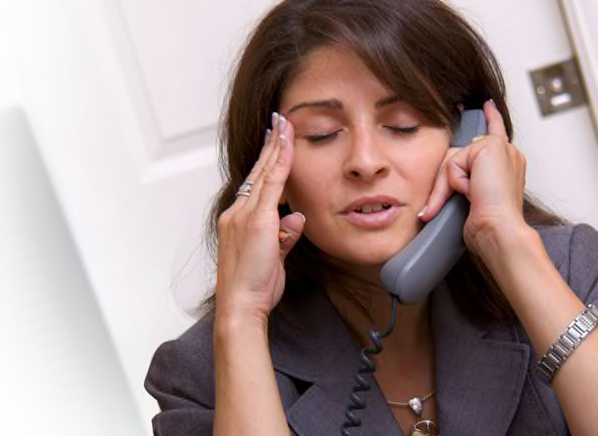 You're relaxing on the couch or having dinner with your family when the phone rings. Maybe it's "Rachel from Cardholder Services" offering to lower your credit card rates in return for an upfront payment. Or maybe it's "Microsoft tech support" promising to fix a supposed computer virus if you'll just allow access to your computer.
Robocalls—unsolicited autodialed telemarketing calls that are either pre-recorded or from a live person—are on the rise. The numbers are staggering: Consumers have placed over 217 million numbers on the Do Not Call (DNC) list to avoid telemarketing calls—a stunning number given that the entire U.S. population is about 319 million.
The barrage of calls affects quality of life, disrupts sleep, interrupts work and blocks important phone calls. Worse, robocalls are the vector by which scammers sneak in to try to steal your money, your credit card numbers and your identity. Telemarketing fraud costs consumers an estimated $350 million a year—that's $1 million every day.
Robocallers are constantly adding to their arsenal of weapons to scam or spam you. Your first line of protection is to educate yourself about their methods. The most common are:
Phishing. Fraudsters pose as a legitimate company to trick you into revealing private information to be used for identity theft.
Vishing. A voice phish using the telephone.
SMiShing. A phish using fake text messages.
Spoofing. Hijacking a known number, such as that of your spouse or child or even your own number, to fool caller-ID systems. IRS scam callers spoof a number with a 202 area code, making the call appear all the more convincing.
Be sure to also take these steps:
Sign up both your landline and mobile phone on the Do Not Call Registry at www.donotcall.gov to cut the amount of legitimate telemarketing calls.
File complaints to the Federal Communications Commission (FCC) and the Federal Trade Commission.
When you answer the phone and hear that telltale silence, just hang up. Don't wait for the telemarketing spiel or press any buttons; that just verifies to the caller that the number goes to a real person, and you will get more robocalls.
Never give your credit or debit card information, bank account information, or username or password to anyone who asks over the phone.
If you think you were scammed, call your credit card company or bank immediately, using the number on the back of your card or bank statement.
To be blunt, while these steps will help a little, they won't stop the flood of robocalls. Most robocallers, telemarketers and phone scammers change their numbers frequently, sometimes even on a daily basis. Others simply ignore the DNC list, betting that the FCC and FTC are too busy to come after them. Still others outsource to firms located outside the U.S., often in the Philippines and India, which are beyond the reach of U.S. governmental regulations.
But don't despair. It's important for regulators and policymakers to keep hearing from consumers. Consumers Union has launched a campaign to address this pernicious issue. Right now, one of the most effective actions you can take is to make your voice heard by signing the petition at our website at www.endrobocalls.org.

—Catherine Fredman