Smart luggage is the next big thing for an old product
Companies such as Bluesmart and Planet Traveler have brought suitcases into the 21st century
Published: April 22, 2015 08:00 AM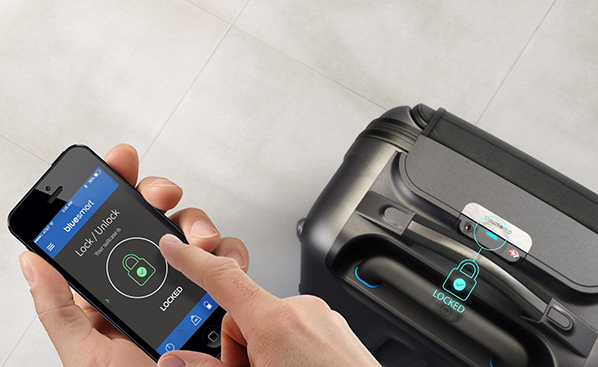 Not too long ago, "connected luggage" involved two suitcases and a strap. Now it involves a smartphone and built-in electronic capabilities. It's the next generation of luggage. You didn't think suitcases would remain analog, did you?
We haven't tested these but sure would like to.
The Bluesmart "connected" suitcase (shown) knows where it is, how much it weighs, and who's allowed to handle it. Download the Bluesmart app on iOS and Android devices to enable your bag's digital lock (no need for keys or combinations), proximity sensors (it will alert you and lock itself when it moves too far away from your phone), location tracking (handy in the event of loss or theft), trip tracking (stores your trip information and history), a built-in digital scale (just pull on the handle), and a built-in battery that the company says holds enough power for six charges. The retail price is expected to be at least $450 when it comes out in August.
Like Bluesmart, Space Case 1 includes a scale, GPS tracking, and a built-in power source. This connected suitcase, made by Hontus through its Planet Traveler USA unit, has biometric fingerprint recognition locks and, in the carry-on size, a built-in Bluetooth speaker. The two-piece set—20-inch carry-on and 29-inch check-in—cost $2,000.
You can create DIY high-tech luggage by adding electronic devices to your analog bags. The eGeeTouch Smart Luggage Lock ($25 to $35), made by Digipas, is a lock with options to operate it with a smartphone or a dedicated NFC key fob.
For tracking, there is LugLoc ($70 plus tracking fees)—a small device you drop into your bag, which uses Bluetooth and GSM technology to pinpoint its location—and Trackdot, which, for a purchase price of $50 plus an annual $20 fee, will text or e-mail you the location of your bag when your flight lands. As for weighing bags on the go, there are a number of hand-held luggage scales on the market. On Amazon.com they range from $5 to $108.
Add a portable charger to your equipment lineup and you'll have many of the features of a full-fledged connected suitcase.
—Susan Feinstein