Try a foam roller to relieve aching muscles
This inexpensive self-massage tool can help loosen stiff spots
Published: May 21, 2015 12:30 PM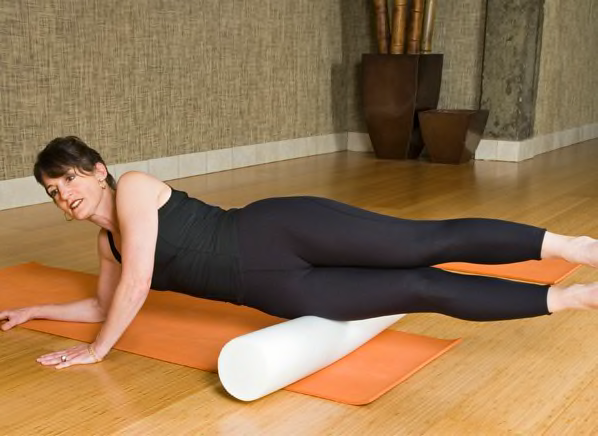 Q. My muscles are often very stiff, and stretching them out doesn't seem to help. What else can I do to relieve the stiffness and achiness?
A. Try using a foam roller (available online, at sporting goods stores, and big-box stores like Target and Walmart for about $15 to $40). These simple cylindrical pieces of dense foam come in different lengths, but the most common is 36 inches, which is considered the most versatile model.
To use it, sit or lie on the floor with the roller directly under the problem muscle, then slowly roll back and forth for 20 to 60 seconds, using your body weight to press down as much as feels comfortable. This type of self-massage technique, called myofascial release, loosens up stiff muscles and relaxes tight spots in your fascia, the thin sheath of connective tissue over muscles. Studies show myofascial release can also reduce soreness and improve range of motion.
In addition to a foam roller, a tennis ball can be especially helpful for an achy back or hip. Follow the same technique as with the roller, rolling the ball under the painful spots to work out the knots.
One crucial tip when you begin foam rolling or using a tennis ball is to start off slowly. Like some other massage techniques, myofascial release can be painful. Be sure to use your body to modulate how much pressure you put on the roller or ball.
Remember: The idea is to relax the muscles—putting yourself in too much pain may only result in them tensing up even more. To that end, start off by purchasing a smooth foam roller, and avoid the ones with pronounced bumps and lumps that cause them to resemble medieval torture devices.