Cadillac Escalade LED headlights outshine all others
The SUV's headlights are the first to earn an excellent score from Consumer Reports
Published: June 12, 2015 08:00 AM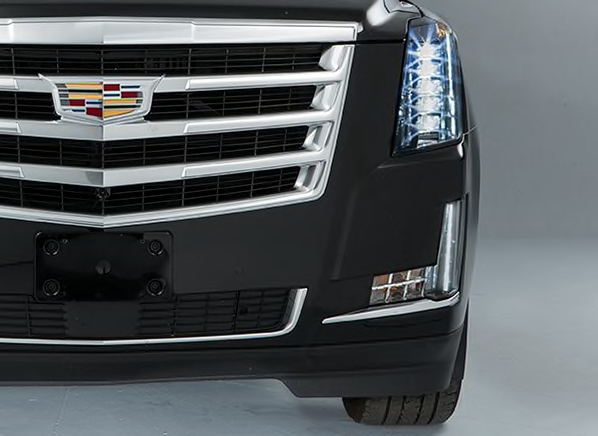 We recently completed our extensive 2015 Cadillac Escalade road test and though the entire SUV package has room for improvement, one aspect literally outshines the rest: The nighttime visibility from the Cadillac Escalade LED headlights proved the best Consumer Reports has ever tested. (For more on the Escalade, check out the discussion in the "Talking Cars" video below.)
Although headlight performance may not be at the top of your "must haves" list, it can be a key differentiator for night driving safety. Approximately 35 percent of motor vehicle fatalities happen between 9 p.m. and 6 a.m., even though far fewer people are on the road during the night, underscoring the need for great visibility. Moreover, nearly two-thirds of the pedestrian fatalities happen during nighttime hours. These types of statistics, along with the introduction of new lighting technologies, like HID (xenon) headlamps and now LED headlamps, are why Consumer Reports began testing headlight performance in 2004.
Over the years, we've seen some better-performing headlights achieve high levels of a Very Good rating. But the performance of the low-beam headlights in the Cadillac Escalade, combined with its high-beam driving and headlight mounting heights, was enough to award those lamps the first ever Excellent rating in our headlight test. The Escalade lamps are a stylish looking vertical stack of LED lights behind what GM calls "crystal" lenses. But apparently they don't just look good, they are good. Low-beam lamps illuminated signs on our course out as far as 400 ft.
That stand-out performance does come at a price, however. A loaded vehicle like the Escalade isn't cheap; ours rang in at $87,000 and change. And you're also going to pay for those lamps in the case of a mishap. Replacement estimates for the headlamps in the Escalade runs around $1,250 a piece. At that price, even a minor fender bender that damages that lamp can be costly to you or the insurance company.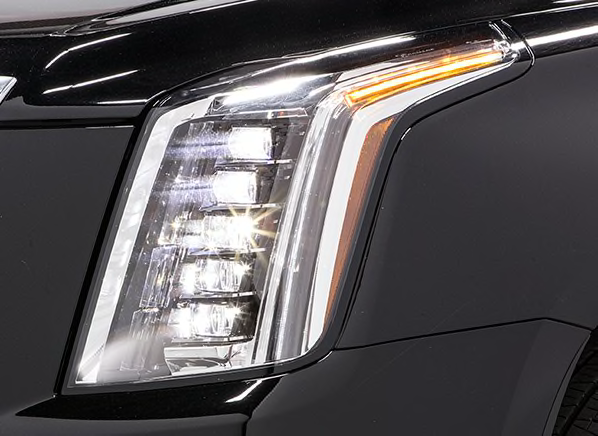 The bright ideas behind our headlight tests
When we launched our headlight tests, we made a conscious decision that even the best performing headlights would rate only a very good score in our five-level ratings scale. (Learn more about how we test headlights.)
Our reasoning was based on some fairly clear facts:
People drive with only their low beam headlights on most of the time. Even when conditions allow it, the most recent research says that people only opt for their high beams about 25 percent of the time.
Our ongoing tests show that the average straight-ahead distance that most low beams illuminate is about 300 feet.
The average braking distance (60 mph to stop) for the latest cars we've tested is approximately 130 feet. That 130-ft. average stopping distance is for dry braking with full brake pedal application (panic-type stops) on new brakes. When you add any adverse weather conditions that decrease visibility or increase brake distance, the disparity between visibility and stopping gets even larger.
Although figures vary, most sources would say it takes about 2.5 seconds for the average person to see and react by hitting the brakes to avoid something ahead of them in the road.
When you combine all of that together and if you're traveling 60 mph (and let's face it, most of us are going faster on the highway) then by the time you see, react, and brake for something ahead, you're looking at about 300 feet for you to stop. That's just beyond the average low beam distance. Here's the math:
• 2.5 secs at 60 mph = 220 feet
• Average braking distance from 60 mph = 130 feet
• 220 + 130 = 350 feet.
Our testing is all conducted in nearly ideal conditions. That means clean headlights and clear windshields, all done on a clear night with no moon, no interfering ambient light, and no oncoming vehicles.
From a safety standpoint, we were happy to see the progress in forward lighting and anticipate more Excellent headlights in the future.
If you do a significant amount of night driving and strong headlight performance isn't on your list of must-have features for your new car, perhaps it should be. Headlight evaluations and ratings are available on the model pages for all tested cars.