Safer tick repellent for kids that really works
Consumer Reports' tests found several options
Published: June 08, 2015 03:30 PM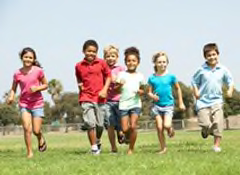 You want to let your kids run around outside this summer, but how do you keep them safe from tick bites and the diseases that the nasty bugs can carry without dousing children in harsh chemicals?
Consumer Reports' top-rated insect repellents, against both ticks and mosquitoes, contain ingredients called picaridin and oil of lemon eucalyptus. Both are synthesized to be chemically similar to naturally occurring plant compounds, and both are safer than the chemical deet, especially for kids. But even those ingredients can cause some irritation of skin, eyes, and lungs.
So if you want a product that may be even safer for you or your child, you could consider one of the "all-natural" plant-oil products in our Ratings—but only if you're looking for a repellent that just works against ticks.
That's because while those products did not fare well in our lab tests against mosquitoes, several of them—made by All-Terrain, Babyganics, Burt's Bees, California Baby, and Cutter—did do a good job of warding off ticks for at least 6 hours. They contain ingredients such as citronella, geraniol, lemongrass, and rosemary oil. But EcoSmart Organic, which contains 1 percent geraniol and 0.5 percent rosemary oil, only kept ticks away for about an hour.
Because the Environmental Protection Agency considers those ingredients to be minimum risk, it doesn't scrutinize products containing them as closely as other insect repellents. Still, Consumer Reports' safety experts say that the naturally occurring ingredients pose fewer health risks. Some people are more sensitive to natural plant oils, however, and they caution that the sprays may cause skin irritation, an allergic reaction, or breathing problems, so test on a small patch of skin first.

Application tips
Don't let young children spray on tick repellent. Instead, put it on your own hands, then rub it on. Limit use on children's hands, because they often put their hands in their eyes and mouths. And always wash it off before going to bed.

Note that most repellents can damage leather and vinyl and remove nail polish. So use them only when you really need them, and only spray enough to cover clothing and exposed skin, but never spray them near cuts.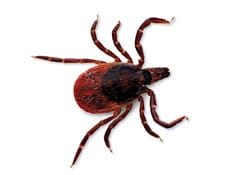 If you find a tick
Use tweezers to remove the tick, making sure you get the entire body and head.
When to see a doctor: Deer ticks usually have to be attached for at least 36 hours to transmit Lyme disease. But if you develop a bull's-eye rash or chills, fever, fatigue, headaches, and muscle or joint pain, call your doctor. Getting treatment early can stop tick-borne infections and prevent any complications.