5 signs your gas grill is over the hill
Plus top gas grill picks from Consumer Reports' tests
Published: July 16, 2015 01:15 PM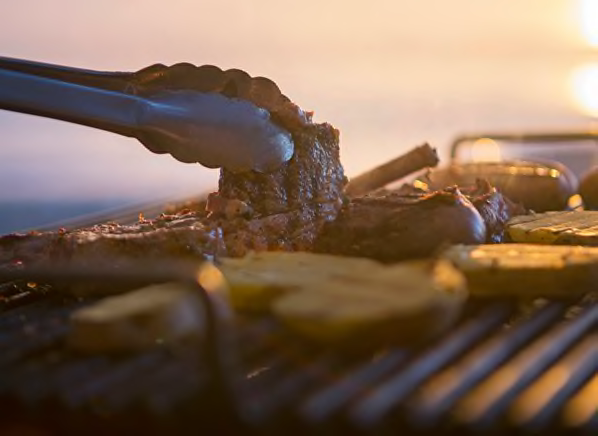 Even if you keep your gas grill clean and covered, parts can wear out. If your grill is still under warranty, fixing it is a no-brainer. Otherwise, compare the cost of new parts and the grill's overall condition with the cost of a new one. Here are five signs that your old grill might be a goner plus some good choices from Consumer Reports' gas grill tests if you need a new one. (Tell us whether you prefer gas or charcoal in the comments below.)

A rusty or cracked firebox. A little rust can be removed with a stainless-steel brush. If the box has extensive rust or cracks, it's time to get a new grill.

Yellow or uneven flames or heat. Those are clues that you need to clean the burner tubes or ports; try using a toothpick. If the flames are blue and even when you turn the heat back on, the burner is fixed. If you need a new one, it could cost $40 to $150. Before you buy, check your warranty. Many grill burners come with a 10-year warranty or longer.

Flaking or cracked grates. Scrub icky stainless-steel grates with a wire brush before tossing them; new ones cost $30 to $250. Coated cast-iron grates that are flaking or cracked should be replaced because flakes of coating can stick to your food. New ones cost $40 to $180.

Cracked hoses and connectors. Replacing a cracked gas hose is a safety must; it will cost $15 to $80, including the regulator for propane or natural gas. Do the bubble test: Mix a bit of dishwashing liquid and water in a spray bottle, then spray over hoses and connections to the gas tank. Bubbling is a sign of a leak.

Iffy igniter. One that's integrated into the burner controls, such as those on gas ranges, is harder to replace than an igniter that's separate from the controls. You'll pay $10 to $40 for a new one.
More great grills. For more choices, see our full gas grill Ratings and recommendations.
—Kimberly Janeway