Is an electric toothbrush worth buying?
It might provide better dental hygiene than a manual one
Published: August 28, 2015 04:30 PM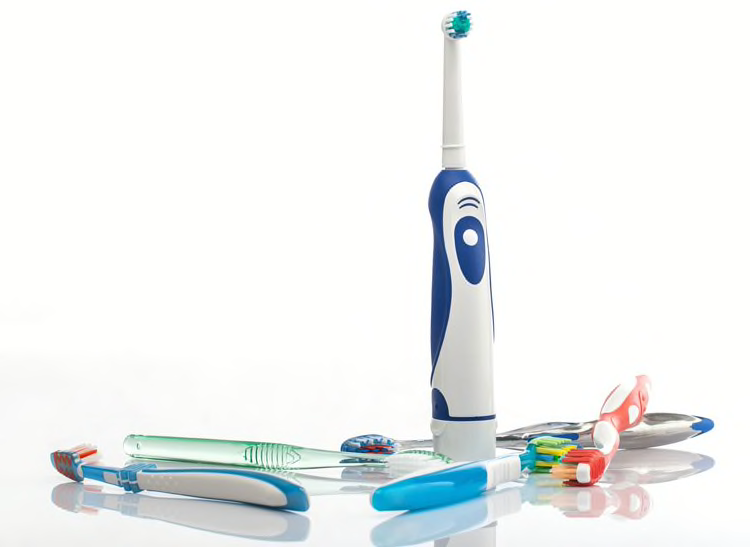 Q. Is it better to use an electric toothbrush or a manual one?
A. In the past, Consumer Reports has said electric and manual toothbrushes are equally effective as long as you brush teeth thoroughly for 2 minutes, twice a day. But an analysis of 56 studies published in 2014 by the international evidence-based research organization Cochrane found that electric models may have a slight edge.
Electric toothbrush or manual?
Tell us which you prefer in the comments below.
Compared with manual toothbrushes, electrics reduced dental plaque 21 percent more and gingivitis (i.e., inflammation of the gums) 11 percent more after three months of use, the team from Cochrane found.
More than half of the studies Cochrane researchers looked at involved rotating, oscillating electric toothbrushes featuring heads that spin swiftly in one direction and then the other. Other studies examined sonic toothbrushes that have vibrating brush heads; powered brushes that move side-to-side but don't rotate; ones with tufts that move in different directions; as well as types that attempt to dislodge plaque via a mild electrical charge. The researchers didn't draw conclusions about the best kind of brush.
According to Consumer Reports dental adviser Jay W. Friedman, D.D.S., M.P.H., if you don't currently have gingivitis, "it really doesn't matter which brush you use." And in terms of plaque, "we really don't know that it matters if a little more or less plaque is removed," he says. An electric toothbrush may help, however, if you have arthritis or a dexterity problem that makes thorough brushing difficult, Friedman notes.
Whichever toothbrush you decide to use, don't get carried away with brushing. "Excessive brushing with manual or electric has its risks," Friedman says. "Too much pressure and too frequent brushing can abrade enamel, or the root if the gum has receded." This abrasion, he says, can cause teeth to become hypersensitive to hot and/or cold.
Editor's Note:
This article also appeared in the September 2015 issue of Consumer Reports on Health.