Baking Equipment That Hits the Sweet Spot—or Not
The best mixers and ranges, plus three pans that didn't pan out
Last updated: November 14, 2015 08:00 AM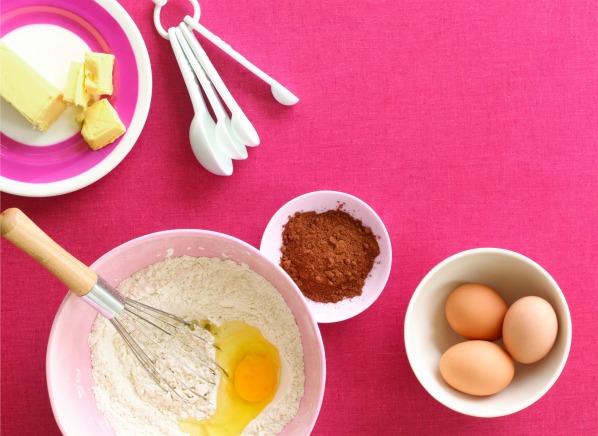 With holiday feasts featured in food magazines, newspaper supplements, and on your favorite food channels, you know it's time to dust off your old recipes or find new ones to try. No matter what you decide to cook this season, you'll want baking equipment that puts your best food forward. As Consumer Reports found in its tests of baking supplies, some newfangled tools aren't always an improvement over your tried-and-true bakeware. And some classic cookware is still worth considering.
3 Baking Pans That Fell Short
A brownie pan that makes individual portions, a silicone pan insert that promises to release the grease, and ceramic cookie sheets that claim even browning. Before you replace your old pans with these new ones, see the results of Consumer Reports' tests.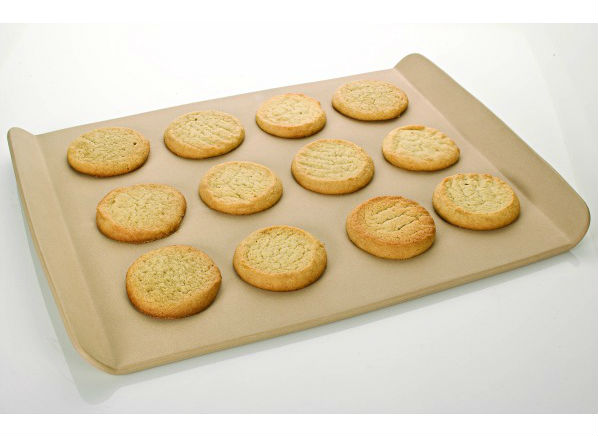 Slow-baking ceramic cookie sheets
We tested two ceramic cookie sheets, from the Pampered Chef, $34, and Hartstone Pottery, $40. They browned cookies about as evenly as air-bake cookie sheets and more evenly than coated sheets, and cookies didn't stick. But in addition to costing more, they're heavy, break when dropped, and baked a bit slower than metal baking sheets. The ceramic sheets also retain heat, making it difficult to quickly cook successive batches.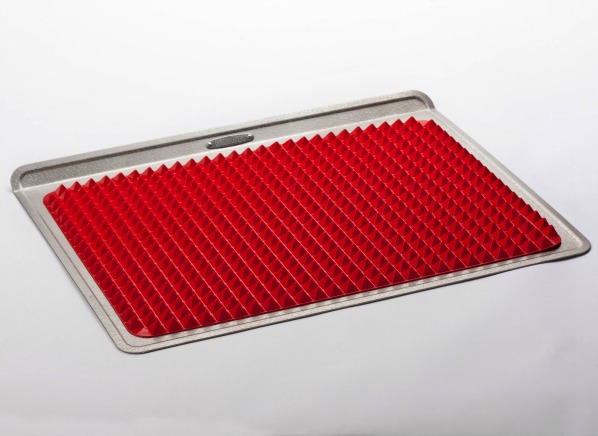 No point to the Pyramid Pan
The infomercial for the Pyramid Pan claims that the silicone insert will prevent "dining disasters" because food rests on the points of the pyramids instead of the pan's surface. That supposedly allows air to circulate under the food and fats to drip away, leaving food crisp, juicy, and evenly baked. In our tests we cooked a variety of foods including puff pastry appetizers on baking sheets with and without the Pyramid Pan liner. It was nonstick but because the food didn't make contact with the pan, the tops of the appetizers were golden brown and the bottoms pale and undercooked. Save the $19.95 plus shipping and use nonstick cooking spray instead.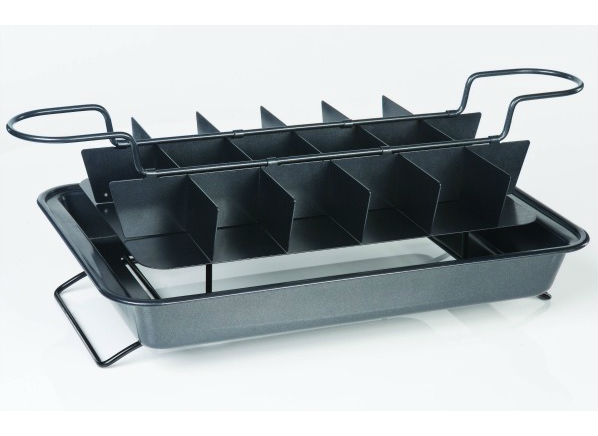 The not-so-perfect brownie pan
The Perfect Brownie Pan Set promises to be "the nonstick way to bake, slice, and serve perfect brownies." Using an insert that resembles an ice-cube tray, the pan bakes each brownie separately. Because the bottom of the pan is not attached to the sides. the instructions say you can line the pan with foil or support it with a baking sheet to prevent leaking. A set cost $20 plus $8 shipping and handling. We baked fudge brownies four ways: in an unlined, Perfect Brownie pan; in the pan lined with foil; in the pan on a baking sheet; and in a regular 9x13-inch pan. Our trained taste testers found that brownies baked in a regular pan had better texture and flavor than the Perfect Brownies, which were all underdone to varying degrees, though we baked them 2 to 9 minutes longer.
Top-Performing Holiday Helpers
Although the classic KitchenAid stand mixer was overtaken in our tests by another brand, we still highly recommend it. Here are the mixers and ranges that were best for baking in Consumer Reports tests and a handy new item to help spread holiday cheer.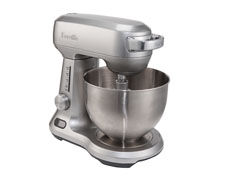 Stand mixers to stand by
The Breville BEM800XL, $300, was excellent at whipping cream, mixing large batches of cookie dough, and kneading bread dough. It beat out favorites from KitchenAid and other brands thanks to a bevy of convenience features, including a leaf beater with a flexible edge that scrapes the bowl as it turns and a timer that lets you set your desired mixing time. We also recommend the more familiar KitchenAid Classic, $200, the KitchenAid Professional, $550, the KitchenAid Artisan, $300, and the Hamilton Beach Eclectics, $180. All four were excellent at mixing cookie dough.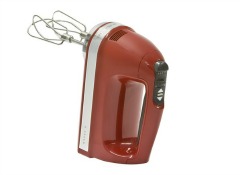 Handy hand mixers
The KitchenAid KHM926, $100, combines very good mixing power with very good whipping time. Unlike a lot of lesser mixers, it's strong enough to fold chips into stiff cookie dough. It's also one of the quieter hand mixers we tested, which you'll appreciate if you're cooking at odd hours when others may be sleeping. We also recommend the KitchenAid Architect KHM7210, $80, which is even quieter, and a $40 Cuisinart Power Advantage HM-50 that gets excellent mixing scores.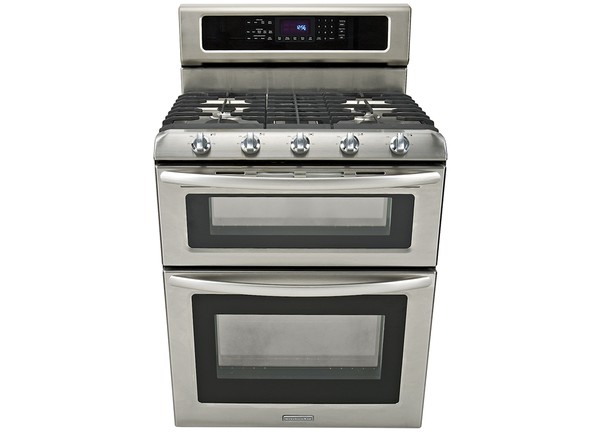 Best ranges for baking
Surprisingly, not all ranges get excellent marks for baking in our range tests. Two electric smoothtop ranges, the Kenmore 95052, $1,100, and the GE Cafe CS980STSS, $2,800, were excellent at turning out evenly baked cakes and cookies and had large oven capacities. If you prefer gas, the Samsung NX58F5700WS, $1,600, and the GE PGS920SEFSS, $2,800 had very good baking performance and impressive capacity. For more choices, including pro-style ranges, see our full range Ratings and recommendations.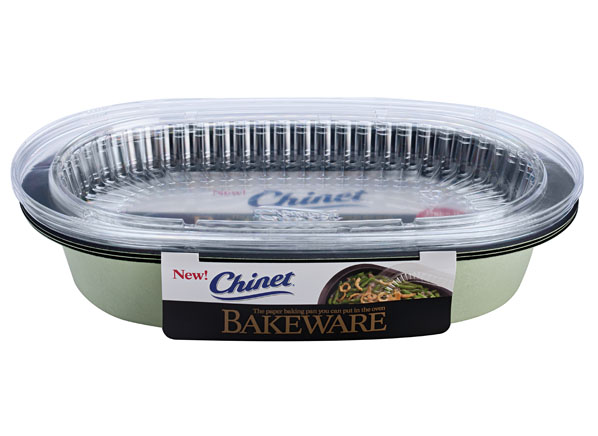 A decorative, disposable dish
Chinet Bakeware nonstick paper pans are "the first disposable baking dishes that let you take your food from oven to table to freezer to microwave," the product's website says. The pans, along with plastic lids, come in square, rectangular, and oval shapes, in various sizes. We paid $4.95 per pack, consisting of two or three pans. Our food experts cooked casseroles and brownies in Chinet and in similar-size metal and aluminum-foil pans. Chinet panned out. It's disposable yet tough and was more rigid than disposable aluminum pans. And you won't need pot holders when you pick up the heated dish. That said, because the paper bakeware is flexible, the lids may pop off; and the paper seems to extend baking time. Brownies in a metal pan were done in 40 minutes; those in Chinet required 55.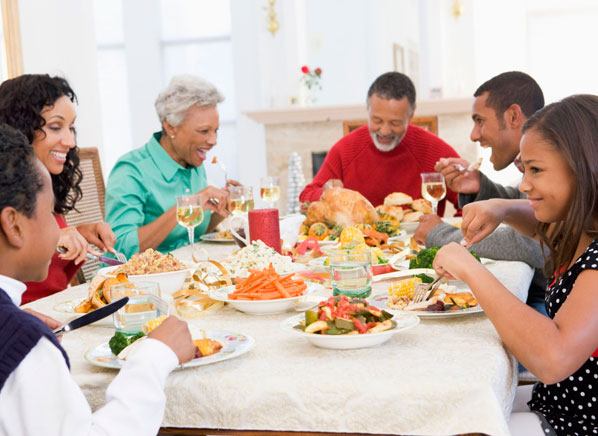 More holiday gift ideas and tips