Tips for Choosing the Right Bike Rack for Your Car
We sort through the dizzying selection of options
Last updated: December 05, 2015 08:00 AM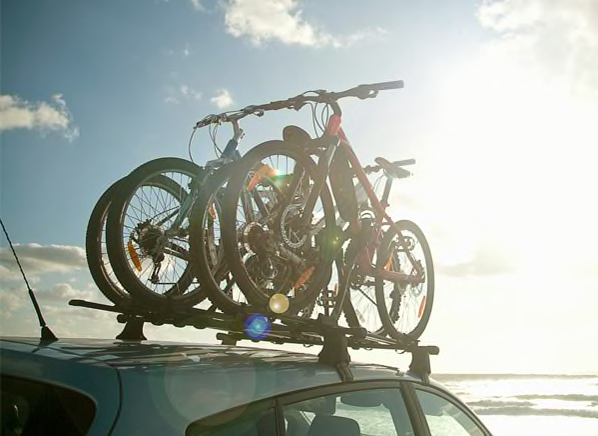 The objective is simple: You want to carry your bicycle on your vehicle. But there's a seemingly dizzying selection of bike-rack styles and a wide range of prices from which to choose. To get the right bike rack for your needs, you should do some research and compare the different makes and models. The right rack should fit the vehicle properly, securely transport the bikes, and fall within your budget. The wrong rack could be a safety hazard, scratch your vehicle, and possibly lead to a lost, stolen, or damaged bicycle.
Bear in mind that a bike rack, even without bikes mounted, will negatively impact your vehicle's fuel economy, as the video explains.
Consider Your Needs
The key to choosing the right bike rack is accurately defining your needs and assessing your current vehicle. Consider the following when choosing a bike rack:

How often will you use it?
How many bikes need to be transported?
Will you need to change vehicles (e.g., switch the rack between husband's and wife's vehicles)?
Is the vehicle leased or rented?
How much are you willing to spend?
How important is security?
How high can you lift a bicycle by yourself? Can you hold it in position with one hand?
Do you have a special bike such as a tandem or one with an odd-shaped frame?
Does your vehicle already have a tow hitch or roof-mounted utility rack? If so, what is the load capacity?
Does your vehicle have a rear-mounted spare tire that will interfere with certain types of mounts?
Do you engage in other sports or activities, which may make one rack type more useful or cost-effective than another?
Types of Racks
Bike racks generally fall into three distinct categories: Strap-on trunk racks, hitch-mount racks, and roof racks. All three types have good and bad points, but not all are available for every vehicle. The strap-on is the least expensive, but the least secure; the roof rack is the most versatile, but the most difficult to use; and the hitch-mount is the most expensive, but the easiest to operate. There are also specialty racks that are designed specifically for use with pickup trucks, SUVs or vans. Some truck racks can be used above the bed, allowing for storage underneath. Others have specialty mounts that can be attached to rear-mounted spare tires and the rear ladders sometimes found on conversion vans.
Here's a closer look at the strengths and weaknesses of the three main types of bike rack:
Strap-on trunk-mounted carrier
Strap-on trunk mounts are the least expensive bike-carrier option. They typically cost between $40 and $200, though some models can cost upwards of $300. Straps attached to the carrier's frame attach to the car's trunk, hatchback, or rear bumper. The bike's frame rests on plastic-coated support arms; better carriers have padded or indented cradles to hold the frame. These carriers must be tightly strapped to the vehicle, with the frame supports and carrier arms properly oriented before mounting bikes. Trunk-mounted carriers typically carry one or two, and in some cases three. While trunk-mounted carriers are inexpensive and can fit many vehicles, they do have a greater chance of damaging the vehicle and the bikes than do other carrier designs.

Advantages
Typically not vehicle-specific; one carrier will fit many vehicles
Easier to lift and secure bikes in place
Rack can be easily stored—even in the vehicle's trunk
With price starting well under $100, this is the least expensive type of bike carrier
Disadvantages
Combined weight of the rack and the bikes it is carrying rests on the vehicle's body panels, which can cause damage to paint or sheet metal
May block driver's view out of rear window
Straps can come loose, wear out, or snap
Trunk-mounted spoilers can interfere with installation
Straps can be cut easily, compromising security of rack
May be difficult to lock bikes to rack or car
Bikes may be damaged from backing into an object or being hit by another vehicle
Padding may need to be added between the bikes to keep them from banging into each other and causing scratches
Trunk cannot be opened with rack installed
Rack may obstruct license plate or taillights, which is a ticketable offense in some areas
Extra attachments may be needed to support odd-framed bikes
Not recommended for Tandem bikes
Roof-mounted carrier
Some roof-mounted carriers attach to a vehicle's existing roof rack and crossbars (as found on many SUVs and wagons), while others use mounting feet and clips that attach to a vehicle's upper door frame or rain gutters. The total cost is reduced if your vehicle is already equipped with a roof rack or crossbars that will support the bike mount. Basic carriers start at less than $50 per bike, but the more models start around $100. If you need to buy the basic roof rack and crossbars, add about $125 to $200 to the total cost. If you select a roof rack, you have to decide on the method of mounting the bikes. Some racks use a fork-mount carrier that clamps onto the bike's front-wheel fork. The downside is that the front wheel must be removed and stored elsewhere, but the upsides are that the bike is easier to manage up on the roof and unique frame shapes can be accommodated. Upright mounts hold the bike by the frame or pedal crank. You don't need to remove the front wheel, but you need to reach up higher to put the bike on, and some unusual frame shapes won't fit.

Advantages
Modular setup allows additional cargo storage with an add-on storage case
Accessories allow the rack can be used for different activities, such as skiing, canoeing, and transporting other bulky objects
Racks can be adapted to existing factory hardware or mounted with the rack manufacturer's nonpermanent footing
Lockable mounting available
Roof racks allow sedans to hold as many as four bikes, while a large van may be able to carry seven
Can support tandem, recumbent, and other odd-framed bikes, depending on rack design
Disadvantages

May be complicated to install
Vehicle can't go into parking garages or under any overhead structure with low clearance, including drive-through fast food restaurants.
Increased wind resistance reducing gas mileage more than other types; also produces more wind noise
Lifting a bike onto a tall vehicle can be difficult, and mishandling can cause scratches to the car's roof or sides
May not fit properly on curved-roof vehicles or convertibles--check manufacturer's fit guides for your vehicle
Touches the vehicle's body; if installed when vehicle is dirty, may scratch paint
Must take care not to exceed the vehicle or rack manufacturer's rooftop weight allowance.
Consumer Reports does not recommend carrying heavy rooftop loads on an SUV, as the higher center of gravity can compromise emergency handling and lead to a rollover accident.
Hitch-mounted carrier
Hitch-mount racks come in different sizes to match the class of hitch on the vehicle. Class I hitches with 1.25-inch openings are designed for most cars and small car-based SUVs. Class III hitches with 2-inch openings are usually found on pickups and truck-based SUVs. Your choice will depend on the number of bikes to be transported (racks for Class I hitches rarely carry more than three bikes) and your vehicle (Class III hitches cannot be adapted to most cars). Generic brand, single-bike hitch mounts can be found for under $100, but popular brands start at $125 and swing-away models can go for as much as $400. Some hitch-mount racks secure the bikes in mounting "trays," much like the ones used with roof-mounted models. Others require you to strap the bikes securely to the carrier; as with a trunk-mounted rack, you need to take care to keep the bikes from scratching each other.

Advantages
Easy to install—just slide it into the hitch
Typically, no need to remove front wheels to mount bikes
Easier to lift and secure bikes in place
Reduced chance of scratching vehicle's paint when mounting bikes
Disadvantages

Added expense of trailer hitch, if the vehicle doesn't have one
Some hitches require drilling holes in vehicle's chassis or cutting rear fascia
Some small cars are not rated for towing, and mounting a tow hitch can affect the warranty or cause problems when the vehicle is being serviced
Installed rack may block access to the vehicle's rear liftgate; swing-away models that provide better access are more expensive
Padding may need to be added between the bikes to keep them from banging into each other and causing scratches
Bikes may be damaged either from backing into something or getting hit from behind
Rack may obstruct license plate or taillights, which is a ticketable offense in some areas
May need extra attachments to support odd-framed bikes
Not recommended for tandem bikes
May block driver's view out of rear window
May be difficult to lock bikes to rack