When you shop through retailer links on our site, we may earn affiliate commissions. 100% of the fees we collect are used to support our nonprofit mission.
Learn more.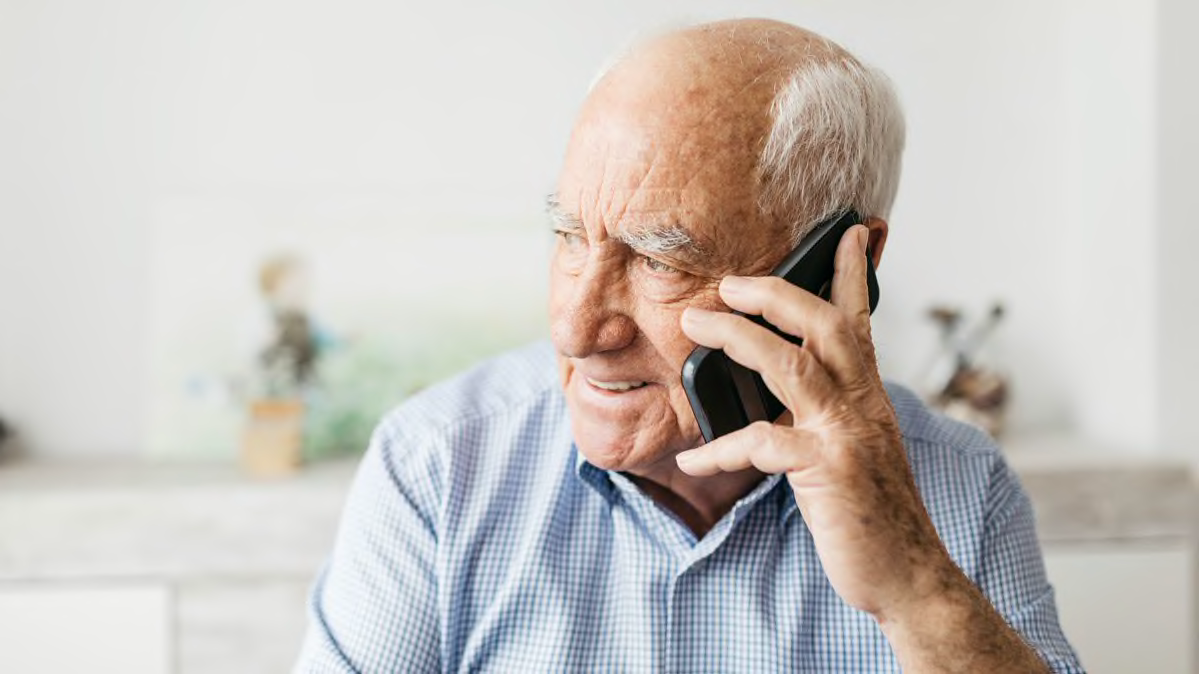 Are there days when the only phone calls you get are robocalls, at home and on your cell? Data from the telecom industry suggests you're not losing your mind: Nearly one-third of all calls placed—landline or mobile—are nuisance calls crafted for marketing purposes or to deceive you out of your money.
A report published today by Transaction Network Services (TNS), which manages data networks for telecommunications service providers such as Verizon, Sprint, and U.S. Cellular, claims that in the first six months of 2018 the rate of robocall activity has risen 15 percent over the same period in 2017.
It's gotten so bad it's as if "we're being trained not to answer our phones," says Paul Florack, vice president of TNS.
There are steps you can take to get ahead of the problem, but they are stopgap measures at best. And while the telecom industry is busy forging solutions to slay the robocall beast, it will be a few years before their solutions stem the tide.
Robocalls Are Out of Control
TNS is not a household name, but its clients certainly are. In addition to helping large telecom providers, the company manages data centers and digital resources for large financial institutions.
The "2018 Robocall Investigation Report" is based on data that flows through TNS' network, including more than 1 billion calls a day from 200 million devices across hundreds of telecom service providers. TNS hopes to educate consumers and government regulators about the scope of this problem and help build technology to identify and block robocalls from reaching your phone.
Robocalls are the number-one consumer complaint to the Federal Trade Commission, the government agency that, along with the Federal Communications Commission, regulates the telecommunications industry. According to the FTC, the agency received 4.5 million robocall complaints in 2017, up from 3.4 million the previous year.
The worsening situation has driven consumer advocates and state regulators to increase pressure on the federal government to do more to prevent robocalls. Last week a group of 35 state attorneys general signed a letter that called on the FCC to let service providers expand their call blocking capabilities to include neighbor spoofing calls.
"The robocall problem is out of control, and it's time for the FCC and the phone companies to take more action, so all consumers have the protections they deserve," says Maureen Mahoney, a policy analyst for Consumers Union, the advocacy division of Consumer Reports. "We believe the FCC should require phone companies to implement caller ID authentication by a reasonable deadline so that phone companies can stop unwanted spoofed calls from reaching consumers."
What to Do Now
For now, here a few tips to minimize the number of robocalls you receive.
List Your Phone Number With the Do Not Call Registry
By signing up for the Do Not Call Registry, you can request that your landline or cellular phone number be removed from the call lists companies use. That should help reduce the number of calls you get from legitimate telemarketers and robocallers.
What you should know: You'll still get calls from organizations with which you have established a business relationship; calls that are not commercial, such as school closings, storm warnings, and other civic notices; and calls by nonprofit organizations, including political solicitations.
Sign Up for Your Carrier's Robocall Alert Service
Many companies, including AT&T, Sprint, T-Mobile, U.S. Cellular, and Verizon, have services that alert you that an incoming robocall may be from a scammer or spammer. In some cases, such services are free, but for a few dollars more per month you can get a more robust version that can block the robocalls from ringing on your phone.
AT&T, for example, offers a basic free service that customers must enable in order to use. But for $4 per month it offers Call Protect Plus, which the company says is more robust and includes automatic fraud blocking. Verizon offers a screening service called Premium Caller ID for $3 per month. T-Mobile offers a service for no additional charge.
What you should know: While the carriers' systems are able to successfully notify customers of calls that may be problematic, they are far from perfect. Scammers can still spoof legitimate numbers.
Download a Call-Blocking App
Instead of simply being alerted to incoming robocalls, a call-blocking app can intercept robocalls before they reach you, says Mahoney of Consumers Union. Among the providers are Nomorobo, which charges $2 per month for its service (there is no cost for landlines), and free apps such as Hiya, Mr. Number, RoboKiller, and YouMail.
What you should know: Though some apps, such as Nomorobo, don't access your contact lists, some of the free apps do, Florack says. If you're planning to download a robocall-blocking app, read the app's privacy policy first.
Reject Anonymous Calls
One option available from some phone companies is to automatically reject anonymous calls. If you turn this feature on, all anonymous calls are instantly rejected, preventing the caller from even leaving a message.
What you should know: This can help at the margins, but robocalls are not always anonymous. In addition, this may prevent you from receiving legitimate calls from friends, relatives, or others who, for privacy reasons, don't want their number and other information showing up on caller ID.
If you receive an unwanted call that you believe is spam or a scam, make sure to report it to the FTC or to your telecom provider. You can make a report online to the FTC. By reporting unwanted calls, you can help the regulator go after bad actors.
How to Deal With Robocalls and Robotexts
Annoyed by robocalls and spam text messages on your mobile phone? On the "Consumer 101" TV show, Consumer Reports expert Margot Gilman offers advice to host Jack Rico on how to deal with these spammers.