When you shop through retailer links on our site, we may earn affiliate commissions. 100% of the fees we collect are used to support our nonprofit mission.
Learn more.
Some product features add a safety measure that you've come to expect. New irons typically have an auto shutoff feature. It turns off the iron when it's motionless after a bit, sensing that you've forgotten there's a hot iron on—handy when you've run to answer the phone and can't get rid of a telemarketer. But Consumer Reports latest tests found three irons that do not have auto shutoff. And while it isn't a required safety feature, our testers are steamed.
Even the $18 Proctor-Silex has auto shutoff, but we found three irons that cost $10 to $35 that do not. And some consumers have gotten accustomed to having auto shutoff so they depend on it. Of the 39 irons in Consumer Reports' tests only these do not have auto shutoff: The $35 Panasonic NI-P300T, the $10 Rival Shot of Steam ES280 from Walmart, and the $15 Continental CE23111. Spend an extra $5 and you can buy the $20 Black & Decker Xpress Steam Iron IR08X from Walmart. It has auto shutoff and provides a lot more steam, which makes ironing go faster.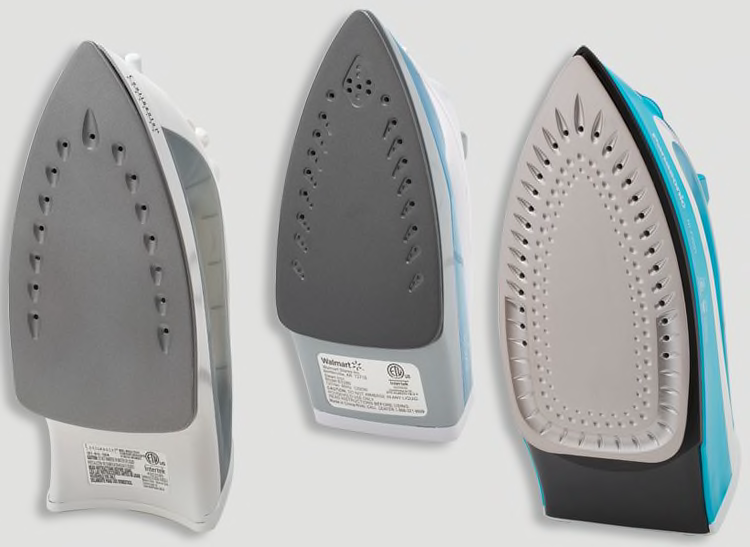 How auto shutoff works
An auto shutoff iron turns off in about a minute when motionless and on its side or when the soleplate is down (touching the ironing board). When the iron is upright and in its usual resting position, but motionless, auto shutoff turns off the iron within 8 to 15 minutes. Irons vary on time. At 15 minutes, the three tested irons without auto shutoff scorched the tablecloths we were pressing as part of our test.
Home fires involving irons
Irons caused 312 home fires annually, on average, between 2007 and 2011. That's the most recent data available from the National Fire Protection Association. The fires resulted in eight civilian injuries and $10 million in property damage a year.
Choosing a new iron
Any iron can get the job done, but a hot iron that provides plenty of steam, glides easily, and feels comfortable in your hand is just the thing you want when faced with a basket of wrinkled clothes or a shirt that needs a good pressing. Our steam iron Ratings feature 39 irons, including six that made our top picks, such as the $45 T-Fal FV4495 Ultraglide. Use our Ratings to compare irons. The features & specs tab lets you know how heavy each iron is, and the steam iron buying guide describes features and is a good place to start. Any questions? Email me at kjaneway@consumer.org.