When you shop through retailer links on our site, we may earn affiliate commissions. 100% of the fees we collect are used to support our nonprofit mission.
Learn more.
If stick-style streaming media players are, well, too stick-like for your tastes, you may want to consider Google's second-generation Chromecast player. Announced today at the same $35 price as the previous iteration, the new Chromecast not only adopts a circular, disc-like design, it's offered in three colors—black, yellow, and red—though it's unlikely that you'll ever see it once it's installed in a TV's HDMI input. While the updated Chromecast, like the new Apple TV, doesn't support 4K video, it does retain its crown as the lowest-priced streaming media player.

Perhaps the more interesting introduction, though, is a new audio product called, somewhat uninspiringly, Chromecast Audio. Also priced at $35, the similarly circular device is an add-on that basically turns any speaker (or receiver, TV, or car stereo) with a 3.5mm auxiliary input into a wireless speaker.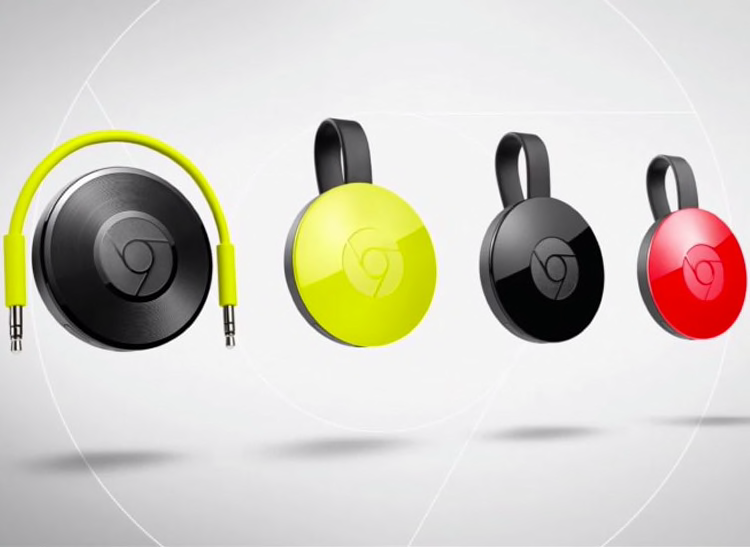 The new Chromecast gets several improvements compared to the earlier model. For one, its Wi-Fi capability gets better thanks to both dual-band (2.4/5GHz) 802.11AC Wi-Fi and an "adaptive" three-antenna array the company says will improve reception. Chromecast now also has a "Fast Play" feature that uses pre-loading and smart caching of content to speed up the time before content and apps start playing.
There's also a new Chromecast app with improved search and content discovery, including a "What's On" section that quickly shows which content can be beamed to your TV from the streaming video apps you've downloaded onto your device. Google has also beefed up its library of content with several new apps, including Showtime and soon, Sling TV.
As for Chromecast Audio, is basically does for music what the original Chromecast did for video. Once you've attached the Chromecast Audio dongle to a powered speaker, you can beam music to it from Cast-enabled apps—including Google Play, Pandora, and now Spotify—loaded on your phone, tablet, or a computer (via its Chrome browser) connected to your Wi-Fi network. Later this year, Chromecast Audio will receive an update that will allow you to simultaneously sync two or more of the devices together to create a multi-room audio system, Sonos style.
During a demo at its event, Google showed how game developers can easily render games for both smartphone screens and a larger TV display. Arguing that the smartphone is already a great game-playing device—obviating the need to duplicate that capabiity within the device itself—Google said the built-in accelerometer and gyro in most phones enable them to perform as great game controllers.
As always, we're looking forward to getting both of the new Chromecast devices into our labs for thorough testing, so keep checking back for our hands-on first-look reviews. Once it's been fully tested, it will be added to our complete streaming media player Ratings, which are available to subscribers.