An Illegal Dietary Supplement Named Tianeptine Is Being Sold to Americans—and the FDA Knows It
This drug, not approved for use in the U.S., has been linked to hundreds of reports of harm, including overdoses and deaths William Morrone, an addiction treatment specialist in Michigan, first heard about tianeptine in 2016.
He was treating patients across central Michigan, when he learned of a problem at a local drug court, a program that focuses on rehabilitating people charged with nonviolent drug crimes. Some defendants were showing up glassy-eyed and slurring words, despite having passed drug tests.
People in treatment told him what was going on. Tianeptine, a drug not approved in the U.S. and known to have a potential for abuse, was being bought in bulk online, then resold on the street. Research has found that its effects are similar to those of opioids, dulling pain and, at high doses, causing euphoria.
But as the opioid crisis has prompted crackdowns on black market sales and on inappropriate prescribing of drugs such as fentanyl and oxycodone, tianeptine has become an alternative that's cheap and easy to come by—even though the Food and Drug Administration, which regulates drugs and supplements, has made clear that those sales are illegal.
After being developed in the 1960s in France, tianeptine's potential for abuse eventually led some countries, such as Russia, to classify it as a controlled substance, limiting access to it.
Tonix Pharmaceuticals, a drugmaker planning to seek FDA approval for tianeptine, recognizes that risk, at high doses. "That's a liability," says Gregory Sullivan, MD, the chief medical officer of Tonix, which is based in New Jersey. To counter that danger, the company proposes adding a small amount of naloxone, a drug used to treat opioid overdoses, into its tianeptine pill.
Some experts attribute tianeptine's rise in popularity in the U.S. in part to a 2014 study in the journal Translational Psychiatry, which found that the drug can have effects similar to those of opioids. As early as 2015, FDA records show, companies were importing tia­nep­tine into the U.S. Soon after, tianeptine supplements emerged under brand names such as Tianaa and Za Za. Gas stations became common sellers.
Some tianeptine users also obtain it in bulk from online vendors that sell it with an apparent wink and a nod as "for research purposes only."
Brandon Lackey, executive administrator of a network of drug recovery centers in Alabama, says he has found patients treated for opioid addiction turning to tianeptine instead, only to find themselves then addicted to that substance. "The law does not allow a timely enough response to keep emerging health threats from becoming health crises," he says.
On the social media site Reddit, many self-reported tianeptine users have gathered on forums such as Quitting Tianeptine and shared reasons for taking it, including its potential medicinal benefits.
Indeed, William Rushton, MD, medical director of the Alabama Poison Information Center, says, "Very few of the patients I have encountered are starting tianeptine to get a recreational high but rather are truly trying to help themselves under a mistaken concept of its safety."
The outcomes of use can be severe. In October 2019, a 25-year-old Illinois man with a history of depression died in a local hospital after taking tianeptine, according to a report obtained by CR. (The man's family didn't respond to a request for comment.)
It's unclear why Colby Brennan turned to tianeptine, but according to a lawsuit later filed by his family, the decision proved to be fatal. The 28-year-old Texas resident purchased the substance in July 2015 from Powder City, a company that sells supplements online, according to the lawsuit. After receiving his order and ingesting the substance, he died from what investigators concluded were the "toxic effects of tianeptine."
Powder City did not respond to a request for comment. Steve Couch, an attorney who represented the Brennan family, declined to comment, citing a confidentiality agreement reached as part of a settlement. In March 2016, Powder City apparently stopped selling tianeptine. The reason, according to the lawsuit: People were misusing it.
POISON CONTROL CENTER CALLS THAT CITED EXPOSURE TO TIANEPTINES
If you or someone you know may have
ingested a dangerous substance,
contact poison control at 800-222-1222
or go to poisonhelp.org.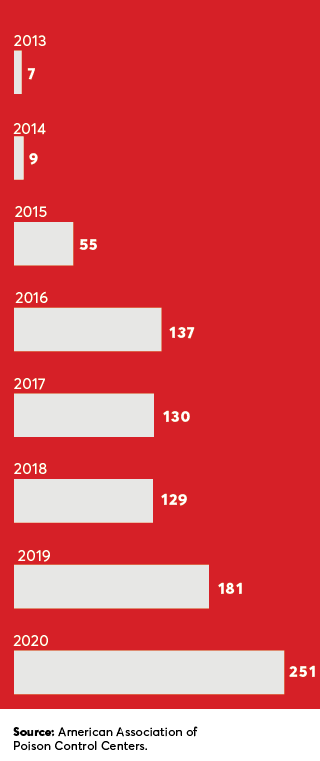 Around that time, more than 1,300 miles to the north in Michigan, Alyssa Wood was introduced to tianeptine.
It was spring 2016, and Wood was a few years into recovery from opioid abuse. But friends said tianeptine was safe. Soon she was using it, eventually even injecting it. "I was surprised how easy it was to get," she says. Her friends would order it online and within a few days it would come by mail. "Withdrawal and detox was 10 times more severe than any opiate withdrawal," she says.
In 2017, when Michigan law enforcement opened an investigation into tianeptine, it came to a similar conclusion. Many users described it as "worse than heroin," says Shannon Banner, a state police spokesperson.
In early 2018, Wood provided testimony to the Michigan state legislature. It was considering a bill that would list tianeptine as a Schedule II controlled substance, meaning that if the FDA were to approve it as a prescription drug, it would be regulated the same as opioids. She described how daily injections left her arms with abscesses that required surgery. She spent a week in the hospital, "terrified about all the open sores and cuts on my body," Wood told the lawmakers.
Michigan passed the bill, and soon after, some local tianeptine dealers "went out of business," says Morrone, the recovery services director. "They knew that the law was now specific enough to show that they were [committing] a crime," he says.
But outside of Michigan, business was continuing largely unhindered.
Other Dietary Supplements
With Risky Ingredients
Tianeptine isn't the only ingredient in some dietary supplements that the FDA has said should not be in those products. CR found a number of supplements for sale in December 2020 that contained at least one such ingredient, including these 10, listed with their manufacturers. LifeLink and Bang Energy say they no longer sell the products listed below. Hi-Tech says the FDA's position, which it disputes, is not final. Other companies could not be reached or did not respond to requests for comment.
Fastin-XR
Hi-Tech Pharmaceuticals:
Contained methylsynephrine, a stimulant used to improve oxygen exchange.
NeuroPill
Cognitive Nutrition:
Contained piracetam, purported to improve cognitive function.
NoöCamilon
LifeLink:
Contained picamilon, a drug prescribed in other countries for neurological conditions.
Green Stinger
Schwartz Laboratories:
Contained acacia rigidula, a plant used in some weight-loss supplements.
Friction
VPX/Bang Energy:
Contained isopropyloctopamine, a stimulant also known as deterenol.
Anesthetized
Blackstone Labs:
Contained phenibut, used in Russia as an anti-anxiety medication.
pH Balancer Plus
American Nutriceuticals:
Contained cesium chloride, a substance promoted as an alternative cancer treatment.
Milletov-X
Millecor:
Contained DMHA, a stimulant marketed for weight loss and athletic performance.
Thermosculpt Original
Designed by Dean:
Contained BMPEA, a synthetic substitute for amphetamine.
Adipropen Ultra
8 Weeks Out:
Contained DMAA, an amphetamine derivative.
'Scratch That Opioid Itch'
In Alabama, for example, tianeptine arrived "like a flood," Lackey says. "It wasn't a question of whether or not this was going to be a problem. It was a problem from the beginning."
As word about tianeptine got around, Lackey says, use skyrocketed. A resident of Lackey's rehab program smuggled it in, and he and his cabinmates would go to therapy "high as a kite."
"It's a way to scratch that opioid itch without getting caught," Lackey says, referring to the fact that drug blood tests don't screen for tianeptine. "They think that because it's sold over the counter that it's legal, that it's okay, it's safe. But it's not. Once you scratch that opioid itch, it doesn't go away."
Lackey spent two years pushing Alabama lawmakers to ban tianeptine. In mid-2020, the Alabama Department of Public Health (ADPH) announced a new rule listing it as a Schedule II substance.
The rule was supposed to go into effect in November—until the maker of Tianaa filed suit. In that lawsuit, the company, Premier Manufacturing Products, argued that Alabama businesses would suffer financially if they were unable to keep selling it.
Premier also argued that tianeptine could legally be sold as a supplement because the government had yet to schedule it as a controlled substance—a claim contradicted by federal law as well as the FDA's stated position that it's illegal to sell supplements that include tianeptine as an ingredient. The FDA declined to answer questions about Premier's claim, saying it can't comment on potential or ongoing investigations.
James Morrissette, a Premier executive, asserted in a letter sent to the ADPH in 2020 that listing tianeptine as a Schedule II drug could hurt supplement manufacturers.
But industry groups say companies like Premier give supplements a bad rep. "Any company selling a product containing tianeptine as a supplement … is putting consumers' health at risk," says Steve Mister, president of the Council for Responsible Nutrition.
Yet Morrissette's legal maneuver worked. In November, the ADPH withdrew its proposed rule on tianeptine until it produced a report detailing how a ban on it would affect companies selling it in the state, says ADPH spokesperson Arrol Sheehan. That has effectively allowed the sale of an illegal supplement to continue while the state sorts out how much money businesses make on it.
J. David Martin, an attorney representing Premier, declined to comment. A spokesperson for Premier acknowledged CR's request for comment but had not provided answers at press time.
Even if Alabama's ban ultimately goes into effect, Rushton, at the state's poison control center, worries that users may just go across state lines to buy it.
Morrissette, in fact, has reportedly advocated against discussions in neighboring Florida to classify tianeptine as a Schedule II drug. In an interview with a Florida CBS station, he said many of his customers use tianeptine for pain and anxiety. But, perhaps unwittingly, he also conceded that tianeptine is used for other reasons: "A solid percentage of them are using it for opiate sensation," he said.
Stronger Enforcement Needed
As Alabama's tianeptine problem was ballooning in 2018, the FDA issued a press release warning that supplements containing the drug were highly addictive. And over the past year, at least two individuals have been indicted by the federal government for attempting to sell tianeptine in the U.S.
But industry groups and dietary supplement watchdogs alike say the FDA could be doing more.
"They just need more enforcement resources and more enforcement tools in the toolbox," says Laura MacCleery, policy director for the Center for Science in the Public Interest (CSPI), a consumer advocacy group.
Daniel Fabricant, PhD, president of the Natural Products Association, a supplements industry group, and a former director of the FDA's supplements division, says the agency needs to more aggressively use the tools it has. He says that it could issue an import alert, which would stop tianeptine shipments at the border. The FDA could also ask courts to issue injunctions against companies marketing tianeptine and could seize products it finds being sold. Clearly, though, Fabricant says, the FDA's actions on tianeptine to date "haven't been a big enough deterrent."
For example, in late 2018 the agency sent warning letters to two companies selling tianeptine supplements, essentially calling on them to clean up their act or risk legal action. While such letters are among the strongest tools available to the agency, recipients sometimes treat them like traffic tickets, and the FDA doesn't always follow up.
That's what happened when the FDA warned JackBGoods Outlet, an online retailer that sold Tianaa, to stop selling the supplement, especially while making claims that it was "an unparalleled solution to cravings for opiates." Yet JackBGoods appears to continue to sell tianeptine, and there is no indication in agency records reviewed by CR of additional enforcement action taken by the FDA.
JackBGoods did not respond to a request for comment.
MacCleery, along with CR advocates, says tianeptine's continued availability underscores the need for a supplement registry. That would require companies to submit to the FDA a product's name, its ingredients, and contact information when taking a supplement to market.
If a company submits a product with an illegal ingredient, the FDA could say from the outset that it may not be sold. And if the agency finds an unregistered supplement, it could quickly start enforcement action and notify retailers to pull it off shelves.
The FDA says that it supports a registry but that it lacks the authority to create one. Federal lawmakers have proposed legislation to give the FDA that power at least twice since 2011, but those bills have not been acted on.
Fabricant doesn't think a registry is needed, believing that the FDA already has the resources it needs. "This is something where the agency has to uphold the laws," he says.
CR's Bell says the registry would help but is not enough. "With over 80,000 supplements in the marketplace, Congress needs to enhance the FDA's authority," he says. "If we want the FDA to act quickly to remove unsafe products, it will need more funding and staff."
The CSPI and Lackey, the Alabama recovery services director, called on the FDA in August to take additional action against tianeptine. The agency is reviewing the letter, says FDA spokesperson Rhodes.
One option would be for the FDA to approve tianeptine as a prescription drug. If it does, steps taken by Michigan, as well as Minnesota and Oklahoma, to list tianeptine as a controlled substance would sharply restrict access to the ingredient.
Morrone, the Michigan addiction treatment specialist, says the state's legislative efforts have helped rein in tianeptine sales. "We wanted to make sure that it wasn't going to enter into the mainstream of drugs."
While Michigan may have found success, people can still find tianeptine in a matter of seconds online. In early December, one eBay seller noted on their website that they had made dozens of Za Za supplement sales to consumers and were even offering buyers a deal: a discount for purchasing multiple bottles, with free shipping.
Editor's Note: This article also appeared in the March 2021 issue of Consumer Reports magazine.