What's the scariest part of Halloween when you're a parent? Forget about teenagers on Hell Night and that creepy house down the street with the hanging shutters, where they never mow the lawn. The thing that chills most parents to the bone is just how fast their kids grow up.
From a Smurf to a Zombie to "Trick or treating, Mom? Sooooo lame," it all happens in the blink of an eye. While you can't hold back time, you can make a special effort to preserve this year's memories.
To help you improve your Halloween portraits and candids, we enlisted the advice of Gregory Perry, a photographer based in Ossining, N.Y., who specializes in event photography and portraits and has a special soft spot for shooting on All Hallows Eve.
"On Halloween, you can be anything you want to be," he says. "So seeing what people choose as a costume gives you a real insight into their character." Here are some of Perry's best tips for creating evocative images on this illuminating holiday.
1. Do a Dress Rehearsal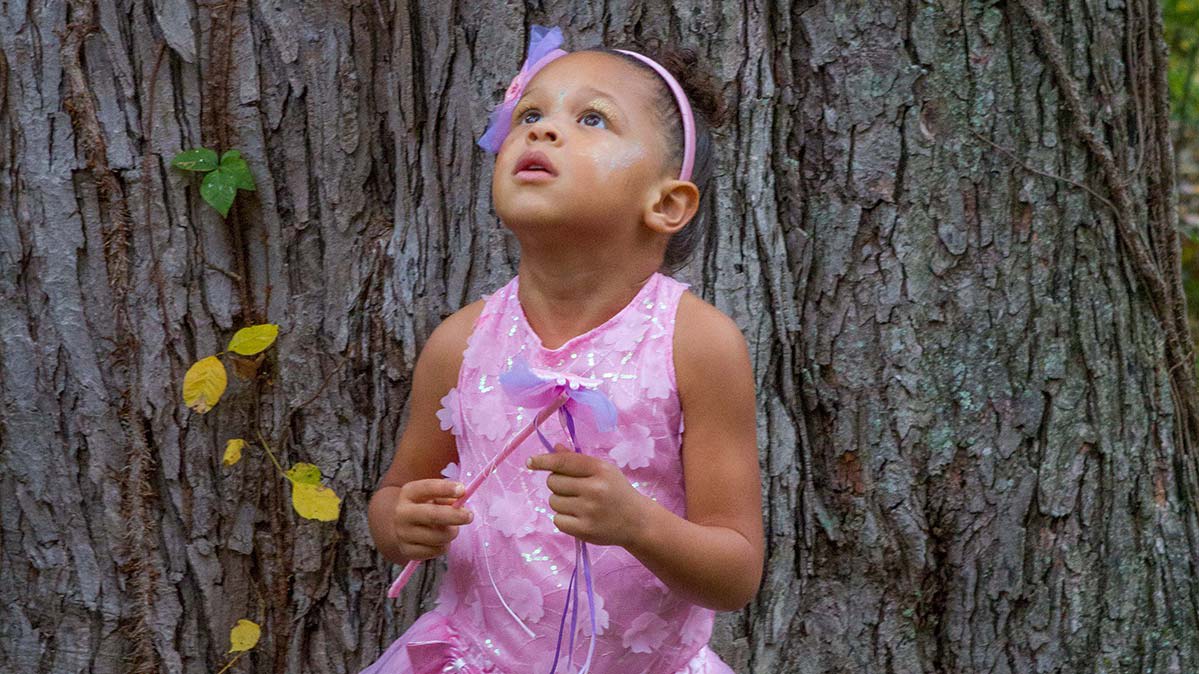 Photo: Gregory Perry Photography
Perry contends that trying to get a kid to sit still for a photo shoot on Halloween night is almost always a losing battle. "You're fighting candy anxiety," he laughs.
Instead of trying to grab 5 minutes on Halloween under extreme protest, encourage your kid to try on his or her costume a few days before and take some photos while it's still relatively pristine.
That's what he did with the young lady in this portrait. The key was being patient, Perry explains. At first, our little trick-or-treater was upset because her fairy wings got left behind at the costume shop; accessorizing with a favorite pair of colorful boots solved that problem.
From there Perry continued the shoot, but he waited for her energy to abate. "She was clowning around like crazy," he explains. "And then she stopped and it was almost like she was resting."
In this shot, which has an ethereal, "Midsummer Night's Dream" feel to it, the subject is completely ignoring the camera. Perry used a Canon 24-70 telephoto zoom lens at its longest setting to allow for some physical distance, at a medium aperture (around f/8) to blur the background just a little.
2. Location, Location, Location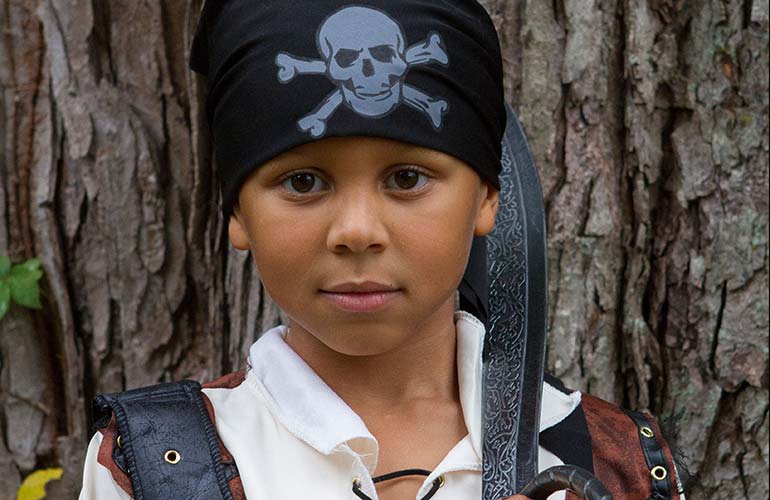 Photo: Gregory Perry Photography
Yes, we're all used those Halloween shots with the spooky lighting. But shooting at night poses a problem even for a professional photographer. That's why Perry suggests starting early, especially if you're shooting with a point-and-shoot camera or a smartphone that doesn't excel in low-light situations.
"Do it outside, using natural light," he suggests, "The light is really nice this time of year." He adds that colorful costumes are most vivid when photographed on an overcast day.
The calendar is your friend—the earlier sunsets that come with the end of Daylight Saving Time don't start until Nov. 5 in most of the U.S. Once you've settled on a time, find a background that has some visual interest but doesn't distract from the subject's face. That's why Perry steered away from shooting against Halloween decorations and instead posed this pirate up against the jagged bark of a big old tree.
In his shot of this 8-year-old, Perry's took the opposite approach from how he photographed his sister, the fairy princess above. This striking portrait was one of the very first images that he shot. "You've got to be ready from the moment you take out your camera," he says.
He got down to the child's level—many photographers wear knee pads when shooting kids, for just this reason—and this time, Perry's subject was looking right at the camera, but in a way that's disarmingly honest. "He has a tender, reflective side to him," Perry says. "He was trying to make a connection." The result? Not just a great Halloween portrait, but a great portrait, period.
3. Play With Props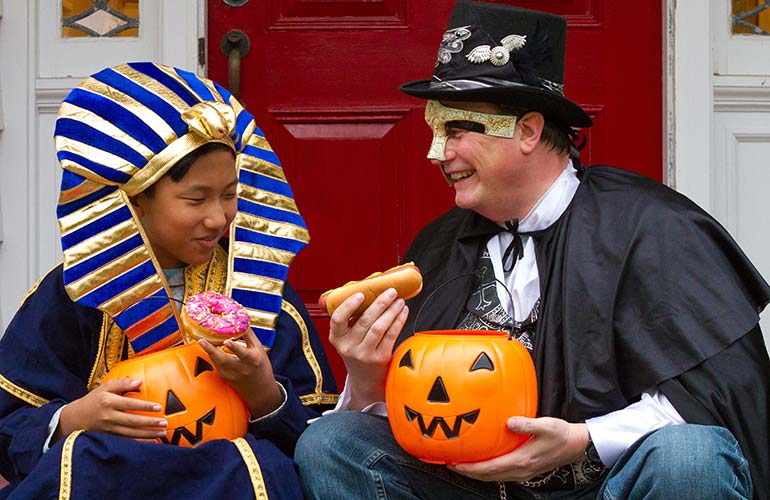 Photo: Gregory Perry Photography
One of the easy ways to put your subject at ease is to dress up yourself, Perry explains. The next key to a great Halloween shot is to give the subjects something to play with. In this shot with his own son, Perry explored the question: "What would you rather have than candy?" The result is a shot that captures a delightfully goofy parental moment. "I like to introduce a bit of whimsy," Perry says.
While the purpose of the props is to evoke a reaction from the subjects, you still need to be able to see them.
Perry had to stop at a second donut shop to find that neon pink one that "popped." With dusk closing in fast on an overcast day, Perry used a medium-high ISO of around 600 to allow for a fast shutter speed to freeze the action.
4. Keep It Simple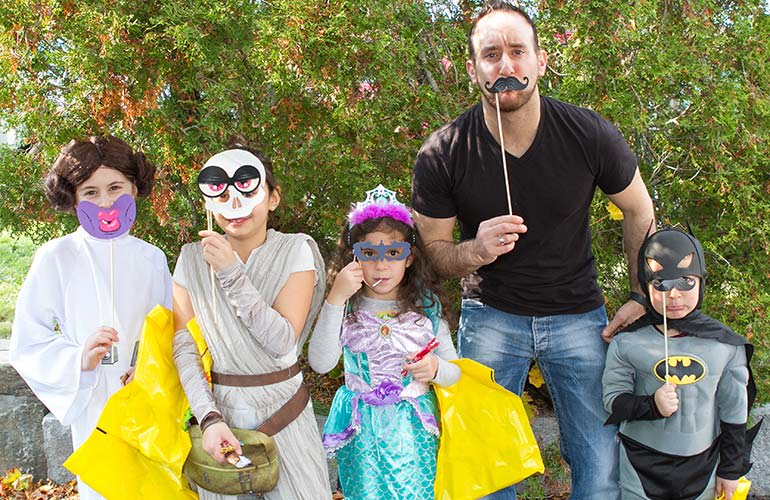 Photo: Gregory Perry Photography
The great thing about shooting Halloween is that the costumes can carry the day. So in this group photo, Perry kept the composition basic. The subjects are lined up shoulder-to-shoulder looking straight at the camera. Varying the heights of the subjects—and thus their "eyeline"—added interest to this otherwise straightforward shot.
Perry's one technical challenge was using a fill-flash to balance the exposure of the harsh noonday sun, and lighten up the shadows that would have otherwise darkened the faces. For this tricky exposure, Perry relied on the through-the-lens metering on his Canon 7D DSLR.
The secret to getting a great group shot, according to Perry, is to make sure you're watching all the subjects. In a split second a nice shot became something truly special, when Batman on the far right took the "moustache" prop and held it over his eyes like a mask. The result is comedy gold. And a Halloween memory worth cherishing long after these kids grow up and want to spend the holiday watching horror movies.
Shopping links are provided by eBay Commerce Network and Amazon, which makes it easy to find the right product from a variety of online retailers. Clicking any of the links will take you to the retailer's website to shop for this product. Please note that Consumer Reports collects fees from both eBay Commerce Network and Amazon for referring users. We use 100% of these fees to fund our testing programs.