Best Prime Day Luggage Deals You Can Still Get
We're still seeing great prices on suitcases, slim wallets, and weekenders.
When you shop through retailer links on our site, we may earn affiliate commissions. 100% of the fees we collect are used to support our nonprofit mission. Learn more.
Flight cancellations may be this summer's sorry theme, but there's one positive aspect of travel on which you can rely. A bag that's priced well—and has performed in CR's evaluations—will be a valued and reliable companion. And there's more good news: Even though Amazon Prime Day is over, there are still loads of sales on some top weekender bags, carry-ons, slim wallets, and suitcases.
In Consumer Reports' tests, we put 12 hard-shell carry-on bags from as many brands through 31 different evaluations of use, durability, ergonomics, safety, and other aspects of ownership. We've also evaluated weekender bags and duffels; slim wallets, travel backpacks; and hydration backpacks. 
We found some great deals on luggage that performed well in our tests, so you can buy with confidence, knowing you're not just getting a good deal, but a great product. And we're keeping an eye out for more discounts and offers, so check back later to see if there's anything new.
Get discounts, product recommendations, and buying advice from the shopping experts at CR. Sign up for our ShopSmart newsletter.
Admirable test scores for durability and usability make the expandable Amazon Basics 21-Inch Hardside Spinner a worthwhile pick. This model lacks a lock but does have three internal pockets to help organize smaller items. You get no warranty, however. We tested the black version, which is the only model on sale in this size. It was $20 cheaper for Prime Day, but this price cut is still significant.
CR's test results: Amazon Basics 21-Inch Hardside Spinner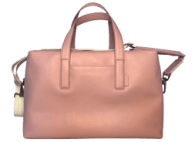 We liked the quality construction of this blush pink leather bag in a versatile, work-to-weekend design. It's too small, however, to work for trips longer than a few days. We didn't evaluate its nylon version, which comes in a sand color with black straps.

Learn more about Away The Everything Bag.
This expandable hard-shell carry-on is easy to use and performed well in most of our tests—though it suffered in some of our impact tests. Its 10-year limited warranty is not as generous as some other brands' lifetime warranties, but not as stingy as some others. It comes in pink, navy, black, and graphite.
CR's test results: Delsey St. Tropez 21" Hardside Carry-On Spinner Luggage
This hard-shell carry-on performed very well in our durability tests. It's not expandable, however, and its handle only telescopes to two heights. Its 10-year limited warranty is not as generous as some other brands' lifetime warranties, but not as stingy as some others. The Vigor comes in black, bronze, and navy.
This carry-on cost $30 less yesterday, but it's still an impressive discount.
CR's test results: Hartmann 21" Vigor Carry-On Spinner Luggage
Herschel Novel Duffle Mid-Volume
Planning to travel with teens? Get them this affordable weekender that comes in fun, youthful colors and patterns (tie-dye! florals!). It's water-resistant, light and easy to carry, and simple—no confusing bells and whistles here. A separate compartment for shoes keeps your clothes clean, but other than that, this is a straightforward, affordable bag to get you from point A to point B.

Learn more about Herschel Novel Duffle Mid-Volume
The 21-inch high TravelPro Maxlite 5 Expandable Carry-On Hardside Spinner aces most of our durability tests and performs admirably in our other metrics. This bag offers a limited lifetime warranty, and at 6.3 pounds, it's the lightest hard shell carry-on of the 12 models we tested. The handle adjusts to only two positions, though, and there are no internal pockets or compartment dividers. We tested a black version. Other sizes and versions that we didn't test—including a non-expandable version—are available at different discounts.
CR's test results: Travelpro Maxlite 5 Hardside Spinner 21-Inch Carry-On
The Ekster Senate Cardholder features a design that keeps that pop-up switch level with the aluminum cardholder. It includes a cash strap and single cardholder to hold your bills on the outside with the company's logo emblazoned on the front and keep a card on the outside, such as a Metro card for tap-to-go. Thoughtfully, the company includes an extra strap without the cardholder, to slim things down even further, inside a very beautiful box.
Travando RFID Blocking Bifold Credit Card Holder
This slim wallet is accommodating Apple products by incorporating Apple's puck-shaped, rounded-top tracking device, sold separately, into its design. AirTags aren't the greatest shape when it comes to slim wallets and the indent is very noticeable when put in the front or back pocket. However, this is an otherwise great wallet, with soft leather and seven very thin pockets that hold up to 12 cards.