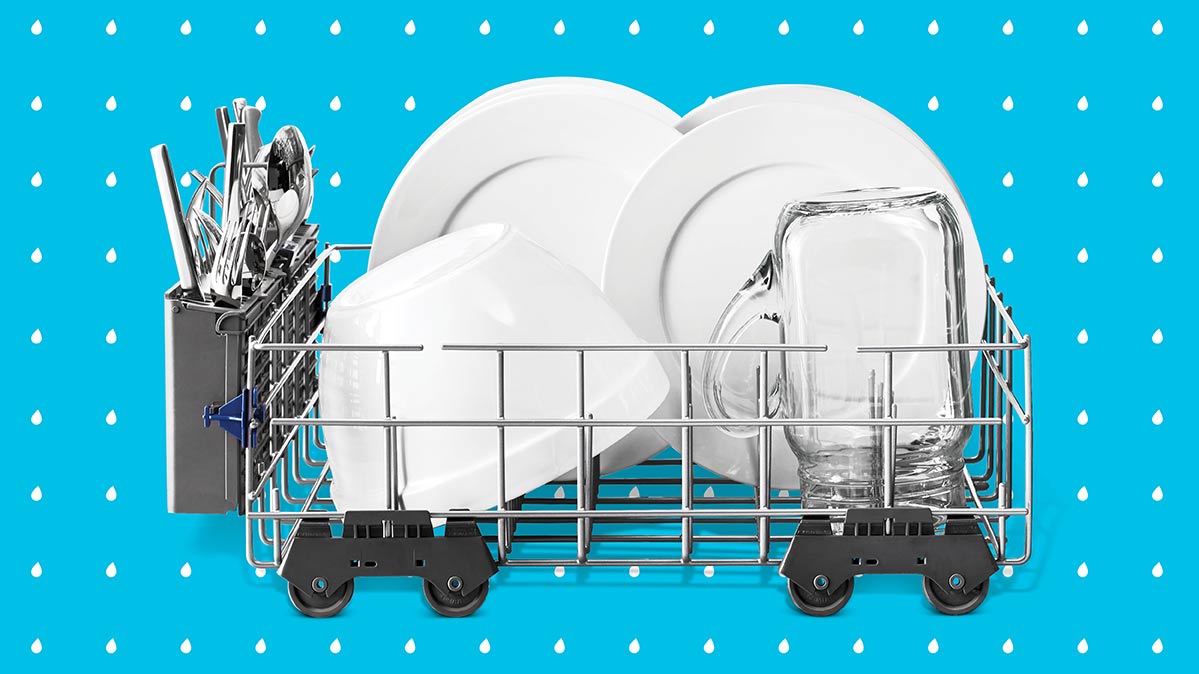 How long should a dishwasher last? A reader posed this question on our dishwasher buying guide, and it kicked off quite the discussion. Another reader responded that it's a sad day when a 36-year-old dishwasher dies. Then another said he was about to buy his third dishwasher in seven years. "Wish me luck," he posted.
Our latest survey of dishwasher owners found that they expect a newly purchased dishwasher to last 10 years, on average.
But many factors can inform that projected lifespan. "Dishwashers have mechanical parts, and the more you use the dishwasher, the faster those parts will wear out," says Larry Ciufo, the engineer who oversees CR's dishwasher tests.
"Other factors, such as the environment the machine is in, such as high humidity that can corrode parts, can affect the machine's life, too," Ciufo adds. And how you treat your dishwasher can make a difference.
We asked manufacturers of 13 major dishwasher brands to weigh in on the expected lifespan of their dishwashers—and offer advice on how to get the most from these machines. All of the manufacturers say it's crucial to follow the advice in the owner's manual for how to use and care for your dishwasher. Many stress the importance of regularly cleaning a manual-clean filter. (Some machines have self-cleaning filters, so you're off the hook there. If you're not sure what kind of filter your dishwasher has, read Why Your Dishwasher Filter Makes a Difference. You'll also see filter types noted in our dishwasher ratings.)
Here's what else manufacturers have to say about how to make your dishwasher last longer.
Beko and Blomberg
"Standard use time is 10 years, and we design and test our products to last 12 years," says Mark McCleary, vice president of marketing for the manufacturer of these two brands. He adds that innovations in motor technology enable a longer lifetime.
What you can do
• Change inlet/outlet hoses every five years to avoid calcium buildup. Feeling handy? The manufacturer says you'll be able to change the hoses yourself. But if you have doubts, call a technician.
Bosch and Thermador
"While there's no exact answer, research indicates that the average life expectancy of a dishwasher is around 10 years, and we test our dishwashers for the equivalent of 10 years' use," says Alex Sheehan, a spokesman for the manufacturer of both brands.
What you can do
• Only put items labeled dishwasher-safe in your machine. Otherwise, the item can melt, with pieces breaking off and winding up in the filter. This can damage the machine.
• Avoid using bleach-based wipes, harsh chemicals, abrasive chemicals, scouring pads, and abrasive cloths on a stainless door and tub.
• If you live in an area with hard water, use a regeneration salt in the water-softening system of the dishwasher. This improves cleaning, helping to prevent spotting and clouding, but the salt also helps prevent mineral buildup in the dishwasher.
Electrolux and Frigidaire
"Dishwashers are designed to last a minimum of 10 years. This is validated through extensive life-cycle testing," says Joseph Spina, a spokesman for Electrolux, which makes dishwashers carrying the Electrolux and Frigidaire brand names. He adds that dishwashers can last much longer than 10 years and still get the job done.
What You Can Do
• Run full loads, rather than partial loads, to reduce the number of cycles. The number of cycles run over time ultimately governs the machine's useful life.
• Avoid the use of strong chemicals, such as chlorine bleach and degreasing agents, in the dishwasher. They can greatly affect the lifespan of key components.
• If your water is hard, use conditioned water or products that contain water conditioners.
• Run the clean-dishwasher cycle regularly to keep the mechanics operating efficiently.
• Only clean dishwasher-safe items. Painting tools and garden tools should not go in the dishwasher.
You might find videos online where people say they use their dishwasher to clean car parts, for example. "Bad idea," says CR's Ciufo. "Car parts are greasy, and the dishwasher and detergent aren't made to handle this kind of grease. It can clog the filter, ruin the pump, and more."
Kenmore
Dishwashers typically last 10 to 13 years, according to Larry Costello, a Kenmore spokesman.
What you can do
• Run your dishwasher regularly to help keep the seals, gaskets, and hoses from dry rotting and to prevent mold and mildew from forming.
LG
Expect 10 to 15 years, says Taryn Brucia, LG's director of public relations.
What You Can Do
• Make sure solid items such as bones and shells have been scraped off your dishes before putting them in the machine.
• Run the tub-cleaning cycle after every 30 wash cycles or so.
Maytag, KitchenAid, and Whirlpool
"The expected life of the product is more or less than 10 years, depending on variations in its use, misuse, and abuse," says Nathan Kryglowski, a senior product market manager for the Whirlpool Corporation, maker of all three brands.
What You Can Do
• Follow the installation instructions for recommended water temperature, water pressure, and voltage.
• Remove leftover food, bones, toothpicks, and other hard items from your dishes before putting them into the dishwasher.
• Strip labels from containers. If they come off during the wash cycle, the labels can clog the filter and jam the pump.
• Use a dishwasher cleaner, such as Affresh, to prevent mineral buildup.
Miele
"All Miele products are designed and built to endure 20 years of regular use," says Hiroko Kawaguchi, a product manager at Miele. She also stresses the importance of using a water softener, if you live in an area with hard water, to improve cleaning and to prevent etching and clouding of glassware.
What You Can Do
• Use a Miele dishwasher conditioner every six months to clean the interior and parts within. This removes food reside and fats that were left behind.
Samsung
A Samsung representative told CR that's there's no way to know how long a Samsung dishwasher will last, as there are too many variables based on consumer use. The company recommends following the maintenance guidelines in the owner's manual but did not offer additional advice.
Consumer Reports is an independent, non-profit organization dedicated to helping consumers. We make it easy to buy the right product from a variety of retailers. Clicking a retailer link will take you to that retailer's website to shop. When you shop through retailer links on our site, we may earn an affiliate commission – 100% of the fees we collect are used to support our mission.
Learn more.
Our service is unbiased: retailers can't influence placement. All prices are subject to change.