When you shop through retailer links on our site, we may earn affiliate commissions. 100% of the fees we collect are used to support our nonprofit mission.
Learn more.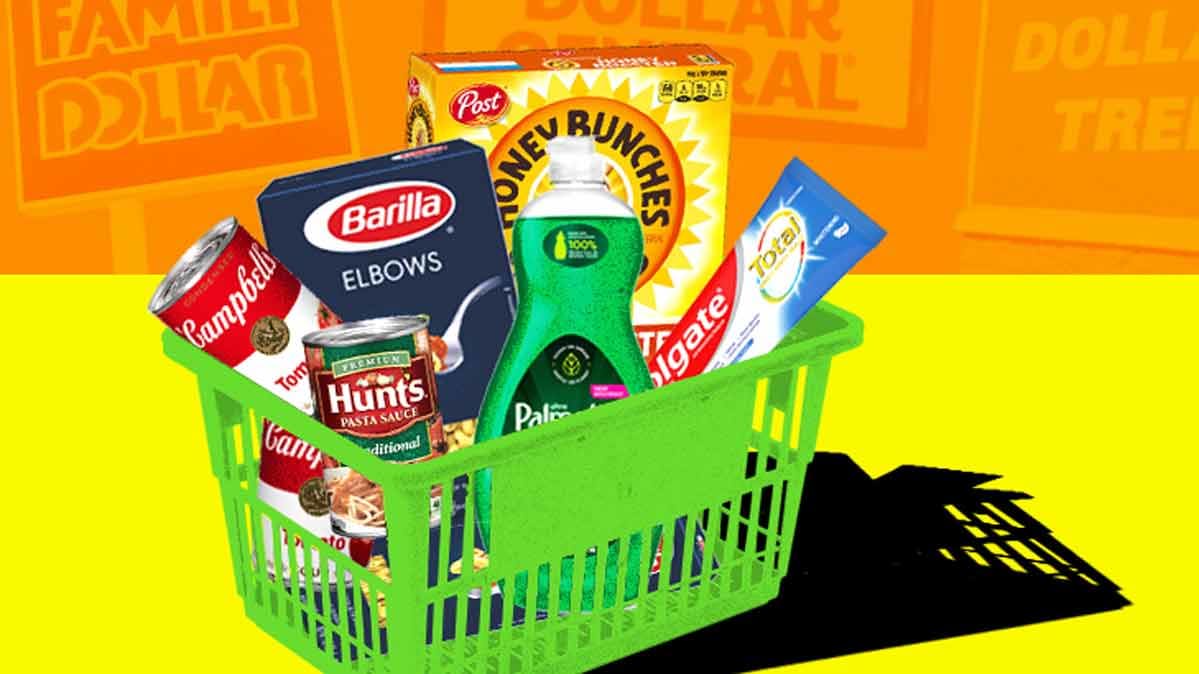 Illustration: John Ritter
Implicit in their very names—Dollar General, Dollar Tree, and Family Dollar—is a low-price promise. But are the deals real? Are the savings significant enough to warrant making a trip?
To find out, Consumer Reports recruited eight staffers and secret shoppers—in Arizona, Arkansas, Connecticut, Florida, Michigan, New York, Ohio, and Texas—and gave them a shopping list of 14 everyday items, from pasta sauce and toothpaste to breakfast cereal and floor cleaner.
Because not all stores carry all brands, we did not specify which brands to buy. So our Ohio shopper bought Honey Nut Cheerios, for instance, and our Michigan shopper bought Honey Bunches of Oats.
We did, however, ask each shopper to make sure their comparisons were apples to apples—to buy the same brand for each product category, if they could find them, at each of three chain dollar stores and the two supermarkets.
For our test, we calculated unit prices for each product, then standardized those prices to hypothetical, identical-sized products from each store.
Although our findings don't represent national averages or what you might find when shopping, they do provide a window into the pluses and minuses of the dollar store shopping experience.
Here's what we found.
Dollar Stores Were Cheapest for Entire Purchases
Counting the total of the items each shopper bought, at least one dollar store beat both supermarkets every time. In most cases, savings were a few bucks or less. But our Michigan shopper would have saved more than $12 on his hypothetical mix of like-sized products, comparing the priciest supermarket with the cheapest dollar store. Grocery store prices can be competitive with dollar stores'.
In some instances, individual items cost no more at supermarkets than at dollar stores. For example, some supermarkets were comparable to dollar stores for unit price on Hunt's pasta sauce, Lysol wipes, and Snack Pack chocolate pudding.
Dollar Stores Don't Always Have What You're Looking For
Our shoppers weren't able to find the exact same item for each of the 14 product categories across the five stores where they shopped. But some had better luck than others. Our Ann Arbor, Mich., shopper found the same items across stores for 12 products; another, in Austin, Texas, just three. You could save more by buying in bulk at supermarkets.
Because we deliberately asked shoppers to try to find like-sized items, it is possible that if you were to buy giant containers of, say, cereal, you'd realize bigger savings at supermarkets because they are more likely to stock those large sizes.
Editor's Note: This article also appeared in the November 2021 issue of Consumer Reports magazine.